TEAMGROUP has just unveiled its latest T-CREATE DDR5 memory kits that are tailored to meet creators' needs: the T-CREATE EXPERT DDR5 Desktop Memory, T-CREATE CLASSIC DDR5 Desktop Memory, and T-CREATE CLASSIC DDR5 Laptop Memory.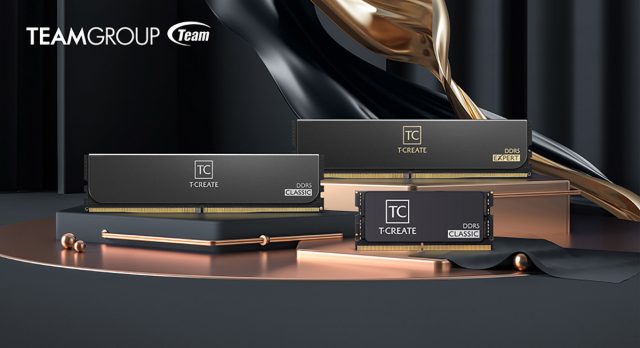 The T-CREATE EXPERT DDR5 Desktop Memory boasts high-frequency options of 6,400MHz and 6,000MHz as well as excellent performance and solid stability to support the complex operations and processing demands in professional 3D rendering and long-form super-high resolution video editing.
On the other hand, the T-CREATE CLASSIC DDR5 Desktop Memory is available in 6,000MHz and 5,600MHz, while CLASSIC DDR5 Laptop Memory comes in 5,600MHz and 5,200MHz to enable creators to accelerate their creative experience on desktop computers, laptops, or mini PCs.
Furthermore, all three of the new memory kits adopt a 10-layer board, specially designed high-temperature resistant capacitor, and carefully picked high-quality IC.
And to manage the heat created by high-speed processing, both the EXPERT and CLASSIC DDR5 Desktop Memories are equipped with a one-piece porous anodized aluminum alloy plate for heat dissipation and professional thermal silicone that reduce temperature effectively.
In contrast, CLASSIC DDR5 Laptop Memory is built with ultra-thin graphene-metal composite material to deliver a great heat transfer solution for smaller installation spaces.
Specifications
Product
Specification
MSRP
Release Date
T-CREATE EXPERT DDR5 Desktop Memory
6,400MHz
2 x 32GB
USD$499.99
Est. early February 2023
2 x 16GB
USD$249.99
6,000MHz
2 x 32GB
USD$399.99
2 x 16GB
USD$199.99
T-CREATE CLASSIC DDR5 Desktop Memory
6,000MHz
2 x 32GB
USD$399.99
2 x 16GB
USD$199.99
5,600MHz
2 x 32GB
USD$359.99
2 x 16GB
USD$179.99
T-CREATE CLASSIC DDR5 Laptop Memory
5,600MHz
2 x 32GB
USD$359.99
2 x 16GB
USD$179.99
5,200MHz
2 x 32GB
USD$319.99
2 x 16GB
USD$159.99
Kindly refer to the portal links below for more information on the T-CREATE EXPERT and CLASSIC DDR5 memory kits: