TEAMGROUP has launched its new ELITE PLUS DDR5 Desktop Memory that comes with a completely new heat sink design, alongside a new frequency option of 6,000MHz for ELITE DDR5 to further deliver improved operating performance and an ultra-smooth user experience.
The ELITE PLUS DDR5 boasts a sleek, simple, and asymmetric aluminum heat sink that is non-conductive and protects against scratches, acids, rusting, and rotting. It is also equipped with a 1.1V standard working voltage, which further decreases energy consumption for each unit of bandwidth in comparison to the 1.2V in DDR4, resulting in more efficient power usage.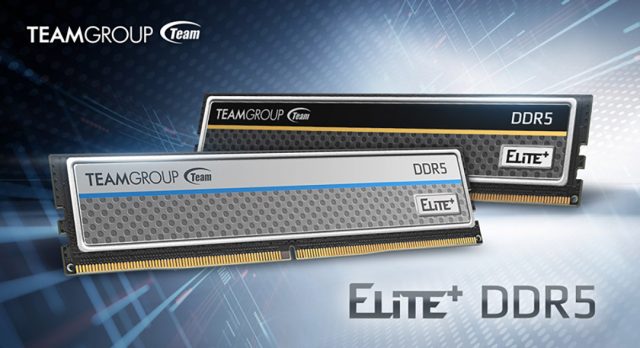 What's more, the DDR5 module includes PMICs for optimal power distribution, reliable power supply, and minimal noise interference. On-die ECC is also supported by the IC, which is a feature that self-corrects DRAM cells for improved stability and reliability by lowering the chance of information errors.
Check out the following list for their MSRPs as well as estimated launch dates:
Product
Specification
MSRP
Launch Date
ELITE U-DIMM DDR5 6000MHz
Single Channel
1 X 16GB
USD$129.99
Est. 9th August 2022
Dual Channel
2 X 16GB
USD$259.99
ELITE PLUS U-DIMM DDR5 4800MHz
Single Channel
1 X 8GB
USD$45.99
Est. Early September 2022
1 X 16GB
USD$85.99
1 X 32GB
USD$185.99
Dual Channel
2 X 8GB
USD$91.99
2 X 16GB
USD$171.99
2 X 32GB
USD$351.99
ELITE PLUS U-DIMM DDR5 5600MHz
Single Channel
1 X 16GB
USD$110.99
Dual Channel
2 X 16GB
USD$221.99
ELITE PLUS U-DIMM DDR5 6000MHz
Single Channel
1 X 16GB
USD$134.99
Dual Channel
2 X 16GB
USD$269.99
For more information on the TEAMGROUP ELITE DDR5 6000MHz and ELITE PLUS DDR5, refer to these links below: