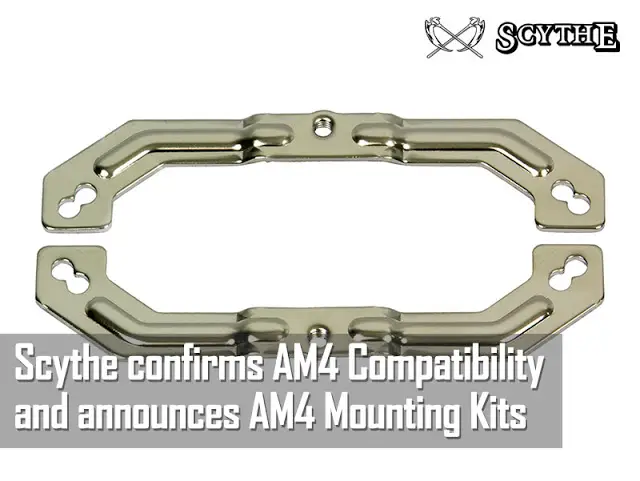 Japanese cooling expert Scythe confirms compatibility to the new socket AM4 and announces availability of AM4 mounting kits for it's CPU cooler product range. There are more than a handful of CPU cooler models, which are already compatible to the new Ryzen™ CPUs. Other models, such as the Scythe Mugen 5, can be easily upgraded thanks to the new AM4 mounting kit.
Many of the Scythe CPU Coolers are already compatible to the new socket AM4. Scythe confirms the compatibility of those models, that are using the original AMD™ retention module. The following models are ready to be used with Ryzen™ CPU:
Katana 4 (SCKTN-4000)
Katana 3 (SCKTN-3000A)
Kabuto 3 (SCKBT-3000)
Shuriken Rev. B (SCSK-1100)
Tatsumi "A" (SCTTM-1000A)
Byakko (SCBYK-1000)
Iori (SCIOR-1000)
Scythe EU GmbH offers the AM4 upgrade kit firstly for Mugen 5, which is based on the latest HPMS II mounting system. In order to receive one of the free AM4 upgrade kits, users just need to contact the
Scythe EU GmbH Support Team
and to supply the invoice of the purchased Mugen 5 along with proof of purchase of an AM4 motherboard or the Ryzen™ CPU. The HPMS II AM4 upgrade kits are ready to be shipped starting today to customers from Europe.
In addition to that, the more recent CPU Coolers using the first generation of HPMS mounting system can also be upgraded thanks to a new AM4 mounting kit. The kit is ready to be ordered directly from
Scythe EU GmbH Support Team
for 3,99€ including shipping cost. Shipment of these kits is expected to role out in March or April 2017. The following list shows CPU coolers with first generation HPMS mounting system that can be upgraded to socket AM4 using the new kits:
Mugen 4 (SCMG-4000) / Mugen 4 PCGH (SCMG-4PCGH)
Kotetsu (SCKTT-1000)
Ninja 4 (SCNJ-4000)
Grand Kama Cross 3 (SCGKC-3000)
Fuma: (SCFM-1000)
Mugen Max (SCMGD-1000)
Ashura (SCASR-1000)
Scythe EU GmbH is offering the AM4 mounting kits under the aforementioned conditions only to customers from Europe. Customers from other regions are kindly asked to contact the corresponding Scythe branch directly, to find out the applying procedures.