Aside from the long-awaited availability of the much anticipated HYPR-RX, AMD also launched its new Radeon RX 7700 XT and 7800 XT in response to NVIDIA's GeForce RTX 4060 Ti and 4070, respectively. We managed to get our hands on the RX 7700 XT this time and we're only going to test the graphic card as is first. We will leave the HYPR-RX for another time as there are still no games that officially support this feature just yet.
Overview
The card we have is the Sapphire Pulse Radeon RX 7700 XT equipped with a dual-fan cooler with Sapphire's angular velocity fan blade. Basically, it's their custom fan design to improve the airflow and air pressure to improve the cooling performance. It's a dual-slot card that is not too long when it comes to the length, so it will still fit in plenty of PC cases without any issues.
Now, the RX 7700 XT is in direct competition with the NVIDIA RTX 4060 Ti. However, the VRAM on this AMD is similar to the 4070. It has 12GB worth of GDDR6 memory with a 192-bit memory bus. That, I think, is a good selling point for this RX 7700 XT.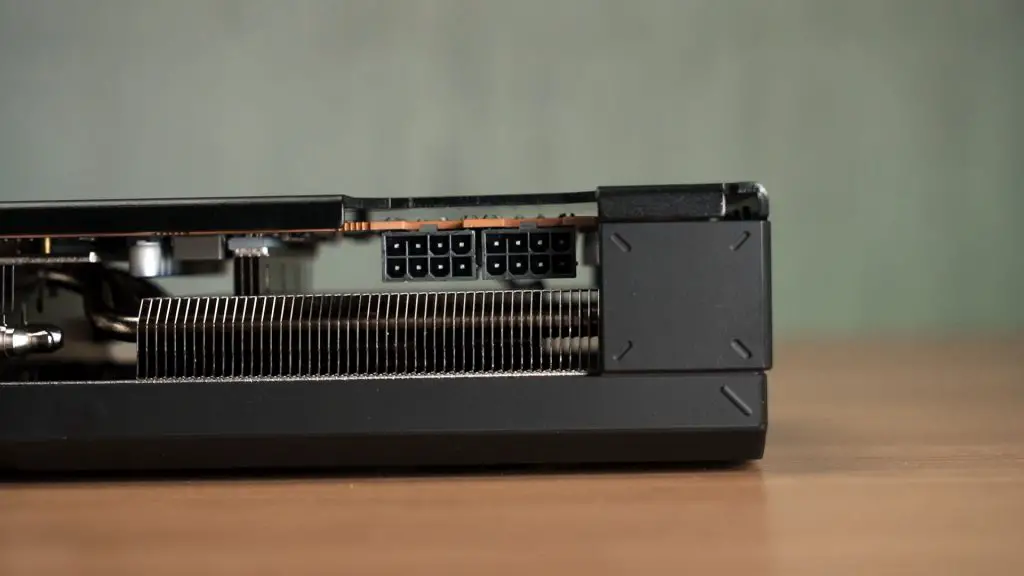 This GPU requires 2x PCIe 8-pin cables and the power supply requirement should be a power supply that can deliver up to 245W on the 12V+ rail based on the total board power (TBP) but AMD recommends a 700W power supply for both the RX 7700 XT and 7800 XT if you're using a Ryzen 9 7950X. So if you're using a CPU with a much lower TDP, probably under the 120W range, a 650W power supply will suffice for both the new Radeon GPUs.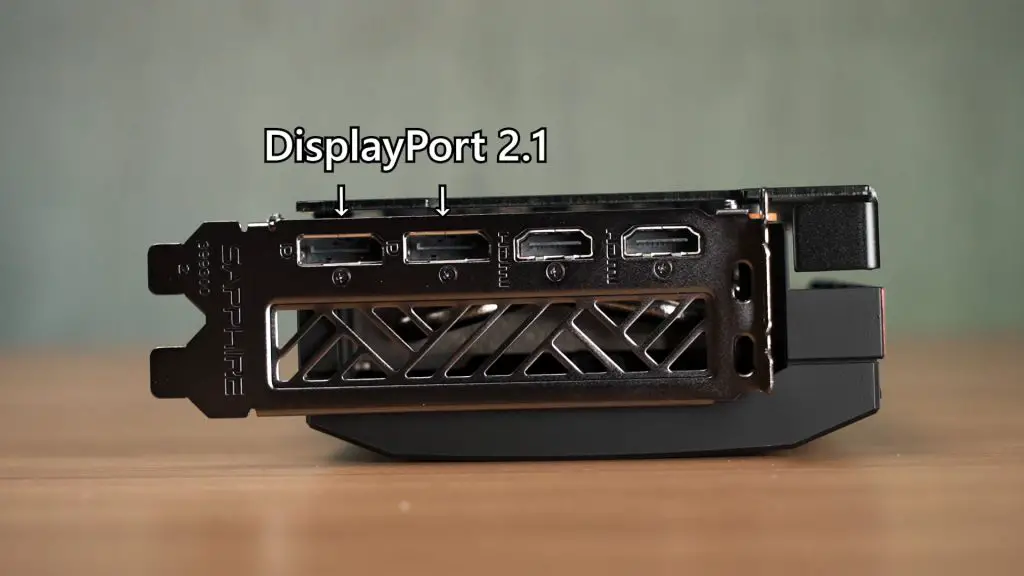 The display outputs might look like the usual 3 x DP and 1 x HDMI, but they're actually DP 2.1 instead of 1.4a – unlike what we're seeing on NV cards.
Test System Setup
For the benchmark numbers, you can refer to the following specs of our test system if you're interested to know how we get these numbers. For our games benchmark test, we've selected a number of AAA titles to run at their highest possible settings using the following setup under an ambient temperature of 32°C:
| | |
| --- | --- |
| CPU | Intel Core i9-12900K |
| Motherboard | ASUS ROG Maximus Z690 APEX |
| Memory | ADATA XPG LANCER RGB DDR5@6000MHz CL30 (16GB x2) |
| Graphics Card | NVIDIA GeForce RTX 4060 Ti Founders Edition |
| Power Supply | Cooler Master M2000 Platinum |
| Primary Storage | Kingston KC3000 2TB |
| CPU Cooler | Cooler MasterLiquid PL360 Flux |
| Chassis | Cooler Master MasterFrame 700 |
| Operating System | Windows 11 Pro 64-bit 21H2 (Build 22000.1696) |
Benchmarks – Raster Performance
So, let's start off with the raster performance. Even though this RX 7700 XT is advertised by AMD to be a 1440P card, we still tested it with 4K anyway – and the results are rather impressive performance.
It's not the 60fps which many now deem as the smooth framerate for a game to actually be playable. Titles like Cyberpunk 2077, Metro Exodus, and Watch Dogs Legion are actually playable at some point at about 50+fps. The newly released Starfield, however, isn't exactly pleasant to deal with at this resolution but it's still running at about 40% faster than the RTX 4060 Ti.
Scaling down to 1440P resolution – the resolution that the RX 7700 XT was advertised for – we're seeing an easy 70fps+ across all the titles tested.
Well, except for Starfield, which runs at an average of 56 fps while the 4060 ti runs the title at 43 average fps. That means the RX 7700 XT performs around 30% better than.
As for 1080p, it's not really a big issue for both cards except for that one title – yes, it's Starfield once again and that's for the 4060 Ti.
Aside from Starfield running at 55 average fps which is still very good, the rest of the titles are all running at above 60fps+ average.
Benchmarks – Ray Tracing Performance
Moving on to the ray tracing performance! As there's still no way for us to actually show you just how much gain you'll see by enabling it, the HYPR-RX demo that AMD showed us during a recent briefing was incredible. Let's hope that more titles will adopt the tech alongside DLSS 3 so gamers can enjoy playing their favorite titles regardless of the GPU brand they're using.
At 4K resolution, aside from Cyberpunk 2077, the rest of the titles tested are actually very playable and for the first time, we're actually seeing a better performance on an AMD Radeon GPU.
Though I'll leave this to you to judge specs-wise, the RX 7700 XT does seem to be closer to an RTX 4070 instead of the 4060 Ti.
As for 1440P, not only we can see more than 80fps on the titles we've tested aside from Cyberpunk, but the RX 7700 XT is again showing better performance over the 4060 Ti most of the time.
Even at 1080P, we can actually see that the RX 7700 XT easily maintains above 60fps+ for all the titles we've tested, which makes the RX 7700 XT look like an actual viable option for GPU in this segment. How is this possible though?
Power draw and temps
This slideshow requires JavaScript.
We'll have to look at the power draw of this card. And this is where the mystery will be resolved. We're seeing about 232W of power draw from this RX 7700 XT alone during synthetic tests and actual game tests. If we compare it against its competitors, the power efficiency is definitely not as good as the 4060 Ti or the 4070. They both draw at only around 165W and 203W peak, respectively.
The load temperature, on the other hand, is looking rather okay. Although the GPU load temperature peaked at 71°C during our synthetic tests, the actual load temperature during gaming sessions is only at about 66°C. The fan noise is almost inaudible throughout the session even when we're at a very close distance. Memory junction temperature remained at 84°C throughout the tests, which is not too bad as well.
The only reading that I'm still uncomfortable with is the hotspot temperature, which peaked at almost 97°C during heavy loads and 91°C during gaming sessions. Though AMD still addressed this as safe and it's within the expected operating temperature range.
Final thoughts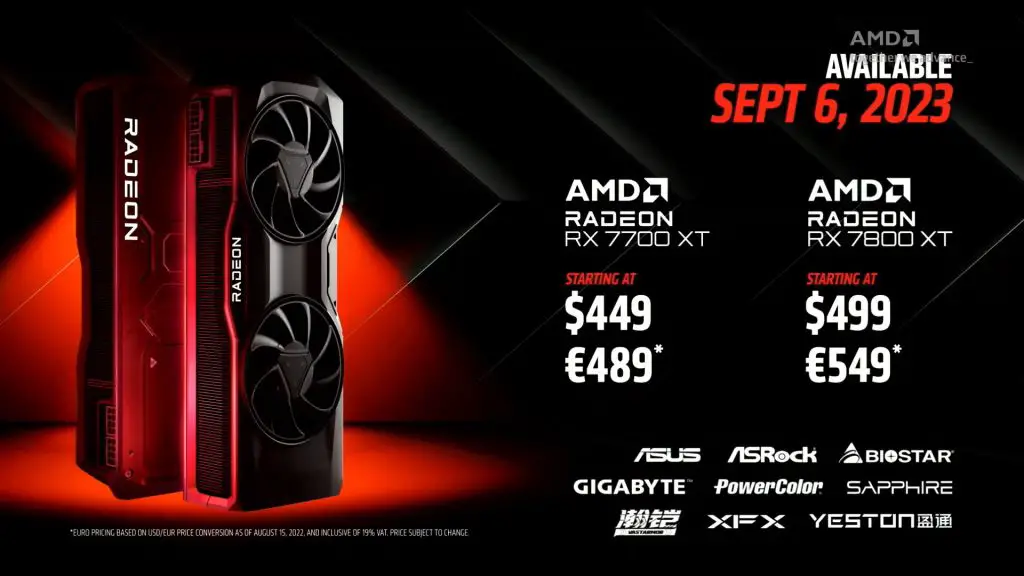 As the direct competitor of the 4060 Ti which is priced at $399 for the 8GB VRAM and $499 for the 16GB VRAM model, I can see AMD is clearly focusing on the usual strategy of price over performance ratio for its Radeon GPU despite not having the power efficiency. While the overall performance is indeed much better than what it is competing against, $459 is still not cheap and we can actually see people in the community complaining about the price just right after AMD announced both the RX 7700 XT and 7800 XT.
I do agree that the price is still somewhat on the higher side but at the same time, it's a new option for gamers who don't feel like paying for the 4060 Ti 16GB that doesn't offer a significant performance gain. There's definitely a lot more potential we can see in the future but as of now, the titles that support HYPR-RX are still limited it will take a while before we can actually conduct another round for DLSS 3 vs HYPR-RX.
Conclusion? Just like the 4060 Ti 16G, I'll say the RX 7700 XT is a good card but a bit too highly-priced at the moment. Will I recommend this card? Maybe, if game devs are actively pushing on the support and adoption of HYPR-RX.