These are all the experiences shared by our very own racing simulator enthusiast – Mr John. He is someone who actually bought those steering wheels, foot pedals, and gearbox controllers and hooked all of them to his own work desk. He liked it so much to the point that he even bought triple monitors to create the "sitting inside a car" feel – but ran into a lot of issues with that setup.
So, when we got the Samsung Odyssey G9 Neo, the first thing he said to me was – "this is going to be the perfect monitor for sim racing games."
And I agree. That's why we also got the SimMatch GT1 racing rig to complement the Odyssey G9 Neo.
Truth be told, the SimMatch GT1 is made compatible with every type of monitor or TV. It's literally using a TV mount and it is also highly adjustable to the point that we could mount a 100x100mm VESA mount display like the Samsung Odyssey G9 Neo too.
One thing to take note though – the Odyssey G9 Neo has an odd mounting plate for its VESA mount. It comes with an adapter and that adapter doesn't have that much leeway for longer screws to be mounted without poking the back of the monitor. Luckily, we have a box of random screws and some of them worked. Crisis averted for our case.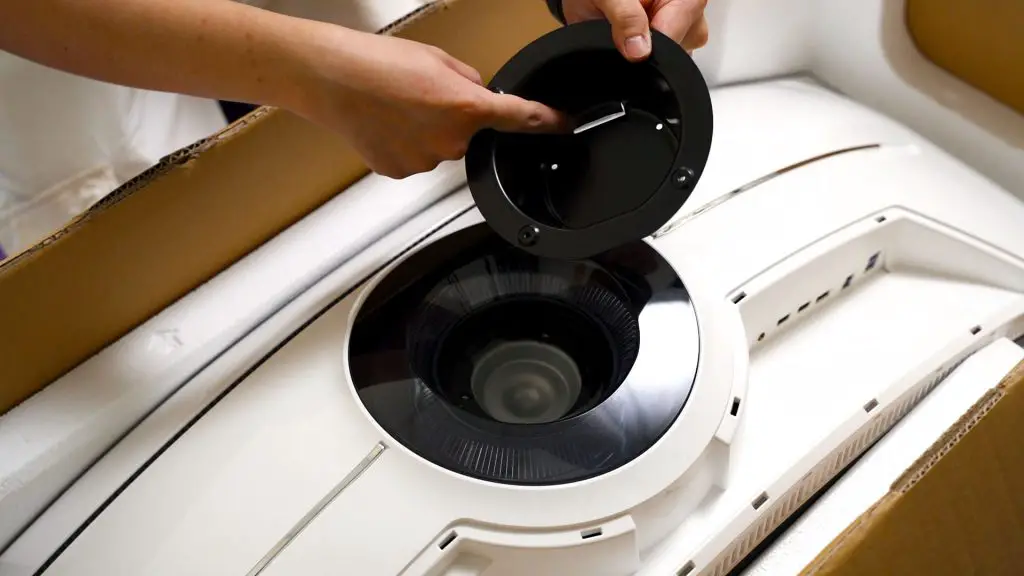 We also mounted the Samsung Odyssey G9 Neo a little lower so that relative to the steering wheel of the racing simulator controller, it creates a sense of "the dashboard is behind the wheel", according to Mr. John. Well, yeah I get that sense of driving in a real car while trying out this racing simulator.
Actually, it's a tad bit too realistic. You see, the Samsung Odyssey G9 Neo has a curved 49-inch screen with an aspect ratio of 32:9. Doing a bit of some math and we can calculate that the Odyssey G9 Neo is similar to having two 27-inch 16:9 monitors combined into a single monitor and with the bezels removed. That last part is important in terms of immersiveness.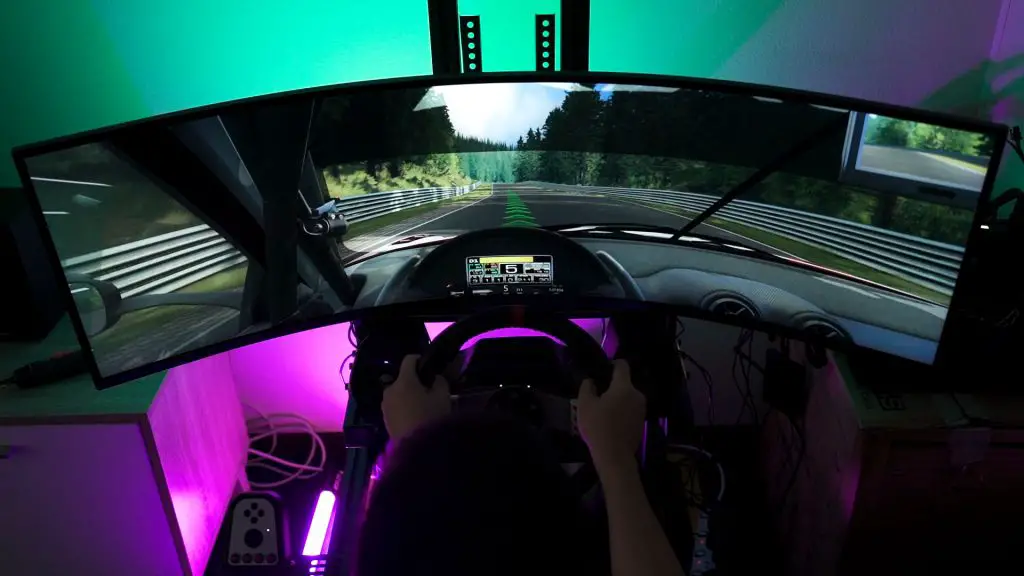 While trying out the racing rig myself, I braced myself while I was hitting the brakes. But the inertia never hit me. The same goes to acceleration. The inertia never hit me. It just feels so immersive that my body is expecting those sensations from real-world driving to happen, but it never did. Some people may find it nauseating (I'm one of them) but racing sim fans like Mr. John, loves it.
He said that having such a big, undisrupted display with zero bezels is much better than having two or three monitors placed side by side. Moreover, the mounting is simple since there's only one display to be mounted and a single display & power cable is required to hook it up. It's much better in terms of cable clutter and also easier to manage.
One thing that we did realize was that triple individual monitors have the issue of inconsistent colors throughout each monitor. We encountered this issue many times as manufacturing tolerances can never guarantee the exact same color output on every monitor, even though they are within the same SKU. We could mitigate that color inconsistency by using a colorimeter, but those things are expensive.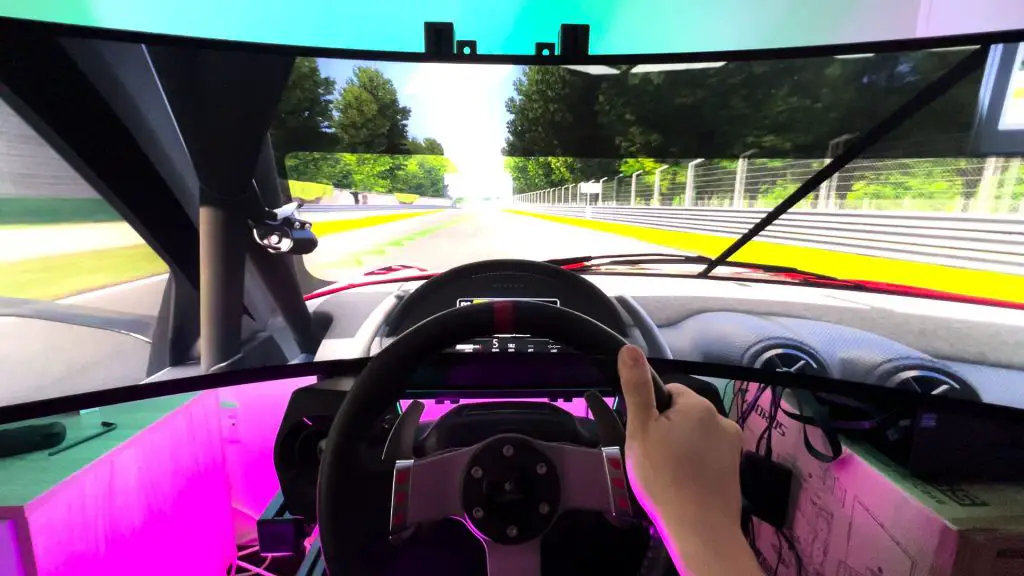 And during our review of the Samsung Odyssey G9 Neo, we praised its color accuracy across the entire panel. It's highly accurate and also supremely consistently throughout the entire panel. Better yet, the Odyssey G9 Neo is also super bright so that we can enjoy HDR content on it (which is something that Mr. John did in his racing games).
Plus, it also has 240Hz refresh rate. With the addition of NVIDIA G-Sync is necessary here to prevent screen tearing since any frame tears will be very distracting as it'll be a horizontal line through the entire screen. G-Sync eliminates that issue – and we're just having the time of our lives with this setup.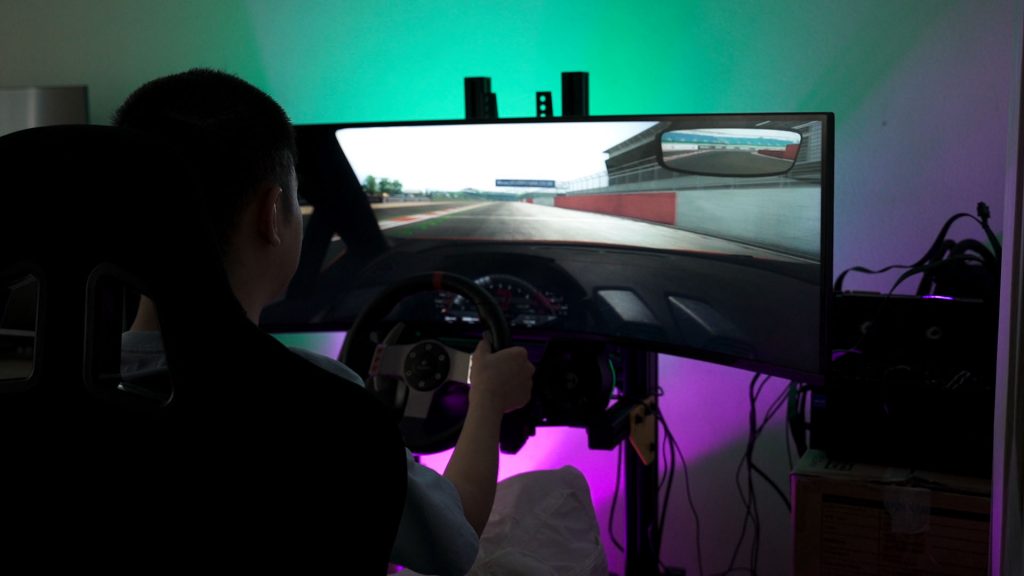 Where to buy the Samsung Odyssey G9 Neo? (Affiliate links)