External SSDs are replacing external hard disks at a rapid pace. It's smaller, lighter, yet more durable and resilient against bumps and drops. Plus, external SSDs are also much faster than hard disks. Yet external SSDs are also very affordable nowadays.
There are even some ways to "create" your own external SSDs but to make things as simple as possible, we have the KLEVV R1. This is an all-in-one solution with a high-speed SSD inside.
And I've been using the KLEVV R1 for the past week or so – and this is what I discovered
Okay, let's start with the unboxing. The KLEVV R1 comes in a very simple box. Inside, we have a user manual, the SSD itself, and also a very interesting cable. It's a flat Y-cable so that you can use the KLEVV R1 with either USB-A or USB-C ports on your computer. That's great.
Taking a look at the KLEVV R1, it's sleek in design. It has a distinct two-tone design as it has an angular design at the front, and a semitransparent back and we can see the copper heatsink on the SSD. We'll get back into that later.
At the top of the SSD, we have a tiny indicator LED and a USB-C port.
When I plugged in the KLEVV R1 into the MacBook Pro, it immediately worked. That is because KLEVV formatted it to exFAT, so that it is compatible with all operating systems. Windows, Mac, Linux – including Android and even Chromebook.
By the way, every purchase of the KLEVV R1 also comes with a free license for the DoYourData data recovery software. As the name suggests, it is used for data restoration if you accidentally deleted some files off your storage drive.
Then, I went back to my desktop and benchmarked the KLEVV R1. The benchmark results were kind of expected from an external SSD of this caliber. It will reach somewhere around the advertised 1000MB/s sequential read/write speed and I'm impressed there.
While doing all of these stress tests though, I realized that the SSD got quite warm. The hottest part is always at the top, near the USB-C port because I think that is where the controller chip is located. From our thermal camera, it reached around 48°C, whereas the back reaches around 51°C. Those temperatures are definitely safe for the SSD and there is nothing to worry about.
Then, I copied everything from my current external SSD to the KLEVV R1 and the KLEVV R1 actually performs better. Scrubbing footages feel responsive, copying large footage is also faster, and most importantly – this SSD is smaller and sleeker.
But, we're not done. Taking a look at the KLEVV R1 again, there are 4 screws at the back that can be taken out and the entire KLEVV R1 can be dismantled.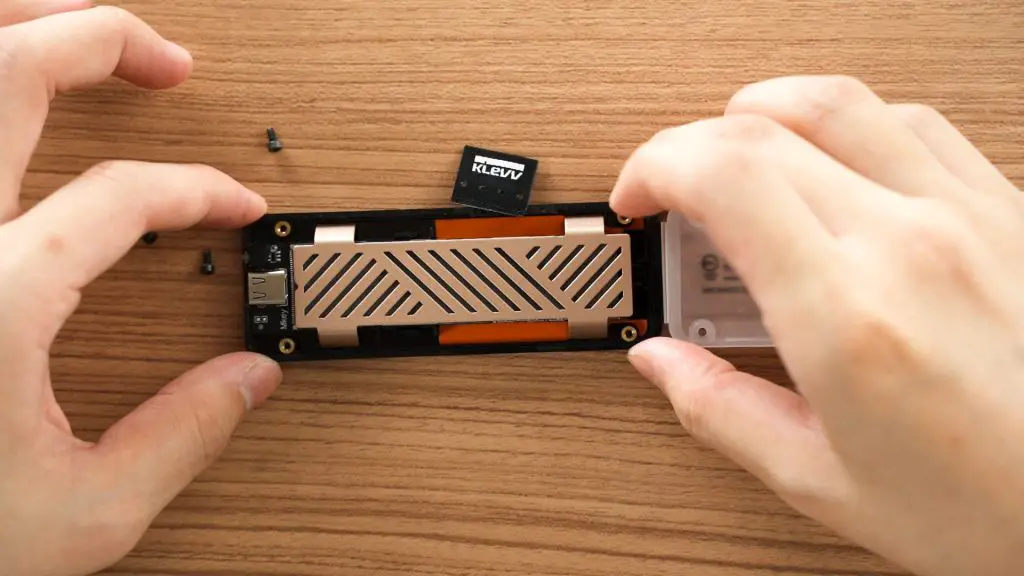 It is here that we can see the overall construction is fairly simple. We have the copper heatsink, then a piece of thermal pad, and finally – the SSD itself.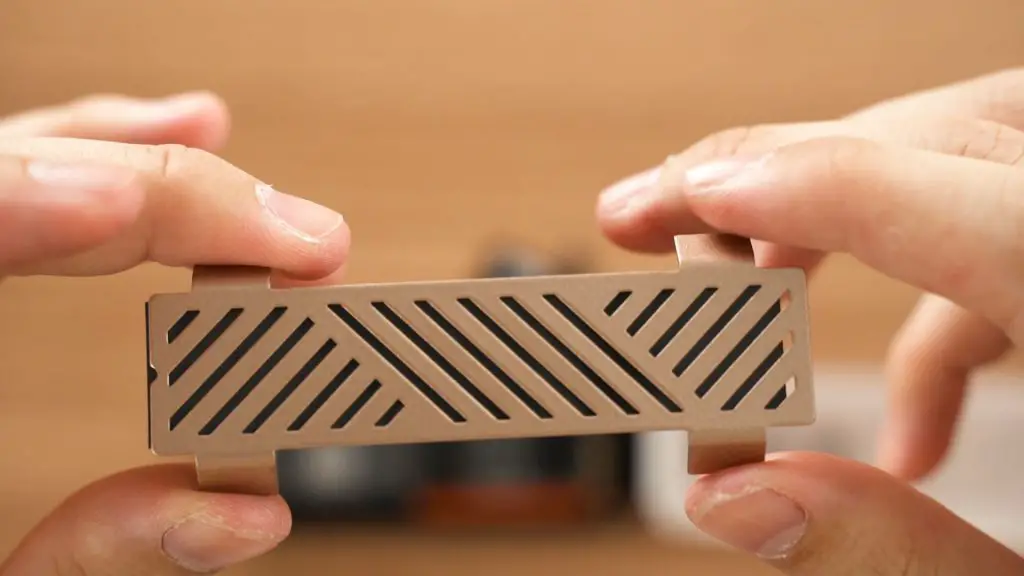 The SSD used here is a standard M.2 2280 NVMe SSD and we can take it out of the mainboard and perhaps "upgrade" the KLEVV R1 by installing a 2TB SSD if we choose to do so.
Should you buy the KLEVV R1 external portable SSD?
Here's the thing – the KLEVV R1 that we have is the 1TB version and it is priced at RM649 or USD $130.99. This is actually quite a good deal considering that if we are to buy a 1TB NVMe SSD and a reliable, high-speed external SSD enclosure separately, it will cost about the same as the KLEVV R1 1TB version. That excludes the headaches and compatibility checks, too.
So, the KLEVV R1 is actually a good price. It works out of the box across all operating systems and performs just as well as advertised.
Where to buy? (Affiliate links)