The VivoBook S15 S533 gone through quite a number of changes compared to its predecessor. It now also packs the latest 10th Gen Intel Core processor together with an NVIDIA GeForce MX250. On paper, the new VivoBook S15 S533 does have a good list of specs – but we still think specs do not tell the full story. So, is the VivoBook S15 S533 actually good?
We dive down into the review of this new VivoBook S15 S533. There are a few pros and cons, but generally – it's a good laptop. Here's why.
The specs
Let's first focus on the hardware because there are quite a lot of things to talk about here. There is only one configuration available in Malaysia for the 15-inch version, which are:
Intel Core i5-10210U
NVIDIA GeForce MX250 with 2GB VRAM
8GB of DDR4-2666 RAM in dual-channel mode (soldered)
512GB of Intel Optane Memory H10 with Solid State Storage
We did our usual benchmarks for this caliber of laptops and it turned out that this laptop is pretty powerful. I mean, that is to be expected – but that Core i5-10210U is surprising, to say the least.
ASUS VivoBook S15 S533
Intel Core i5-10210U; NVIDIA GeForce MX250;
8GB RAM
3DMark Fire Strike
3415
3DMark Time Spy
1310
Cinebench R20
Single-core
330
Cinebench R20
Multi-core
1512
Unigine Valley (score)
755
Unigine Heaven (score)
397
Unigine Superposition (score)
532
PCMark 10
4011
What I was initially worried about was that SSD. Remember Intel's QLC Optane SSDs? Basically, this new Optane Memory H10 with Solid State Storage – yes that's the full name – is technically an improved version of that. On that single M.2 stick, it has both the 512GB QLC NAND flash chip, alongside with another 32GB of cache. Through benchmarks, this SSD is faster than other TLC NAND flash SSDs running on  PCIe Gen 3 x2, but slower those running on PCIe Gen 3 X4.
Vibrant colors with better build
The new VivoBook S15 S533 has improved build quality – it is now much more solid than its predecessor thanks to the use of metal – which actually got cold to the touch – and also a new vibrantly colored design.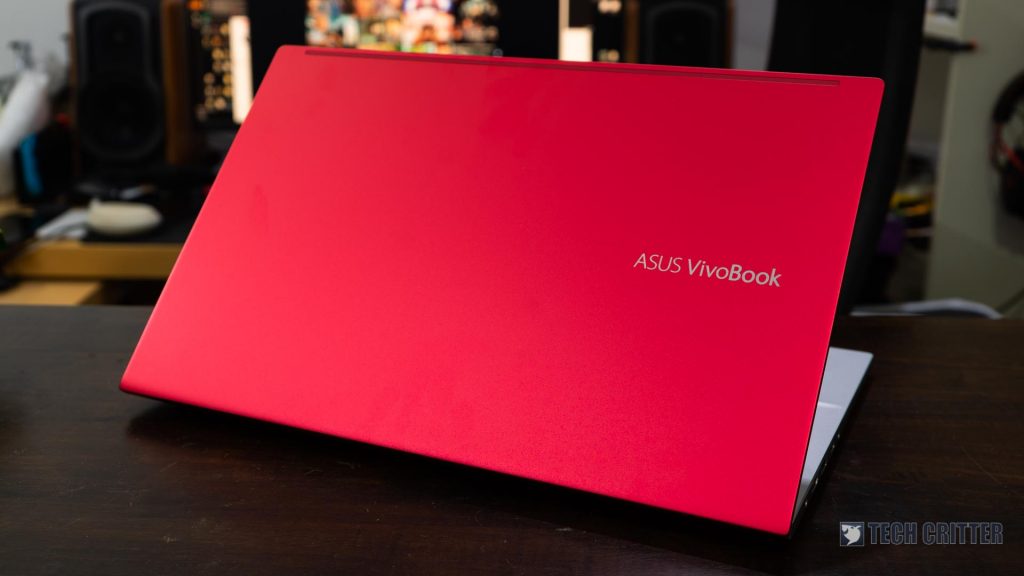 We got the one in Resolute Red. It's somewhat a mixture between deep pink and a little more red color. Not really sure how to describe it, but it's surely a unique color. This laptop is also available in Dreamy White, Gaia Green, and the classy Indie Black.
One interesting thing I noticed is that the keyboard's keys themselves are silver in color for all color options except Indie Black. That one has a matching black keyboard.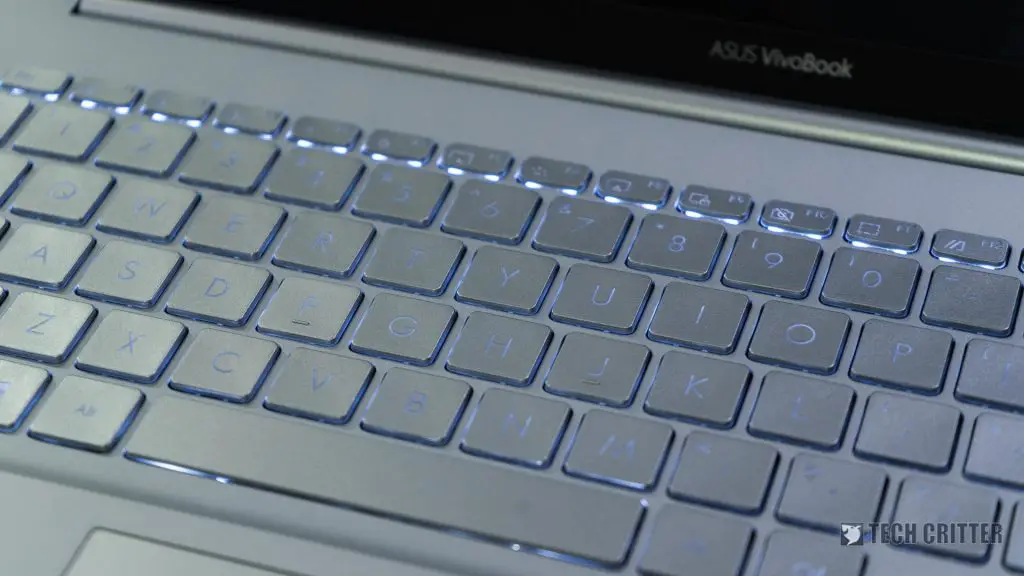 An okay screen
The new VivoBook S15 S533 features a 15.6-inch IPS LCD screen has a fairly decent screen for day-to-day use. There's nothing particularly wrong with it so I can give it a pass. It's definitely not suitable to be used outdoors because its brightness is somewhere around 250 nits.
The bezels are fairly thin for today's standards and the top bezel is a little thicker to house a webcam. Thank you ASUS for including a webcam and placing it where it should be. I absolutely hate nose cams.
The keyboard/trackpad
One thing that I'm impressed with is how great this keyboard is. The VivoBook S15 S533 has a rather soft keyboard and I find it great to type on – especially when I have to type a long essay or document. It just doesn't tire my fingers out since it has a pretty low actuating force with decent travel distance and a surprisingly soft landing.
I can also in complete darkness thanks to the backlit keyboard. There are a total of 3 levels of brightness too.
The trackpad is surprisingly decent. It tracks well, uses Windows Precision Touchpad drivers, and has decent palm rejection.
Decent selection of ports
The ports available here is rather standard and it's good enough for everyday use. We have: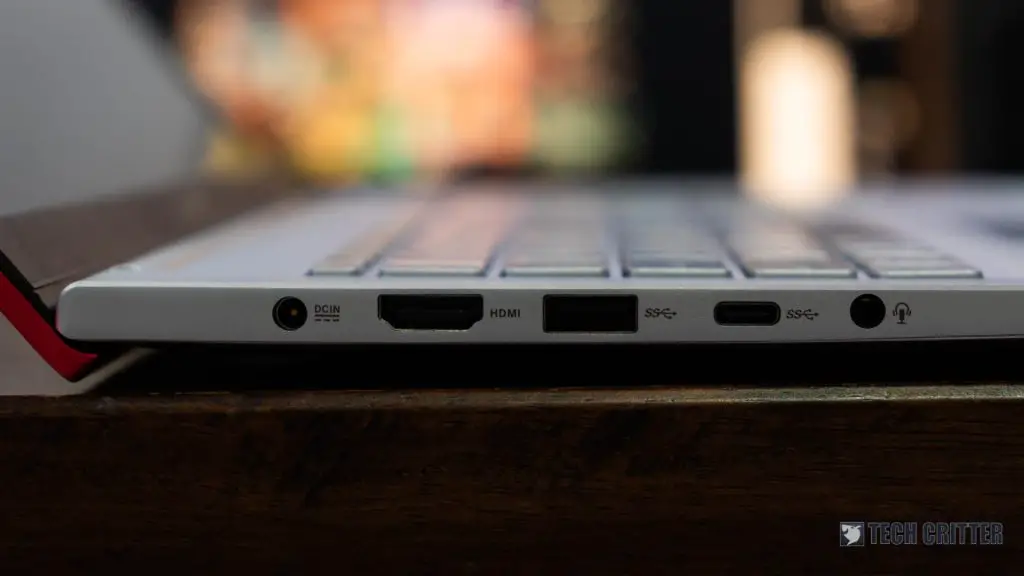 Left

Barrel jack
HDMI
USB 3.0 Type-A
USB 3.0 Type-C
Combo audio jack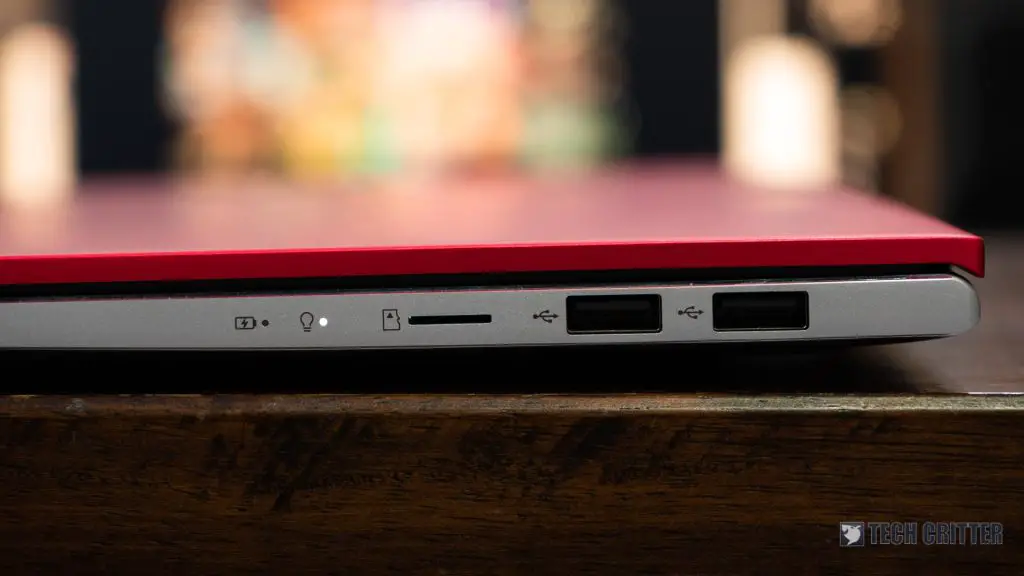 Right

2x USB 2.0 Type-A
microSD card reader
It's good that ASUS included a microSD card reader since it's a rather rare port to have nowadays. I do wish ASUS included a full-sized SD card reader but hey – I'll take whatever they offer at this point.
ASUS also included an Intel WiFi-6 network card which is definitely nice to have.
Lacks upgradability
One major complaint that I have is the way ASUS laid things out. Opening up the back panel reveals all of the internals and ASUS does expect you to open it and do the upgrade yourself – but they used Torx screws instead. Not many people have Torx screwdrivers lying around when compared to Philips.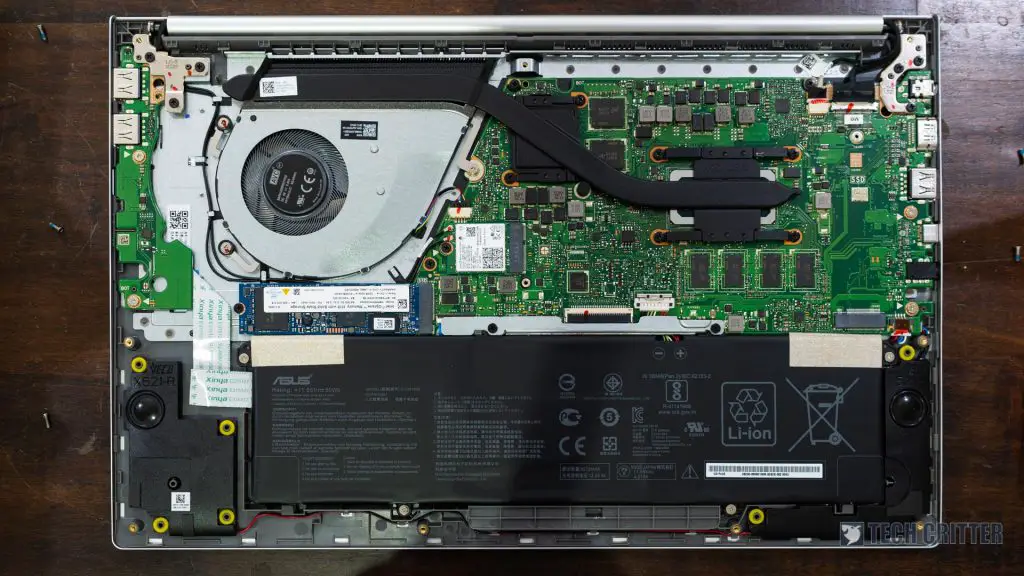 Opening up the panel reveals a few things – we have another blank M.2 SSD slot that is empty – which is why I said that ASUS encourages you to upgrade the laptop yourself – but that's about it. The WiFi chip can be swapped, but ASUS had already included a WiFi-6 card in here.
My biggest gripe is that soldered 8GB RAM. This laptop is rather powerful – but it's held back by that 8GB RAM. I don't mind if it's upgradeable – but there is no extra RAM slot. 8GB is all we have and nothing can be done.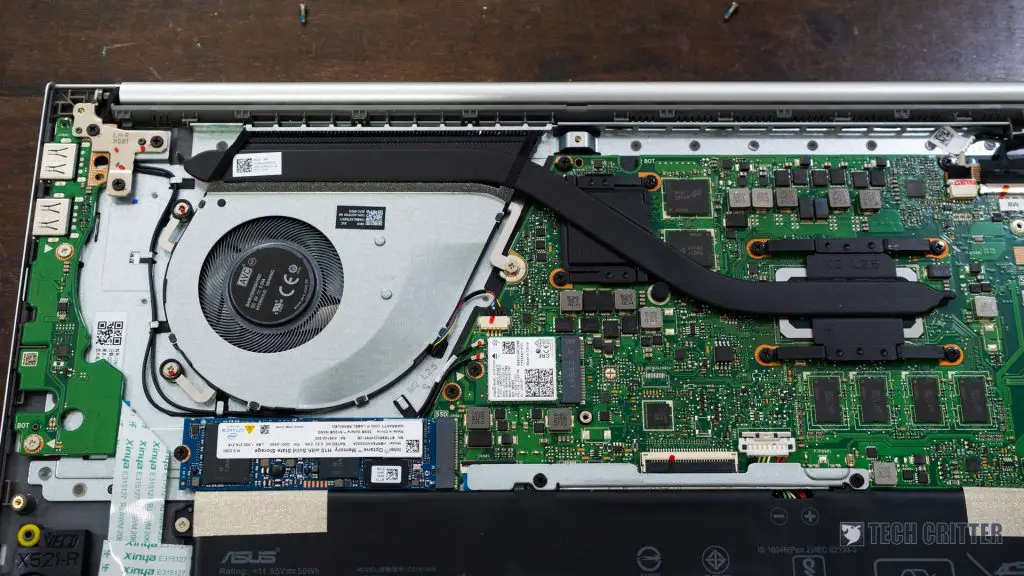 One thing I noticed is the air chamber for the fan – which is humongous compared to other laptops we've seen so far. I'm surprised that a single heatpipe shared between both the CPU and GPU can still perform this well in terms of thermals. I got less than 80°C for both CPU and GPU while playing Overwatch on medium settings.
Good battery life
This ASUS VivoBook S15 S533 has a 50Wh battery. It gave me about 7 to 8 hours of battery life within a single charge – and I think that's great considering that we are heavy users after all. Our usual workload is simple – a lot of Chrome tabs with Spotify running, some YouTube videos, and some lightweight Photoshop work.
And the power brick is relatively small too.
Should you buy the ASUS VivoBook S15 S533?
ASUS Malaysia is only bringing in one configuration of the VivoBook S15 S533 into the market – and that's the one which we reviewed here. For the price of RM3,199, it's actually a great deal. The Intel Core i5-10210U with MX250 can get some serious work done – and even provide a rather comfortable gaming experience for lighter titles.
Overall, I love this laptop a lot. It's a great all-rounder with everything you need and comes with a decent build quality too.