Let's take a look at another AIO PC that is available today. This entire setup – including the wireless keyboard and mouse bundle – is priced at only RM2,999 now. With its specs and everything included, this ASUS A3402 is actually a pretty good deal.
So, let's get into it.
Everything that we placed on the table here is everything that you'll get inside the box. You'll have the AIO PC, the power brick, and also the bundled wireless keyboard and mouse of decent quality that I'll say still works fine.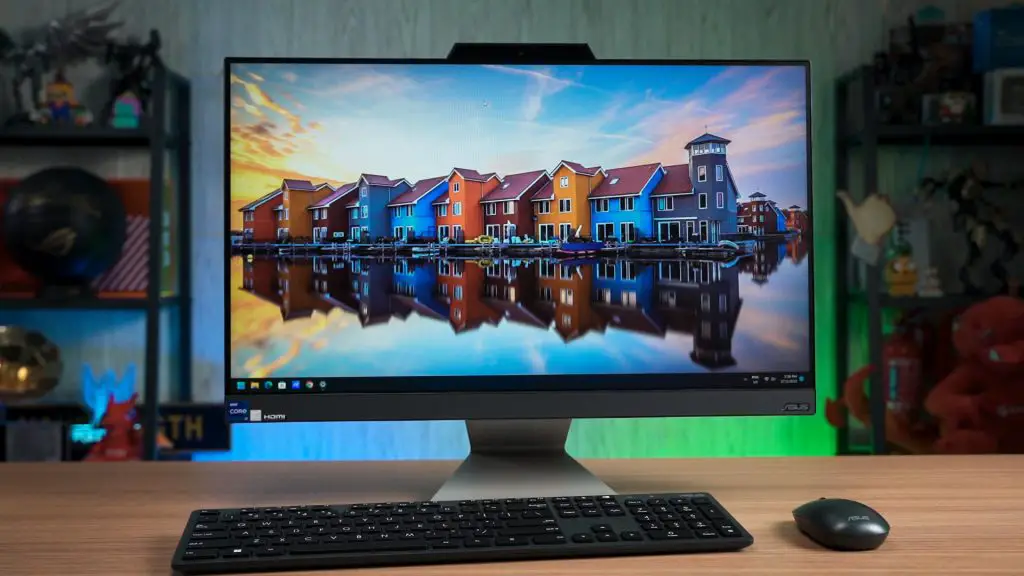 The AIO PC is indeed a weirdly named one, honestly. It's called the ASUS A3402, but this is a 24-inch AIO PC. Since the display is the main highlight of this device, let's talk about that first.
In the specs sheet, it says that this is a 24-inch IPS LCD screen with a resolution of 1920×1080 and a 60Hz refresh rate maximum, covers 100% sRGB color gamut, and also a brightness of 250 nits.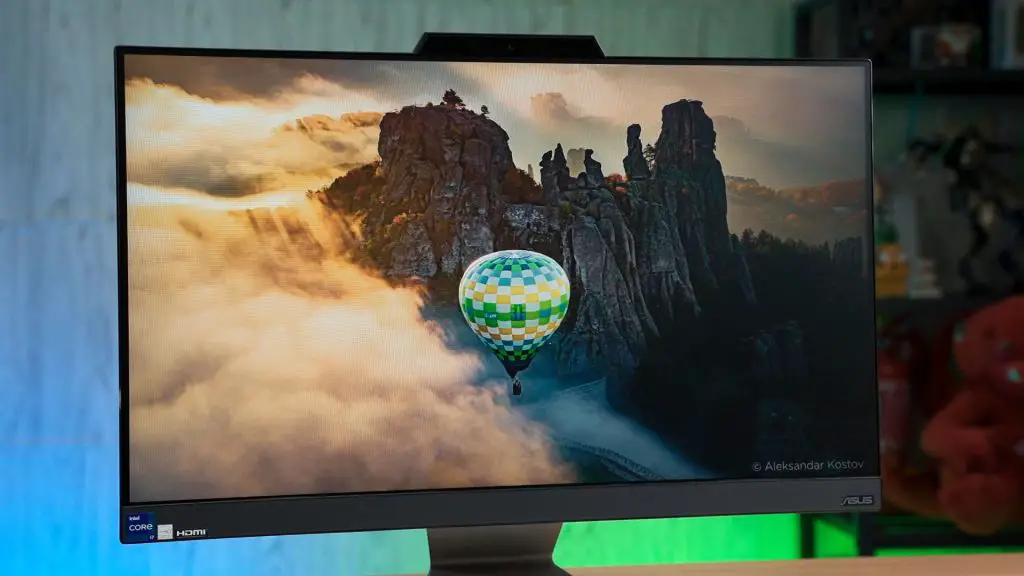 We did our own independent test, and here is what I found out. Our particular unit covers 94.01% of the sRGB color gamut and also has a slightly higher 270 nits brightness. Not too far away from the specs sheet.
Oh – there is a touchscreen version of this AIO PC too. Our unit here is not touch-enabled, and I think it's for the better. Using an AIO PC with a touch screen is tiring AF.
The specs of this machine is also rather decent. We have an Intel Core i7-1255U with 8GB of DDR4 RAM at 3200MHz and also 1TB of SSD storage. The integrated graphics though, is confusing. In the Intel ARK database, the Core i7-1255U is stated to be Iris Xe Eligible – but when we check the task manager, this AIO PC is using a non-descript variant of Intel UHD Graphics. Confused, I went on a searching spree and found out that this specific AIO PC should be using the Intel Iris Xe Graphics G7 with 96EUs. The performance is… not that good. Not as good as the Iris Xe graphics.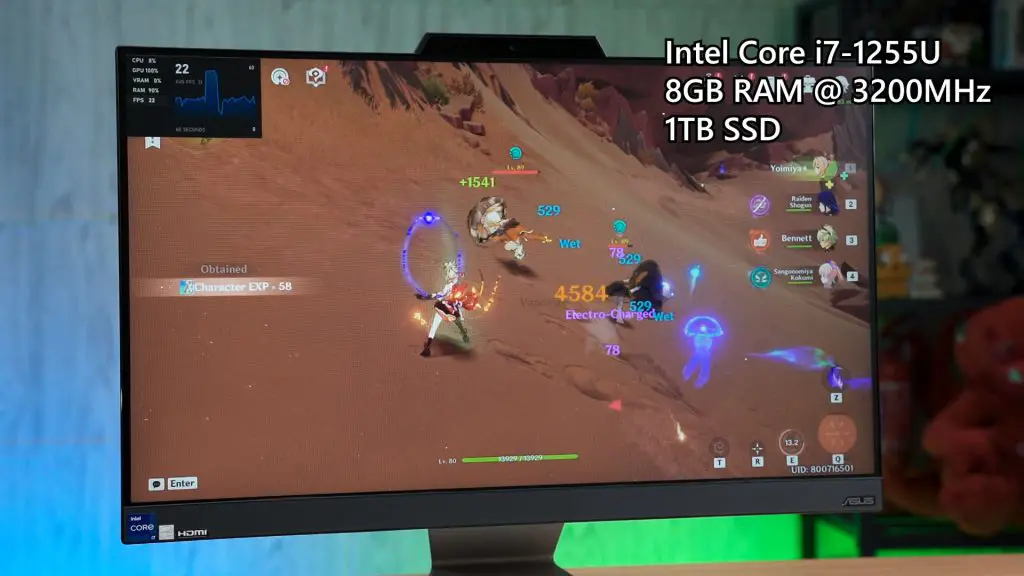 We also tried Genshin Impact at the lowest graphical settings and I'll still say it's playable. There are some stutters that resulted in below 30fps gameplay but overall is still an okay experience.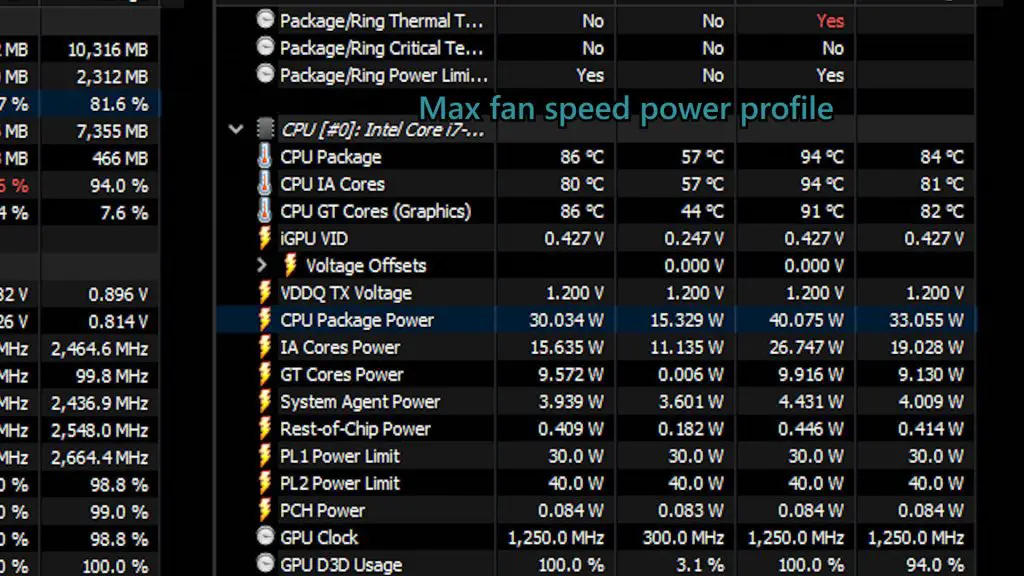 All tests done here are with the full fan speed power profile, so the AIO PC should already be at its max power all the time. One peculiar thing about this desktop is that the Intel Core i7-1255U can run at a much higher wattage. Remember that U-series chips are supposed to only take in 15W maximum but from our quick tests, it can boost up to 40W for a split second but eventually settle down to about 30W at the highest fan speed mode while throttled thermally.
Since it is so low-powered, there is practically no fan noise. Even playing Genshin Impact and stressing the machine to its maximum, there is practically no fan noise. By the way, the speaker of this AIO PC is also quite good.
Of course, this machine isn't meant for gaming – so if you just want to use it to browse the web, watch YouTube, check your email, and all that stuff – yeah this machine can perform those tasks really well.
Of course, you can connect a slew of other accessories too. Surprisingly, the audio jack and one more USB 2.0 port are placed at the bottom right corner too. That's a good position, honestly.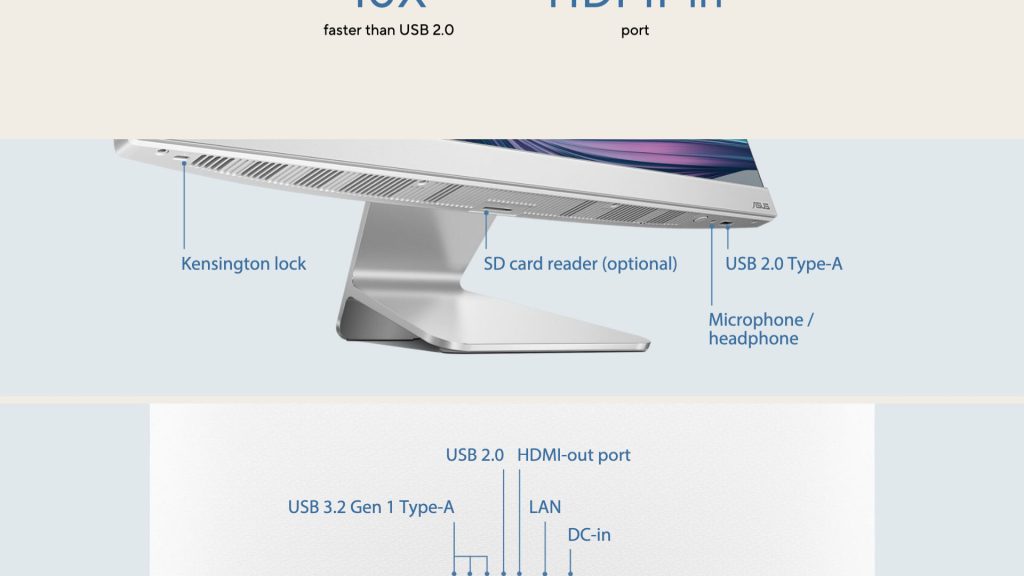 And if I want to nitpick even further, the built-in stand of this AIO PC is surely sturdy, but it only has tilt adjustment. I would've liked to see height adjustment though.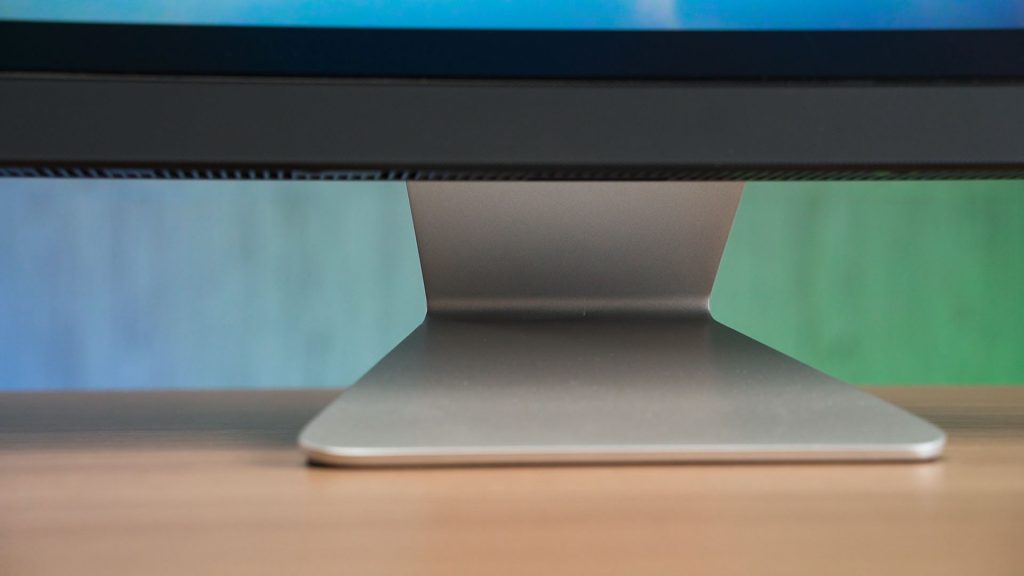 Why choose this AIO PC specifically?
So, why should you get an AIO PC? There are quite a lot of reasons – like space for example. You might say that hey, the entire thing will be useless I upgraded to a higher-end PC later on. To that, I'll say no. There is one special feature built-in, which is the HDMI input port. Once connected, you can use this ASUS A3402 as an external monitor. Nice!
But then again, AIO PCs are quite a niche product, actually. If we look at it from a different perspective, it's technically a laptop integrated into a large desktop monitor and doesn't have a battery inside. Because of their size and lack of a built-in battery, AIO PCs are not as portable as their laptop counterparts. That's why many people will prefer a laptop over an AIO PC even when AIO PCs are cheaper.
So, I'll say this as a summary. Looking at computers around this price range of RM3,000, we technically have a total of 3 form factors to choose from. We recently reviewed a small form factor desktop – the ExpertCenter D7 – and I think those desktops have some upgrade pathways but they do take up some space as you'll have to place the desktop somewhere.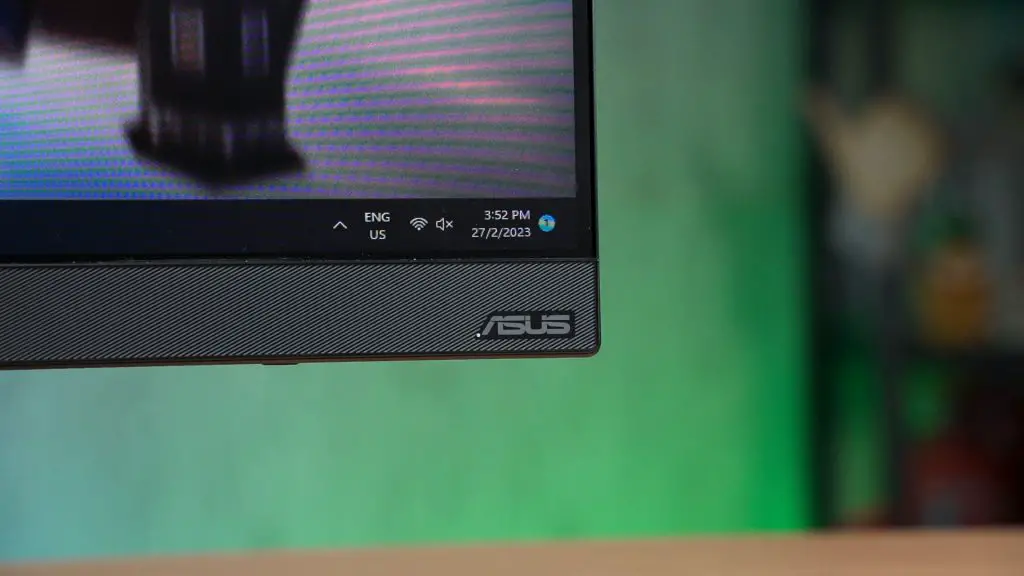 Then, AIO PCs like this one are similar to small form factor desktops but most of them cannot be upgraded and we can't really do much with it overall. It's like a laptop that is not portable and has a big screen.
Laptops cater to most people since it is portable and has the same or better specs than an AIO PC.
So, the decision is really up to you. I think AIO PCs are great in certain scenarios – like a front desk reception or as a family PC.
Where to buy? (Affiliate links)