The AMD Ryzen 9 7945HX belongs to the high-end laptop processor category in the Dragon Range series. It features 16 cores based on the Zen 4 architecture, supporting Simultaneous Multi-Threading (SMT) and offering 32 threads. The cores have a base clock speed ranging from 2.5 GHz up to 5.4 GHz single-core boost. At its release, the 7945HX stood as the fastest mobile Ryzen CPU and was derived from the desktop Ryzen 9 7950X.
Today, what we have in the studio is the ROG Strix SCAR 17 G733PY gaming laptop that is equipped with the said most powerful Ryzen mobile CPU and NVIDIA GeForce RTX 4090 Laptop operating at 175W max TGP. Let's find out what this laptop is capable of.
Specifications
AMD Ryzen 9 7945HX
NVIDIA GeForce RTX 4090 175W
2x 16GB DDR5-4800
1TB PCIe 4.0 NVMe SSD
17.3-inch 1440p 240Hz IPS G-Sync
ROG Strix SCAR 17 G733PY
The ROG Strix SCAR 17 chassis has been around for many years. While ROG did have the new SCAR 18 that features a brand new 16:10 display but that doesn't mean the SCAR 17 is being retired for good. Presumably due to the limited component available, for now, they will coexist together until ROG got things sorted out.
IO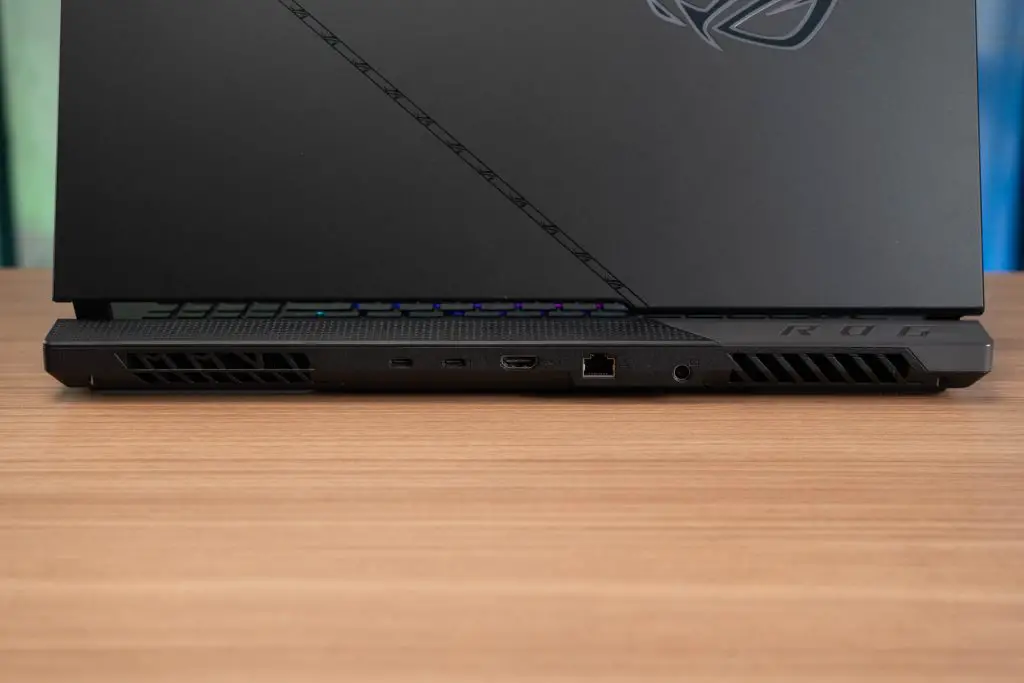 2x USB Type-C 3.2 Gen 2
1x HDMI 2.1
1x 2.5G LAN
2x USB Type-A 3.2 Gen 1
1x 3.5mm combo audio jack
No ports on the right side of the laptop to maximize the external mouse movement area.
This keyboard layout is no stranger to us as we have previously reviewed countless ROG Strix SCAR 17 laptops.
While I appreciate the separated arrow cluster, the said keycap size leaves a lot to be desired. Despite so, this layout is one of the most versatile and standardized ones as most of the essential modifier keys are kept at the same size and a proper numpad layout.
Typing is just like any laptop membrane keyboard. Don't expect something similar to a mechanical keyboard because it isn't. For a laptop, this is practical and more than enough.
Display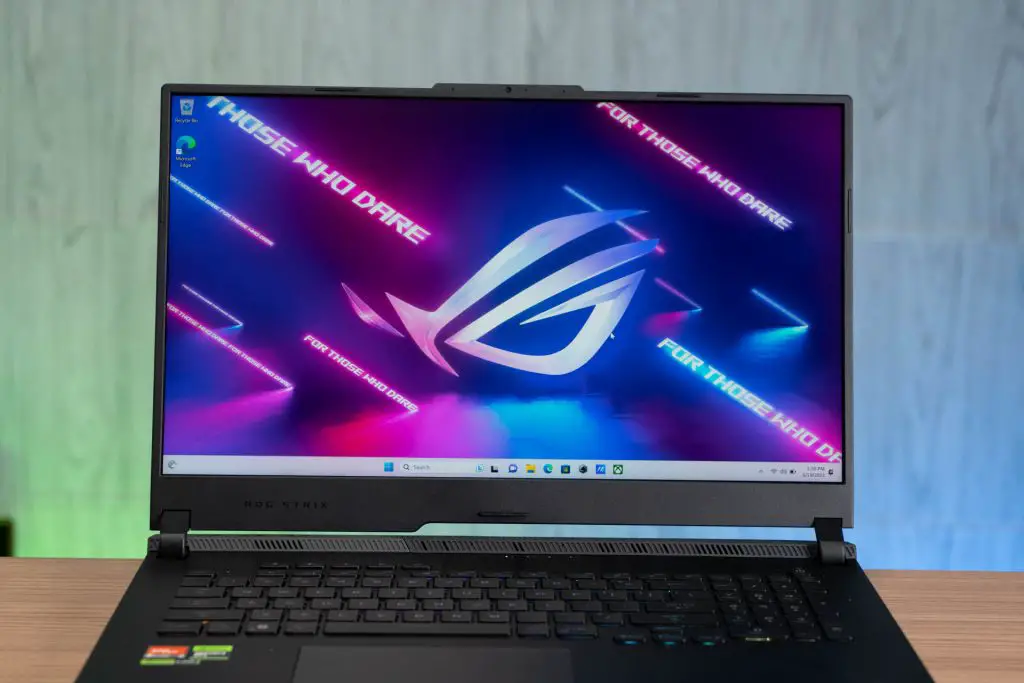 The display is a 17.3-inch IPS panel with Quad HD resolution (2560 * 1440). This is a tried-and-tested panel with a 240Hz refresh rate. Quad HD at 17-inch is just about right especially with the advancement of the gaming performance as well as the graphics details.
Performance
In terms of performance, the R9 7945HX can be compared to the Intel Core i9-13980HX (Raptor Lake) in the high-end segment of gaming laptop CPUs. The Core i9-13980HX boasts 24 Hybrid cores with a maximum clock speed of 5.4 GHz. AMD has positioned the R9 7945HX as significantly faster than the older Ryzen 9 6900HX (8 Zen 3 cores, 4.9 GHz max), which is logical considering the higher core count, clock speed, and architecture difference.
Synthetic Benchmark
Cinebench R23 shows a significant gap in multi-core performance. Given all the core count and raw power availability, This is perfect for those who want to utilise all the cores for rendering etc. Just that it falls short when it comes to single-core performance.
Even with the same GPU, the 3DMark score on the SCAR 17 is slightly ahead of its Intel counterpart. Most of the time, this performance difference is negligible when you look at the big picture.
The same pattern can be seen on PCMark 10 as the benchmark suite puts more emphasis on multi-core performance.
Gaming – Cyberpunk 2077
Ray Tracing Overdrive + DLSS + Frame Generation
RT Overdrive is almost impossible to play if you don't enable DLSS and Frame Generation technology. While there are some raster purists who don't appreciate the advancement of DLSS or FSR, you can't deny the fact that having a reasonable gaming performance is more important than pixel peeping.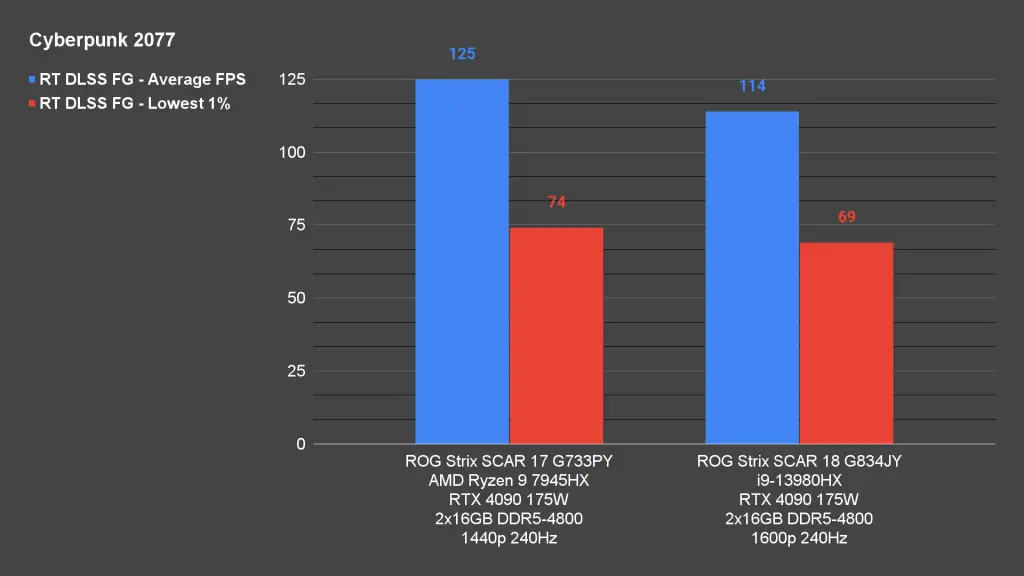 Ray Tracing + DLSS + Frame Generation
For some reason, the Ryzen 9 model is capable of achieving higher average fps when running the game in RT + DLSS + FG. The added CPU cores probably helped.
Ray Tracing + DLSS
Other than that, the rest of the test has negligible frame rate difference.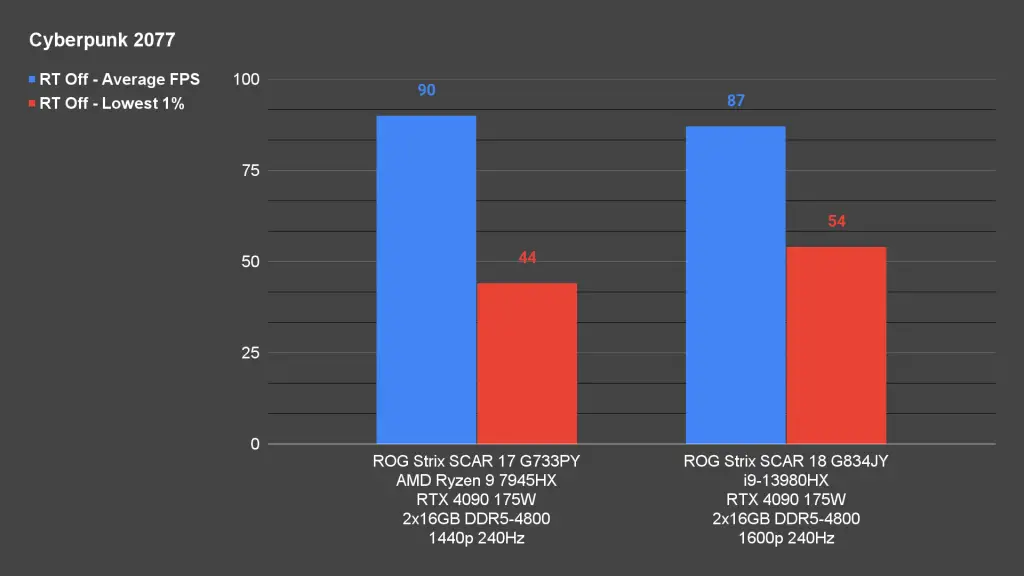 Raster
Rather shows a huge difference in the low 1% frame rate. Not utilising the Tensor and RT cores has exposed the importance of single-core peak performance.
Conclusion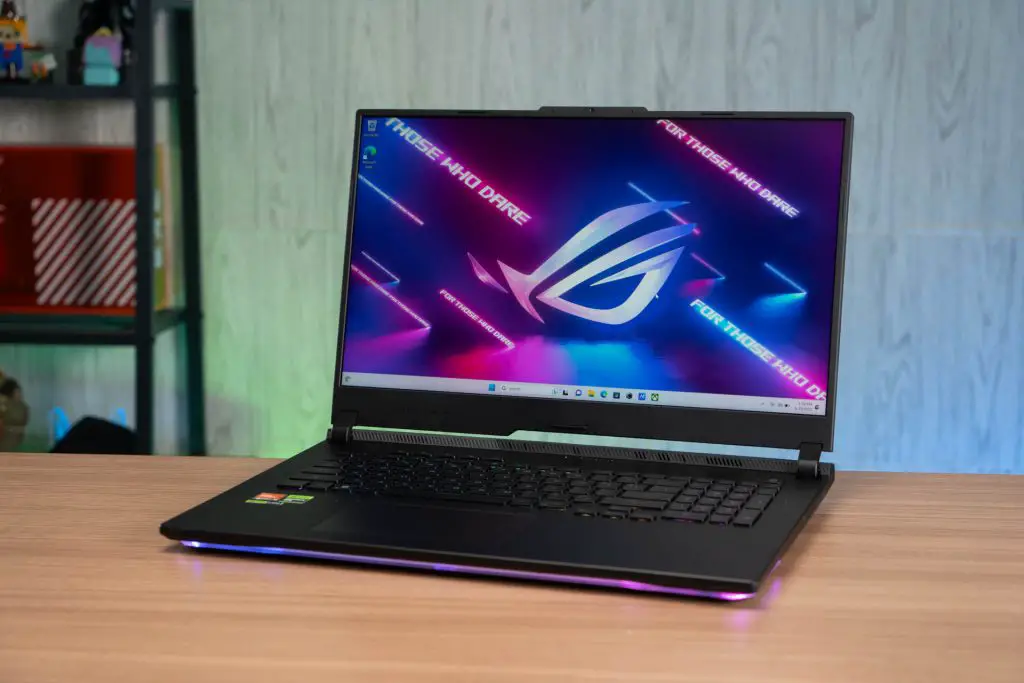 After spending 2 weeks with the ROG Strix SCAR 17 G733PY, I can tell upfront that this is one of the most powerful gaming laptop money can buy right now. At $3499, ROG has a balanced performance and cooling capabilities for laptops of this calibre.
Even though the long-time debate of Intel vs AMD is still around, personally, I think it doesn't matter much if you're getting this laptop solely for gaming purposes. That is unless you're planning to include content creation tasks into the mix, then the 16C32T AMD Ryzen 9 7945HX would be around 10% faster than the Intel counterpart.