Intel released its new i7 5960X and its companion X99 chipset with the latest DDR4 memory support to take on the enthusiast's hunger for performance. Comes a whopping 8 cores and 20MB L3 cache from the CPU, and the latest DDR4 memory support on the X99 chipset motherboard which makes the dynamic duo the crowning king in the consumer market – theoretically that is.
So does that makes the Haswell-E and X99 the best system to go with if my Haswell 1150 isn't giving me the performance that I've dreamt of? Not quite, as switching from the Haswell 1150 to Haswell-E 2100-v3 isn't going to be easy and the cost isn't going to be friendly to your wallet, especially when the CPU, motherboard and RAM costs as much as a finely build Haswell 1150 system.
*Huge thanks to Intel for sending us a sample of the Haswell-E i7 5960X to aid us with today's performance review.
Comparison Chart
Code Name
 Haswell
 Devil's Canyon
 Haswell E
Processor Number
i7-4770K
i7-4790K
i7-5960X
Cache
8 MB Intel® Smart Cache
8 MB Intel® Smart Cache
20 MB Intel® Smart Cache
Lithography
22 nm
22 nm
22 nm
# of Cores
4
4
8
# of Threads
8
8
16
Processor Base Frequency
3.5 GHz
4 GHz
3 GHz
Max Turbo Frequency
3.9 GHz
4.4 GHz
3.5 GHz
TDP
84 W
88 W
140 W
Max Memory Size (dependent on memory type)
32 GB
32 GB
64 GB
Memory Types
DDR3-1333/1600
DDR3-1333/1600
DDR4-1333/1600/2133
# of Memory Channels
2
2
4
Max Memory Bandwidth
25.6 GB/s
25.6 GB/s
68 GB/s
ECC Memory Supported ‡
No
No
No
Processor Graphics ‡
Intel® HD Graphics 4600
Intel® HD Graphics 4600
None
Graphics Base Frequency
350 MHz
350 MHz
Graphics Max Dynamic Frequency
1.25 GHz
1.25 GHz
Graphics Video Max Memory
1.7 GB
1.7 GB
Intel® Quick Sync Video
Yes
Yes
Intel® InTru™ 3D Technology
Yes
Yes
Intel® Insider™
Yes
Yes
Intel® Wireless Display
Yes
Yes
Intel® Flexible Display Interface (Intel® FDI)
Yes
Yes
Intel® Clear Video HD Technology
Yes
Yes
# of Displays Supported ‡
3
3
The Haswell-E i7 5960X
Compared to the previous generation Intel 2011 socket CPU, the IHS on the Haswell-E i7 5960X now comes with a larger surface.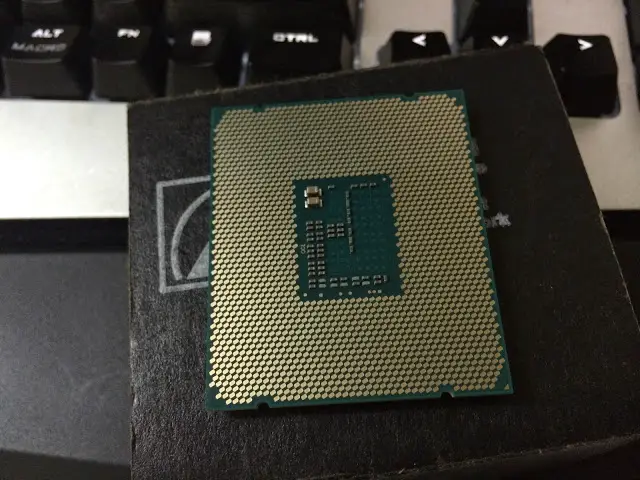 The bottom of the CPU appears to have a less dense capacitors compared to the previous generation 2011 socket CPU.
Motherboards
The Haswell-E might be a 2011 socket CPU, but do note that there are differences between 2011-V3 and 2011 – it will not work on X79 chipset motherboards. In other words, upgrading to the Haswell-E CPU requires an upgrade to X99 chipset motherboard no matter what system you were on before.
Memory
As the Haswell-E only will work on X99 chipset motherboards, DDR4 memory is the only choice of memory you can go for because DDR3 memory will not fit in the memory slots of X99 chipset motherboards.
Performance Overview
Test Rig Configuration
CPU Cooler
Cooler Master Nepton 240M
CPU
Intel Core i7 5960X
Motherboard
ASUS X99 Deluxe
Memory
G.Skill Ripjaws 4 16GB
Primary Hard Drive
Crucial M500 120GB
Power Supply
Cooler Master V1200
Chassis
Vector Bench Case
With everything set for the X99 configuration as above, we've conducted the following test with the Haswell-E i7 5960X CPU at factory clock speed and overclocked to 4.5GHz with Cooler Master Nepton 240M as the CPU cooler and ambient temperature of ±30°C.AIDA64 Memory Benchmark
For memory benchmark, we're seeing at least 50% improvement on DDR4 compared to DDR3.
Cinebench R15
As for Cinebench R15, the Haswell-E i7 5960X easily takes the lead with twice as much as the score for both 1150 socket CPU.
SuperPi 1.5 Mod 32M
When it comes to SuperPi, having more cores doesn't gives you any advantages in getting a better result. In this test, the 1150 socket i7 4790K seems to have a slight upper hand here, leading the race with 2 seconds away.
WinRAR Compression
In this test, we compress a MKV movie file with the size of 2.3GB with WinRAR and recorded the total time taken for the file to be compressed into a RAR extension file. The Haswell-E i7 5960X lead the race with fastest compression that took only 60 seconds.
X264 FHD Benchmark
The X264 FHD benchmark simulates video encoding from MKV video file with the size of 172MB to H.264 to see how fast a CPU can encode. The i7 5960X overpowered both i7 4770K and i7 4790K by having frames result twice as much as the result of both 1150 socket CPU, leaving the 1150 socket CPUx to bite the dust.
Final Thoughts
The Haswell-E i7 5960X is indeed a good performer but things doesn't seem to go well when it comes to stability.
We've confirmed the result with other overclockers and it appears that none of us were able to produce a result that is able to survive Prime95 stress test for long. So here comes the verdict; Upgrading to the latest Haswell-E i7 5960X and Intel X99 Chipset motherboard isn't a bad idea as gives you the advantage of better overall performance but you might want to look into the total cost of migration that is just too overwhelming and not to mention the stability issue that we've experienced. Finally, if you've prepared a huge sum of cash to build a monster rig for your work that requires the juicy 8 core processing power with zero interest in pushing the CPU to its limit, the Haswell-E i7 5960X is the CPU that might be worthwhile to consider for. Pros
Juicy 8 core and 20MB L3 Cache
Decent overclocking capability
Great performance out of the box
Support the latest Intel X99 chipser motherboards and DDR4 Memory
Cons
Overclocking is much difficult due to stability issue
Incompatible with Intel X79 chipset motherboards and DDR3 Memory
Hefty price tag