Phanteks has revealed a lot of new products over at COMPUTEX 2023 and all of them have a bunch of colors in them one way or another. Let's take a quick look at them.
First, we have the NV9, the supposedly upgraded version of the NV7 that is bigger and better. As a premium full tower, it can take in up to twelve 120mm or eleven 140mm fans while the near seamless tempered glass panels shows off everything you got.
It also supports direct GPU cooling which can hold up to 420mm or 480mm radiators on the side for the best cooling performance.
The hinged rear door design carries forward from the NV7 for clean cable management whereas the integrated DRGB lighting control with dual channels makes lighting synchronizing a breeze.
Loved the NV9 but it's too big? Then take a look at the NV5 instead which carries most of the NV9's advantages at a smaller mid-tower chassis with support for up to eight 120mm fans and a space for a 360mm radiator either on the top or the side.
There is also a slot for a bottom fan to cool the GPU while the PSU cover helps the user to cable manage easier while the DRGB lighting system is the same as the former.
For the AIO CPU cooler, the Glacier One D30 has the looks and the skills too. Offering a large copper base and fin array that cool even high-end processors, the D30 fans can be daisy-chained and controlled through a single cable.
It is available in sizes of 240mm and 360mm to cater to different needs.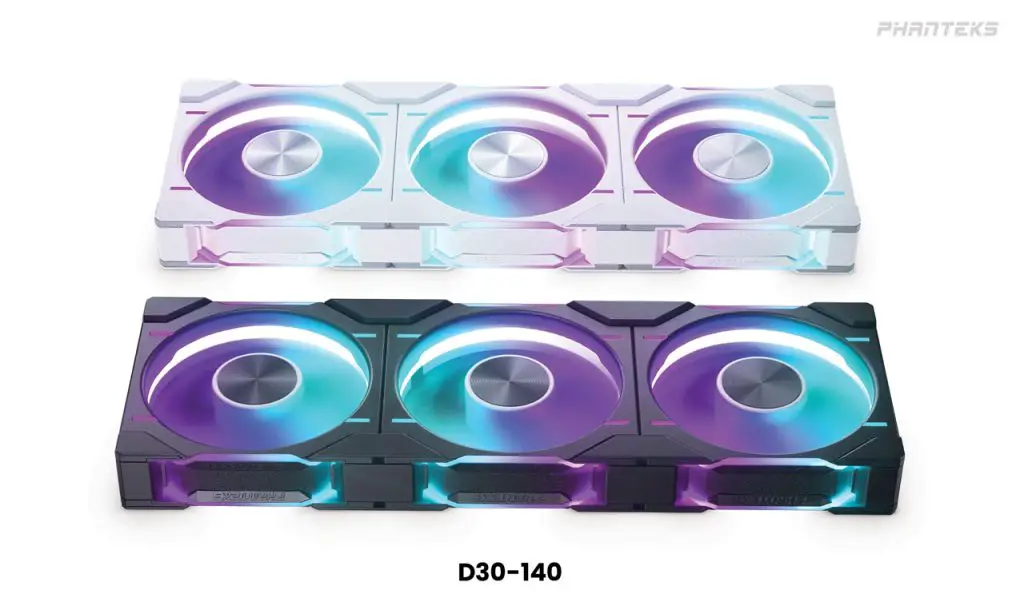 Or if you want the fans, the D30 can be acquired in sizes of 140mm and carries a lot of improvements from the 120mm version which include bridge connector clips, screw covers, and single cable connector to make your system looker cleaner.
The HALOS lighting ring blasts RGB from both sides of the fan blades and they will come in colors of black and white.
Fancy a thick and premium GPU bracket? Here comes Phantek's offering that packs flexibility and style into a single package. With full supprt in vertical orientation, it also can be adjusted up to 30 degrees if your GPU is like one of a kind.
Regardless of what aspect, it is going to make your setup pop out no matter what.
To amp the game of customization, Phantek's Revolt PSU series will have a branching model where they will directly skip the cables for those who are running CableMod custom power chords.
Developed in conjunction with Seasonic for the highest standards, all SKUs performs and exceed the latest Intel ATX 3.0 specs and is either 80+ PLATINUM or TITANIUM certified with wattage ranges from 1000W to 1600W.