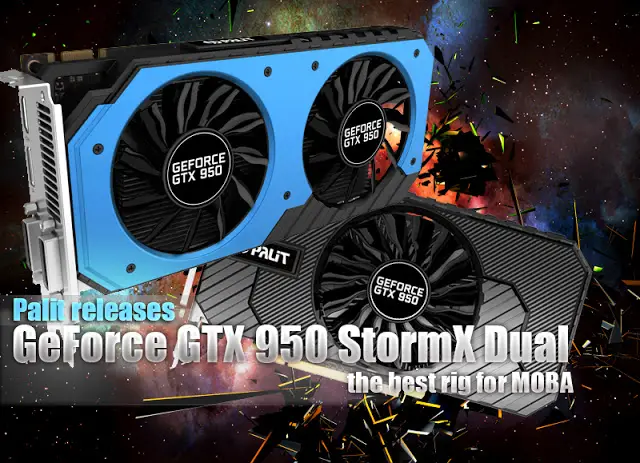 Palit Microsystems Ltd, the leading graphics card manufacturer, releases the Maxwell-based power efficienct Palit GeForce GTX 950 StormX Dual. With its full function gaming features, all gaming will starts from Palit GeForce GTX 950 series.
Palit GeForce GTX 950 StormX Dual is a true gaming GPU designed for every PC gamer. It's built to the exacting specifications of the GeForce GTX family and powered by NVIDIA Maxwell-the most advanced GPU architecture ever created-to deliver 3x the performance of previous GTX650 series. GeForce GTX 950 transforms your PC into a gaming rig to rival any game console. Enjoy fast and responsive MOBA gaming and the latest games in 1080p @60 FPS. The OC version Palit GTX950 StormX Dual equipped with 2G GDDR5 memory and has boost clock at 1241MHz, making it 53MHz higher than the reference speed. For the optimized design, not only dual TurboFan Blade coolers, but also with solid capacitors, ferrite core chokes, and an improved PWM design. Bring you better performance and thermal solution.
Palit GeForce GTX 950 StormX Dual Features:
0-dB Tech: Keep Silent while you are experiencing the multimedia application and general workload. The operating fans only occurs while working on heavier loading such as gaming that the GPU temperature surpasses 60℃.
Dual Fan: A Dual Fan design offers double the cooling performance, and combined with the 8CM-8CM Smart Fans, heat is effectively drawn away from hot spots.
TurboFan Blade: Inspired by the power of jet engines, the TurboFan Blade is designed to improve cooling performance by generating a powerful air stream and air pressure.