The MEG Z490 GODLIKE is MSI's latest top-end offer for its Intel 400 series chipset motherboard lineup that was released alongside the latest 10th gen Intel desktop processors. The GODLIKE series motherboards have been the top-end offering in the MSI enthusiasts grade motherboard lineup, packed with tons of features and extras that are tailored for users ranged from hardcore enthusiasts to extreme overclockers.
As we already tested the MEG X570 GODLIKE countless times since we got our hands on it, we're really looking forward to giving the MEG Z490 GODLIKE a try after seeing the official announcement from MSI. While we wait for our Intel Core i9-10900K to arrive, we'll first share our first impression and hands-on experience of the MEG Z490 GODLIKE for now.
Specifications
CPU support
Intel LGA1200 (10th Gen Intel Core i9, Core i7, Core i5, Core i3, Pentium, Celeron)
Chipset
Intel Z490
Memory

4 DIMM Slots, up to 128GB
Dual-channel, up to DDR4-5000 (O.C)
Support for Extreme Memory Profile (XMP) modules

Expansion slots

3 x PCIe 3.0 x16 slot, support x16/x0/x4 or x8/x8/x4 mode
1 x PCIe 3.0 X4 slot

Storage

1 x M.2 Connector (Slot 1supports PCIe X4 and SATA 6Gb/s)
1 X M.2 Connector (Slot 2 supports PCIe X4 and SATA 6Gb/s))
1 X M.2 Connector (Slot 3 supports PCIe X4)
6 x SATA 6Gb/s ports

Network

Realtek RTL8125B 2.5G LAN
Aquantia AQC107 10G LAN
Intel AX201 Wi-Fi 6

Other Features

Supports NVIDIA 2-Way SLI
Supports AMD 3-Way CrossFire
Intel JHL7540 Thunderbolt 3 with a maximum resolution of 5120×2880 @60Hz
Supports DisplayPort 1.4 with a maximum resolution of 4096×2304 @60Hz

Back I/O Ports

Clear CMOS Button
PS/2 Keyboard / Mouse Port
USB 3.2 Gen1 5Gbps (Type-A)
2.5G LAN
10G Super LAN
Wi-Fi /Bluetooth Antenna Connectors
HD Audio Connectors
Flash BIOS Button
USB 2.0
Thunderbolt 3 (40Gbps)
USB 3.2 Gen2 10Gbps (Type-A)
Optical S/PDIF-Out

Audio

Realtek ALC1220-VB codec
ESS SABRE9017Q2C combo DAC

Internal I/O Ports

1x 24-pin ATX main power connector
2x 8-pin ATX 12V power connectors
1x 6-pin ATX PCIe power connector
6x SATA 6Gb/s connectors
3x M.2 slots (M-Key)
1x USB 3.2 Gen 2 10Gbps Type-C port
2x USB 3.2 Gen 1 5Gbps connectors (supports additional 4 USB 3.2 Gen 1 5Gbps ports)
2x USB 2.0 connectors (supports additional 4 USB 2.0 ports)
1x 4-pin CPU fan connector
1x 4-pin water-pump fan connector
8x 4-pin system fan connectors
1x 3-pin Water Flow connector
1x Front panel audio connector
2x System panel connectors
1x Chassis Intrusion connector
2x 2-pin Thermal Sensors connectors
1x TPM module connector
1x 4-pin RGB LED connector
2x 3-pin RAINBOW LED connectors
1x 3-pin CORSAIR LED connector

Form factor
E-ATX Form Factor (305mm x 330mm)
Unboxing
Starting off with the packaging, not much information on the features can be found the front of the box but we can see that the MEG Z490 GODLIKE will feature a new design and support for Thunderbolt 3. More information on the specifications, rear I/O overview, as well as the highlighted features of the board i.e dual Thunderbolt 3 port, Aquantia 10G LAN, and Intel AX201 Wi-Fi 6, etc.
The accessories box contains both the extras and essentials, which includes the user's manual, label stickers, RGB extension cables, thermal probes, sleeved SATA III cables, a labeled diagram of the motherboard, a Wi-Fi antenna, M.2 SSD expansion card, screws for the M.2 slots and a USB thumb drives that contains all the necessary drivers and utilities.
Of all the content of the accessories box, the labeled diagram of the motherboard shows that MSI is thoughtful enough to actually prepare it for users who don't really bother to look at the user's manual to quickly identify the function of each specific headers, ports, buttons, and components on the motherboard.
A closer look at the included M.2 SSD expansion card shows that it's actually very similar to the one that is included with the MEG X570 GODLIKE. You'll be able to fit two more M.2 SSD to your system with the expansion card, in case three M.2 SSD isn't enough and you need more storage.
The expansion card also comes with thermal sensors for monitoring purposes, and dip switches to enable or disable the onboard LED and fan if needed. The expansion card is PCIe 4.0 compatible as well, but that's the kind of feature that will only be available on the upcoming Intel Rocket Lake-S processor, not the current 10th gen Comet Lake-S desktop processors.
MSI MEG Z490 GODLIKE
Design-wise, we can see that MSI has decided to revamp the design of the MEG Z490 GODLIKE as a whole. The new design now features a cleaner and simple design as compared to all the previous GODLIKE boards we've seen so far and there's no sign of the MSI Dragon printed on any part of the PCB, shroud or heatsink this time – well, not until you fire up your system later on.
Instead of putting the same Infinity Mirror design just like what they did on the X570 MEG boards, the back panel cover comes with a mirror finish panel which makes the MSI Dragon standout even more instead with the all the customizable RGB lighting. The Dynamic Dashboard has also been upgraded to an OLED display for better aesthetics, which gives you more bragging rights to show off the MEG Z490 GODLIKE.
Dual 8pin EPS12V has been a common trait of enthusiasts grade motherboards tailored for overclocking nowadays and almost any motherboards that fall in that category will come with this configuration. Just like the GODLIKE series motherboards we've seen in the past and much to be expected, the MEG Z490 GODLIKE too comes the same dual 8pin EPS12V to supply enough power to the VRMs for stable overclocking results.
If memory overclocking is your kind of thing, the MEG Z490 GODLIKE is definitely one of the top tier Z490 motherboards that will interests you. It features the Daisy chain memory layout that is optimized for dual-channel configuration and can support up to DDR4-5000 as according to the specifications but the result may vary, depending on the memory kit used.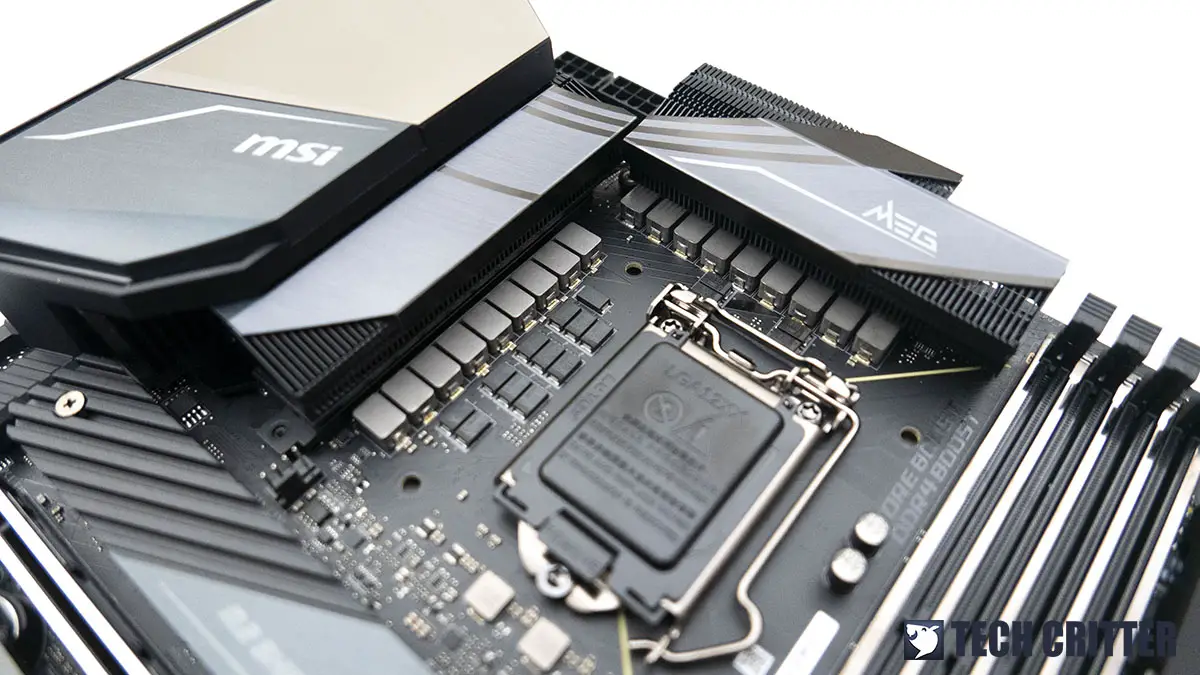 Moving on to the power design, the first thing we noticed here is that the MEG Z490 GODLIKE is using a more expensive type of capacitor, the  Tantalum capacitors in its power design. According to the official product page, MSI mentioned that the MEG Z490 GODLIKE comes with a 16+1+1 phases power design with 90A Smart Power Stage, exclusive Mirrored Power Arrangement, and INTERSIL digital PWM to unleash the true power of your processors.
It also features an improved VRM heatsink with Aluminum fin array that helps to dissipate heat faster and better compared to most of the generic Aluminum chunk or block type VRM heatsink.
Other than the extra fins array to increase the total surface area for better heat dissipation, MSI also attached two fans to the heatsink which helps to further improve the heat dissipation speed. As VRM heatsink that comes with dedicated cooling fans is not something very common, it's somewhat expected if the VRM on the MEG Z490 GODLIKE runs hotter than other Z490 chipset motherboards during overclocking. There's also an additional section at the end of the heatsink to cool down the Aquantial 10G LAN controller chip, which is a rather interesting approach we must say.
You'll also find two metal plates (VRM backplate?) with thermal pads that cover the area directly under the VRM heatsink, which acts as a heat spreader for the components underneath although there aren't any extra cuttings on it to increase the total surface area for heat to dissipate easier.
For the power design, the MEG Z490 GODLIKE features a 16+1+1 phase that is technically a 8+1 phase configuration which utilizes doublers to achieve a total of 16 phases on its Vcore rail. The components used include a Renesas ISL69269 PWM controller which can handle up to a total of 12 phases, Intersil ISL99390 power stages that can support a maximum of 90A each, as well as the Intersil ISL6617A doublers for the Vcore phases.
According to MSI, the MEG Z490 GODLIKE utilizes the Mirrored Power Arrangement in its power design that is similar to the Teamed Power Architecture that combines signals from two power stages into one instead of the usual interleaving solution. This solution is claimed to be able to provide a better transient response and a much consistent power to the CPU which reducing voltage overshoot during operation.
There are plenty of useful buttons and switches on the MEG Z490 GODLIKE, but the unusual choice of power and reset button design makes it somewhat harder to press, which is not really to our liking. If you're okay with the power and reset button design, the rest of the buttons and switches available are actually pretty good add-ons to the board.
OC retry, Force enter BIOS and BIOS switch are some of the features available on the MEG Z490 GODLIKE that is very useful to enthusiasts and overclockers but our personal favorite is actually the LED switch which allows you to disable the onboard LEDs easily without having to go into the BIOS or software to make the changes.
MIS also equipped the MEG Z490 GODLIKE with the latest USB 3.2 Gen2 header, 2 x USB 3.2 Gen1 header and 2 x USB 2.0 header to make sure you won't face any issue with the front panel USB ports regardless of the PC case you'll be installing the motherboard in – well, except for M-ATX and ITX case of course.
For the storage and expansion slots, the MEG Z490 GODLIKE has a total of 6 x SATA III ports, 3 x M.2 slots, 3 x PCIe x16 slots and a PCIe X1 slot. As many of you have already known, the MEG Z490 GODLIKE too comes PCIe 4.0 ready but it's a feature that will only be available in the future Intel Rocket Lake-S processors, but you'll still be able to use these slots for any of the existing PCIe 3.0 devices and M.2 SSDs without any issues.
The only thing which we don't like about the MEG Z490 GODLIKE is the big metal plate or heatsink for the bottom two M.2 slots. You will have to remove the large metal plate entirely in order to access to bottom two M.2 slots, and it'll be more work if you have one or more graphics cards installed.
As for the onboard audio, you'll find the Realtek ALC1220-VB codec and ESS SABRE9017Q2C combo DAC on the onboard audio for the motherboard. Unlike the lower end onboard audio solution, this design is capable enough to deliver an above-average audio quality, which pretty much suffice for most of your basic needs.
The MEG Z490 GODLIKE comes with a pre-installed rear I/O shield for convenience's sake. The clear CMOS and flash BIOS buttons are located at the rear I/O to prevent false triggers during an overclocking session.
As for the I/O, you'll find a PS/2 keyboard mouse combo port that will come in handy in the time of need, 2 x USB 2.0 ports for peripherals (mostly), 4 x USB 3.2 Gen1 ports, 2 x USB 3.2 Gen2 Type-A ports, 2 x USB-C / Thunderbolt ports, 1 x Aquantia 10 GbE LAN port, 1 x Intel 2.5 GbE LAN port, SMA connector for the wireless antenna, 1 x S/PDIF out port and the gold plated audio jacks.
BIOS
Test System
| | |
| --- | --- |
| CPU | Intel Core i7-10700K |
| Motherboard | MSI MEG Z490 GODLIKE |
| Memory | G.SKILL Trident Z RGB DDR4-4266 CL19 |
| Graphics Card | NVIDIA GeForce RTX 2080 Super Founders Edition |
| Power Supply | Cooler Master V1200 Platinum |
| Primary Storage | Phidisk WrathKeeper 960GB M.2 PCIe NVMe SSD |
| Secondary Storage | WD Black 6TB |
| CPU Cooler | Thermaltake Floe Riing 360 |
| Chassis | Cooler Master Test Bench V1 |
| Operating System | Windows 10 64bit |
CPU Overclocking
We're using the Intel Core i7-10700K for our CPU overclocking test this time, but we'll continue to update the test data as soon as we get our hands on another Core i9-10900K in the near future. The Core i7-10700K has a base clock of 3.8GHz and a boost clock of up to 5.1GHz but only for one specific core. The CPU clock will be maxed at around 4.7GHz for most of the benchmark that uses more than one core, so increasing the CPU clock to 5.0GHz is recommended if you wish to get more performance out of the Core i7-10700K.
Since the average load temperature on default settings for this Core i7-10700K is recorded at 82°C with our Thermaltake Floe Riing 360, we bumped the CPU clock directly to 5.1GHz with 1.34V on the Vcore. After bumping up the CPU clock and voltage, we recorded an average load temperature of 91°C on the Realbench stress test for one hour. We then lowered the CPU clock to 5.0GHz with Vcore lowered to 1.27V, and that gives us a lower average load temperature of 87°C with the same set stress test. The VRM temperature recorded during these stress test stays under 65°C most of the time, so you don't really have to worry about overheating VRMs.
While not all Core i7-10700K behaves the same as the one we have here, we strongly recommend to pair it with a good cooling solution if you really want to get yourself an i7-10700K and run it at 5.0GHz+ to avoid any potential thermal throttle that will lower the overall performance whenever it kicks in.
Memory Overclocking
From our past experience with the MEG X570 GODLIKE, we did have our hopes high for the MEG Z490 GODLIKE when it comes to memory overclocking.
We've done a series of memory overclocking tests using a number of memory kits we have, mostly with Hynix C die and Samsung B die as we didn't manage to get our hands on any kit with Hynix D die. It seems that the result is very similar for all the kits with Samsung B die chips, which is around DDR4-4800 CL18 or CL19, depending on the quality of the memory chips.
Using the same G.SKILL Trident Z RGB kit we've successfully achieved DDR4-5000 with, we can only achieve DDR4-4800 on the MEG Z490 GODLIKE. This is probably due to the least powerful IMC on the Core i7-10700K than the Core i9-10900K that we've used on our previous attempt, which is totally understandable.
First Impression
Appearance-wise, the MEG Z490 GODLIKE is definitely one of the best looking Z490 motherboards that are not fully covered in blindingly bright RGB nonsense we've seen to date. The amount of RGB lightings on the board is pretty much acceptable for us and MSI also included a switch to disable all the lightings anytime you want without having to go into the BIOS or software, which is a big thumbs up for those who are not a fan of RGB lightings.
As the top-end offering from MSI, MEG Z490 GODLIKE is packed with tons of awesome and cool features is that not many of us will actually use or don't even have the equipment to pair with, notably the PCIe 4.0 support that will only be available on the upcoming Intel Rocket Lake-S processors, Thunderbolt 3, Aquantia 10GbE LAN, Intel 2.5GbE LAN and AX201 Wi-Fi 6. We're not trying to stop you from getting the MEG Z490 GODLIKE – it's your choice anyway, but these features will go to waste if you don't have the equipment and devices that will actually take advantage of these features even though it's the kind of future proof features that will come in really handy in the future.
The overclocking performance is pretty reasonable based on the results of the tests we've done, but we can see that our Intel Core i7-10700K isn't really a great chip. The MEG Z490 GODLIKE can definitely do better than what we've achieved currently with a better CPU, especially on the memory overclocking. Until then, that's all we have to say for the MEG Z490 GODLIKE for now and we will continue to update the article with new test results as soon as we get our hands on another Core i9-10900K.