Gaming notebooks can be a great companion for on the go gamers and higher end gaming notebooks like the MSI Gaming GT72 is able to deliver outstanding performance and guaranteed satisfaction for these on the go gamers – the bulkiness of these high end gaming notebooks is the only real issue here – not everyone likes to carry a heavy gaming notebooks around, especially for those who travels a lot.
Today we'll be examining a gaming notebook from MSI, special thanks to MSI Malaysia in provision of their GE70 2QE Apache Gaming Notebook. From the first look we can say that the GE72 2QE has a small resemblance with the GT72 in terms of its appearance, except that it uses a lower end NVIDIA GTX965M GPU. With no further adieu, let us proceed with the review and see what the GE72 2QE is capable of!
(SRP for the MSI Gaming GE72 2QE is around RM5,799)
Specifications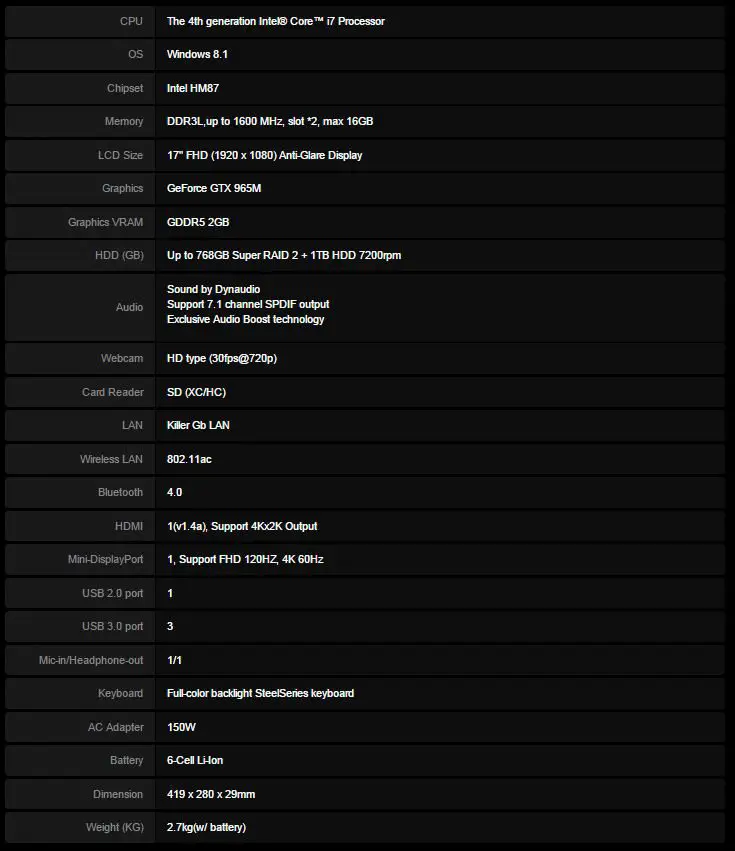 Overview
A closer look at the lid you'll find that it has a brushed metal texture which gives it a touch of premium for those who fancies it.
Aside of the brushed metal texture lid, the glowing MSI dragon also gives an additional premium feel of a gaming notebook.
At first glance the GE72 2QE looks almost as the same as the GT72, the same SteelSeries designed keyboard, Dynaudio speakers.
Unlike most notebook design with 120° limitation on the hinge, the GE72 hinge design that allows you to lay it completely flat at 180°.
Instead of having shortcut keys at the left of the keyboard like the GT72 does, the Cooler Boost and SteelSeries Engine shortcut key is relocated to the top right the keyboard.
Just like any other MSI gaming notebooks, the GE72 2QE is equipped with the very same SteelSeries keyboard with programmable RGB backlight via SteelSeries Engine 3 software.
The touch pad buttons gives a solid and satisfying click in terms of its tactility and the touch pad area now comes in that awesome looking metal brushed texture without compromising the gliding experience.
The system audio is powered by Dynaudio, the Danish sound experts that are dedicated to the goal of authentic sound reproduction since they where founded 1977 in Danish Skanderborg.
F3: Enable /Disable the touch pad
F4: P1 shortcut key for Instant Play feature that launch a designated application when pressed
F5: Eco mode (power saving mode) for lower power consumption
F6: Enable / Disable the webcam.
F7: The SHIFT function to toggle system performance according to your needs
F10: Airplane mode that disables all network connection
F12: Hibernate mode to put the system to sleep
Function keys with different function is labelled with relevant icons as following:
Up & down arrow keys fror screen brightness adjustment
Left & right arrow keys for volume adjustment
Numpad 0 for enabling / disabling the system sound
Numpad – and numpad + buttons to adjust the keyboard backlit brightness.
From left to right:
Cooler Boost shortcut key to ramp up the fan speed in the time of needs
SteelSeries Engine shortcut key to toggle the keyboard backlighting color
Power on / off button
At the left side of the GE72 2QE you'll find a Kensington Lock slot, Killer Gigabit Ethernet Port, a HDMI port, a mini display port, 2 x USB 3.0 port and 2 x audio jacks for headset and microphone respectively.
At the right you'll find a DVD drive, a USB 2.0 port, Card Reader slot and the charger port.
The vents for hot hair to be exhausted from the system can be found at both left and right side at the back of the chassis.
There's large meshed area at the bottom for better airflow / ventilation and we're actually very positive about the system cooling performance.
Remove the bottom cover is pretty much breeze but do note that this is an engineering sample from MSI that comes without any warranty stickers. Retail version of the MSI GE72 2QE might be shipped with those stickers covering one of the screw hole and tampering the stickers will lead to the void of warranty.
So, what makes the MSI GE72 2QE a full fledged gaming notebook? Removing the bottom cover reveals 2 cooling fans for the CPU and GPU respectively, a 1TB 2.5″ HDD, dual Intel 128GB M.2 SSD in RAID 0 setup, RAMs, etc.
The stereo speakers of the GE72 2QE. It might look small but don't underestimate its performance!
A pair of Intel 128GB M.2 SSD in RAID 0 gives you that blazing fast performance for games / software that is installed in it.
A pair of SO-DIMM RAM worth of 16GB in total to ensure that you'll never ran out of memory.
A 1TB 2.5″ HDD as storage.
Wireless network card.
The Dynaudio subwoofer got you covered with extra bass while you're gaming, watching movies or listening to music.
Dual fan design to efficiently cool down your GPU and CPU.
The GE72 2QE is equipped with a 6-cell battery that should be able to last you for more than the usual 4 hour limit, but we're yet to find out if the battery life is able to met our expectation.
Testing Methodology
Software: MSI Dragon Gaming Center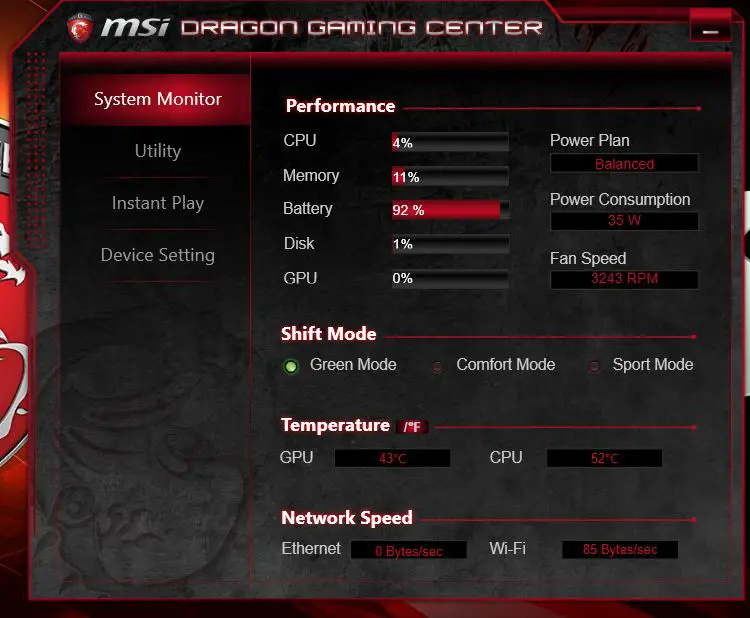 System Monitor is a pretty useful tool for one to monitor the system performance, shift mode, temperature and network speed. All the details is presented in the simplest form which can be easily understandable.
The Utility allows you to compile all frequent used applications into the list for the ease of access.
The instant play tab allows you to add your most frequent played games to the list and launch it via the P1 function key located at the F4 key.
Display & audio tab allows you to adjust the volume for speakers/microphone and display brightness/gamma.
The mouse tab, allows you to control the mouse pointer speed, double click speed and scrolling line number easily without having to access the mouse properties in Control Panel.
The resource release tab lists out all the active programs and you can select the programs to be killed to release resources for the designated games when instant play is activated.
Device Setting allows you to toggle for enable/disable of Windows key on the keyboard, enabling/disabling the high performance profile and toggle the system performance with the shift mode's green (low power consumption), comfort (balanced) and sport mode (high performance mode).
Software: SteelSeries Engine 3
The SteelSeries Engine 3 has a cleaner interface compared to the previous version that we've tested on both GT72 and GS70. Starting off with the 'My Gear' tab, you can select your profile from the drop down list or double clicking on the tab to enter the configuration menu.
The configuration menu is very simple and straight forward – configuring macro, keyboard lighting, brightness, etc in one unified menu.
The macro editor menu is prompted upon clicking the launch button on the Macro Editor sector. You can record a specific key combination into a macro profile and then assign it to a specific key to aid your daily work or gaming needs.
To configure macro function on a designated key, you can either select the key to program from the list of keys at the left of the menu, or simply right click on the key you wish to configure and a sub menu to configure the macro will appear – you can remap the keys, assign functions and configure the macro behavior through this.
There's a total of 4 existing default profiles available for your reference and you can add more profiles according to your preference.
Moving on with the 'Library' tab, a pretty sweet and convenient feature that allows you to add the games / application into the list and configure how your device will behave when switching between these games / application.
Temperature
We've ran a series of system stress test with Prime95, Intel Extreme Tuning Utility, FurMark that has been widely used by enthusiasts around the globe for system stability test. While the stress test generates heat, we've recorded the temperature reading for both situation where the cooling fans operate normally and with Cooler Boost enabled under sports mode for maximum heat.Running under sport mode enables the system performs at its best, with higher temperature on both CPU and GPU as the price to pay. While running under normal fan speed, the temperature of both CPU and GPU peaked at 88°C and 81°C respectively. Enabling Cooler Boost allows the fan to operate at its maximum speed, increase in fan noise level is just a small price to pay in exchange for better cooling performance – CPU and GPU temperature are now 84°C and 77°C respectively with 4°C cooler during full load.
Battery Life
The battery life isn't looking very good when it comes to heavy use – it lasted only for about 1 hour 27 minutes under heavy gaming session on high performance mode, around 3 hour 11 minutes on movie session and 4 hour 12 minutes on web surfing.
MSI included adjustable system performance feature is a great feature to have on a gaming notebook as it greatly improve battery life by reducing the system performance so it is less taxing on the battery.
Gaming
In order to test the capability of the GE72 2QE, we have opted for ultra settings on all the games and synthetic benchmark which will be tested in this review. We take 30 FPS as the bottom line for our test because it's a playable frame rate that is commonly seen on game consoles.Most games are playable when we're on Green mode and Comfort mode, except for Crysis 3. Shifting to Sports mode sacrifices the temperature for greater good – it unleashes the maximum potential of the GS 2QE and most games tested runs at decent FPS with no significant stuttering, but you will need a decent cooling pad for this.
We used the Far Cry 4, an open-world survival shooter video game from Ubisoft Montreal to check on some of the new feature we can expect from the GTX 965M:
Without enhancement from NVIDIA Hairworks, the fur of this goat that we've hunted down with a flat texture look – dry and stiff.
With enhancement from NVIDIA Hairworks, the fur of this goat looks much fluffier and lively.
Low lighting quality: The graphics looks great but what's the big deal about this lighting quality anyway? Let's see what NVIDIA's Godrays can do.
High lighting quality (Godrays): And this is the lighting quality set to high. Indeed, it looks way much better and realistic.
Audio
The Dynaudio speakers delivers clear and powerful sound stage during gaming and movie session that is pretty satisfying and maxing out the volume didn't gives us any crackling sound at all. Music wise, classical / orchestral music sounds the best among various genre of musics tested.
Keyboard
When it comes to gaming keyboard, we're expecting for design and feature that is beneficial to gamers. Designed by the renown gaming peripherals manufacturer SteelSeries, the keyboard on the GE72 2QE Stealth Pro comes with fancy lighting and key mapping that appears to be helpful for the gamers, but we find that the keyboard itself is lacking of the N-key rollover feature that has been widely used on most expensive gaming keyboards on the market.
We've tried the commonly used key combination for FPS games and everything seems well for now.
The commonly used key combination for racing games seems okay as well.
When we tried playing rhythm games that requires simultaneous keys to be pressed at the same time, the signal blocking issue arises and the maximum amount of keys that can be registered simultaneously is limited to 6 keys (not including modifier keys). We've tried configuring the key configuration on other area of the keyboard and there's not way for us to resolve the issue.
Verdict
In terms of graphics performance, we find the benchmark result with FPS that circles around the value of 30 is still a comfortable FPS count to game on but do note that the FPS we're getting is the result of having the graphics settings set to ultra. While going for high detail gaming is taxing a lot on the GTX 965M and resulting in FPS going lower than the 60 FPS that majority of users find to be much more comfortable to play on, you can opt to sacrifice better graphics for higher FPS by turning down the graphics to high / medium which you find comfortable to game on.
Battery life isn't really doing as well as we hope it would be, but the performance shifting mode did somehow compensated a little of the short comings:
Green mode sacrifices performance for lower temperature and lower power consumption. Recommended if you're not in the mood to game hard and wanted it to last longer for lightweight usage i.e: browsing the web, doing office works, etc.
Comfort mode is the balance point in between Green mode and Sport mode, performs just as good as sports mode in certain games.
Sport mode let the GE72 to perform at its best by trading off battery life for greater performance. Recommended if you have the charger plugged into your GE72.
Temperature wise, the GE72 2QE is doing pretty well despite of its slimmer design. Cooler Boost does gives a pretty significant drop in temperature (4°C for our test) while not being as noisy as a jet engine when it's running at its maximum speed.
Last but not least, a subjective issue that we've been highlighting since our first review on MSI Gaming Notebooks – The keyboard roll-over feature. While not everyone is going to press all of the keys on the keyboard at the same time, the N-key rollover is still an important feature that should be cater of if its targeted audience is to be gamers from all kinds of game genres.
Pros
Aesthetically pleasing
Decent audio performance
Good graphics performance
Good cooling performance
Customizable keyboard macros, LED colors and effect
Adjustable system performance helps to extend battery life and lower temperature
Cons
Costly
Short battery life
Subjective
Keyboard doesn't comes with N-key rollover feature