Are you dealing with performance issues with your Outlook data files (PST and OST) while using Outlook? Some of the common issues that disrupt the functioning of Outlook users includes unable to send/receive emails in Outlook, Outlook crashes, corruption in Outlook data files, error messages, and slow connectivity. Managing Outlook data files can be considered very complex and time-consuming task. Moreover, Outlook data files needs to be regularly checked for errors and file size as heavy files lead to corruption. All these concerns can be addressed effectively with Stellar Toolkit for Outlook.
Stellar Toolkit for Outlook can mend these performance issues and ensures corruption-free Outlook data files. This Outlook Management toolkit helps you easily overcome Outlook data file corruption issues, recovers passwords from protected PST files, enhance performance, convert OST to PST files, merge multiple PST files, and much more. With the Stellar Toolkit for Outlook, there is no need to install different software to perform specific task.
What is Stellar Toolkit for Outlook?
Stellar Toolkit for Outlook is an advanced 8-in-1 software package for Outlook administrators and users. It offers various tools which are helpful to manage Outlook data files effectively and optimize Outlook performance. This toolkit supports Outlook 2019, 2016, 2013, and earlier versions.
Software 1: Stellar Repair for Outlook Technician
This is a powerful tool to repair corrupt PST files as well as recover the Outlook mailbox data including deleted mailbox items. It allows users to save mailbox data in PST, MSG, RTF, PDF, EML, or MBOX file formats. It helps you repair severely corrupted large-sized PST files, extracts emails, contacts, attachments, tasks, journals, calendars, etc.
Software 2: Stellar Converter for OST Technician
This advanced tool helps Microsoft administrators or MVPs to convert inaccessible OST files into PST file format. It can easily convert the OST file and extract emails, contacts, attachments, calendars, etc. This tool can convert encrypted OST files to PST, large OST files to PST without any size limitation, and export mailbox data from OST to Live Exchange or Office 365.
Software 3: Stellar Splitter for Outlook
This unique software can split the PST file based on different parameters like size, date, email ID, and other custom selections. This tool can search and find PST files and split multiple PST files through a batch process. The PST file can be split in the size range of 1-50 GB while preserving the original structure of mailbox data.
Software 4: Stellar Compactor for Outlook
The compactor tool helps in compacting the large PST to minimize the chances of corruption, optimize the overall size of the file, and enhance its overall performance. It also helps in extracting the attachments and saving them in a new folder while preserving the interlinking of PST files and attachments. This tool can also help in cleaning up junk mail folders and deleted items.
Software 5: Stellar Merger Mailbox for Outlook
This is advanced software to merge multiple PST files into a unified PST while preserving the contents and integrity of the mailbox data. It can seamlessly merge the mailbox items such as emails, contacts, calendars, tasks, journals, and more with 100% precision. It can also merge password-protected PST files easily.
Software 6: Stellar Deduplicator for Outlook
This powerful tool helps in determining and removing duplicate items from the Outlook mailbox based on a wide range of criteria.  It allows users to compare and mark the items as expired, flagged, move, copy, or even delete duplicate emails. There is no limitation to selecting and identifying the duplicates.
Software 7: Stellar Undelete for Outlook
This is an advanced software to recover deleted Outlook items by scanning the Outlook data files (OST and PST). It can easily recover all types of deleted items including emails, calendars, folders, contacts, tasks, and more. The software displays an enhanced preview of recoverable items. It also allows users to recover the items in MSG, PST, EML, HTML, RTF, or PDF file formats.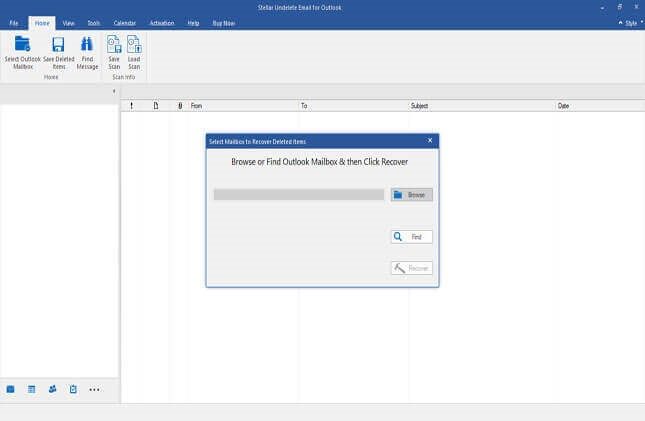 Software 8: Stellar Password Recovery for Outlook
This tool helps in recovering forgotten or lost passwords for the Outlook account. It generates a set of six passwords to enable access to the Outlook account. It can even work with encrypted PST files.
Why Use Stellar Toolkit for Outlook?
Unified Console – All the functionalities like recovery of mail items, splitting, merging, and deletion of duplicate emails can be accessed in a single console. The all-in-one package includes all the necessary software with advanced algorithms within a single interface.
Repair Severely Corrupted and Large-Sized PST files – Repairing severely corrupted PST files can be very challenging due to the complex data structure and large size mailbox. Using an inappropriate method to repair the PST file can hamper the data structure of the files. This toolkit can help you manage Outlook data files by repairing PST files of any size and corruption levels. It can help you recover the mailbox items with 100% integrity and precision.
Port The Mailbox from OST to PST or Office 365 – Mostly, it is not possible to open an OST file if the associated mailbox is purged or deleted from the Exchange mailbox. If the mailbox is not backed up, the only way to access the mailbox data is by opening the inaccessible OST file with the help of reliable software. The converter tool under Stellar Toolkit for Outlook helps in converting the inaccessible OST files into PST and extracting all the mailbox items with 100% precision.
Optimize the Size of PST File and Clean the Mailbox Data – The PST files can become very large as the emails, attachments, and junk items can increase over time. Stellar Toolkit for Outlook can help you merge, split, compact, and de-duplicate PST files based on date, size, and other filters. The tools offered within the toolkit can effectively manage the Outlook data files and maximize Outlook performance.
Conclusion
With the 8-in-1 package, Stellar Toolkit for Outlook is designed to resolve the issues related to Outlook data files and manage them with ease. This toolkit offers all the tools to optimize the daily operations related to PST and OST files within the Outlook environment such as repairing PST files, reducing the size of PST, compact and split features, merging two or more PST files, and converting OST to PST files. It can also remove duplicate emails and enables users to recover lost or forgotten passwords.