LIAN LI has announced another new addition to its SFF chassis lineup with the Q58 compact case.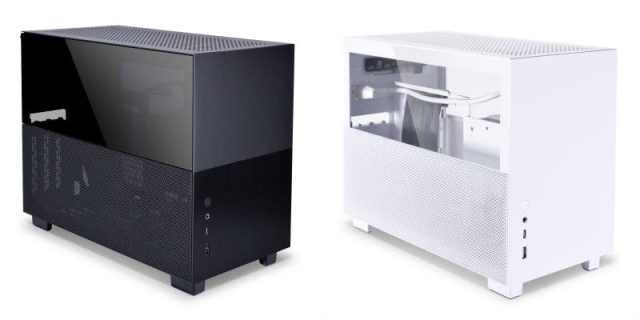 Designed with great versatility and customization options in mind, the 14.5L ITX case comes with a pair of mounting brackets that are in both SFX and ATX standards for the PSU to give users several choices when considering their next build. And don't be fooled by its size as the Q58 continues the good tradition of supporting the Mini-ITX motherboards + 3-slotted 320mm GPU combo for superior power and not to mention despite all of these, it still has enough room for up to 4 SSDs and support the setup of either 2x 120/140mm fans + 240/280mm radiator + 120mm bottom for SFX mode or 1x 120/140mm fans + 120/140mm radiator + 120mm bottom for ATX mode. No matter what you trying to build, it is capable of handling it to a decent level.
For aesthetics, the Black Q58 features a dual-tone finish aluminum front panel, bottom fine mesh panel, and dark tinted tempered glass panel while the White edition keeps it simple through a full white coat with a white silkscreen as the side glass panel and silver thumbscrews for a clean monochrome look. In general, users get to pick whether they want to amp the show-off game through glass panels or better airflow with the mesh plate (sold separately). Additionally, a dual-LED strip kit, available in black, white, and sold separately as an additional accessory, can be attached to the top and bottom of the right and left side panels to complement the look of the case, also made to sell as an individual product.
Pricing and Availability
Here's some reference price for those that are interested in preordering the LIAN LI Q58 as news of local stocks and official MSRP for Malaysia are not available just yet.
Black Q58: USD119.99 (PCIe 3.0) / USD149.99 (PCIe 4.0)
White Q58: USD129.99 (PCIe 3.0) / USD159.99 (PCIe 4.0)
ARGB LED Strip Kit: USD15.99
Mesh Kit: USD15.99
Fellow US/German/UK friends can preorder them through the links below.