LIAN LI has recently launched the LANCOOL 216 PC casing, which is designed to provide superior airflow to your system. Let's find out what it has to offer.
Boasting a continuous front-to-top fine mesh panel alongside a PSU shroud side mesh panel, as well as 2 x 160mm and 1 x 140mm pre-installed PWM fans, the new LANCOOL 216 offers maximum airflow and decent cooling to all the components within.
In addition to the 140mm fan pre-installed at the back, the LANCOOL 216 is also capable of holding an extra 120mm fan behind the expansion slots.
In terms of air cooling solution, 2 x 140mm fans can be fitted above the PSU shroud and at top of the case when users flip the rear I/O and set the motherboard standoffs in the main chamber to a higher space.
As for those who prefer liquid cooling, the top of the case can accommodate up to a 360mm radiator or a custom water-cooling loop design if the motherboard is placed in a lower position.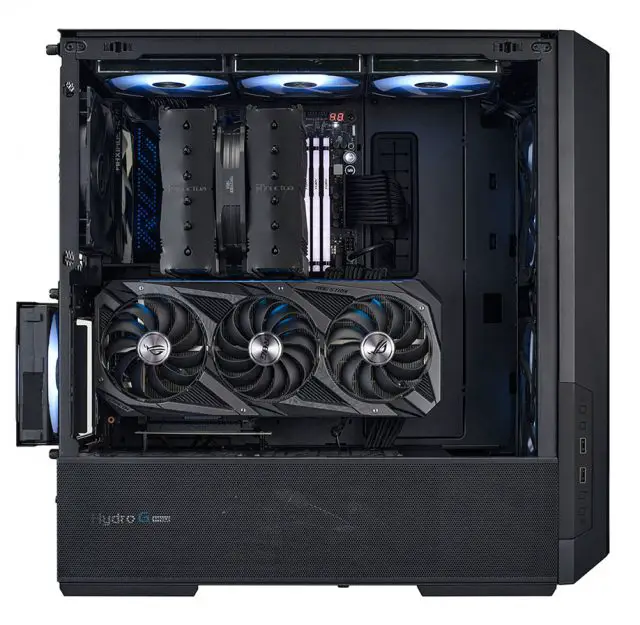 What's more, LIAN LI also releases an extra ARGB control & USB module which can be installed on the lower side of the front panel to further provide more control over the light effects on the LANCOOL 216 RGB front fans.
Specifications
Model
Dimension

480.9 (D) x 235 (W) x 491.7 (H) mm

Motherboard

E-ATX (Width under 280mm) / ATX / MICRO-ATX / MINI-ITX

PSU
Material

Aluminum
0.8mm Steel
4.0mm Tempered Glass Side Panel

Fan

Top: 3 x 120mm / 2 x 140mm
Front: 3 x 120mm / 2 x 140mm / 2 x 160mm
Rear: 1 x 120mm / 1 x 140mm
PSU Cover: 2 x 120mm / 2 x 140mm (Air Cooling mode)
PCIe Fan Bracket: 1 x 120mm

Radiator

Front: 360 / 280 / 240mm
Top: 360 / 280 / 240mm
Bottom: 240mm

GPU Length
CPU Clearance
Storage

Drive Cage:2 x 2.5″ SSD / 2 x 3.5″ HDD
PSU Cover:2 x 2.5″ SSD
Behind MB tray: 2 x 2.5″ SSD

Expansion Slots
I/O Ports

1 x Power Button
1 x Reset Button
2 x USB 3.0
1 x USB Type C
1 x Audio Jack combo

Included Fans

Front: 2 x 160mm PWM Fans

RPM: 500~1680
Static Pressure: 118.85 CFM
Airflow: 3.10mm H2O

Rear: 1 x 140mm PWM Fan

RPM: 200~1800
Static Pressure: 81.30 CFM
Airflow: 2.40mm H2O

Front: 2 x 160mm ARGB/PWM Fans

RPM: 500~1680
Static Pressure: 118.85 CFM
Airflow: 3.10mm H2O

Rear: 1 x 140mm PWM Fan

RPM: 200~1800
Static Pressure: 81.30 CFM
Airflow: 2.40mm H2O
Pricing and Availability
Customers can start pre-ordering the LIAN LI LANCOOL 216 at the following prices via Newegg right now:
LANCOOL 216 (Black) — USD$99.99
LANCOOL 216 RGB (Black) — USD$109.99
LANCOOL 216 RGB (White) — USD$114.99