While the Phanteks Enthoo series of premium cases are both sexy looking and performs extremely well at thermals, the price tag is not exactly what I would relate it to affordable. Hence the existence of the Phanteks Eclipse series of cases for those who want some of those important aspects without breaking the bank. In this article, I will talk through my experience of switching over my HTPC system over to the Phanteks Eclipse P300A Mesh Edition.
I have been using the Cooler Master MasterBox Q300P for my HTPC for about 2 years now. I have done numerous upgrades to it, including adding affordable RGB ring LED fans to it as well as upgrading the internal components from 3rd gen Intel Core i3 system to the AMD Ryzen 3200G.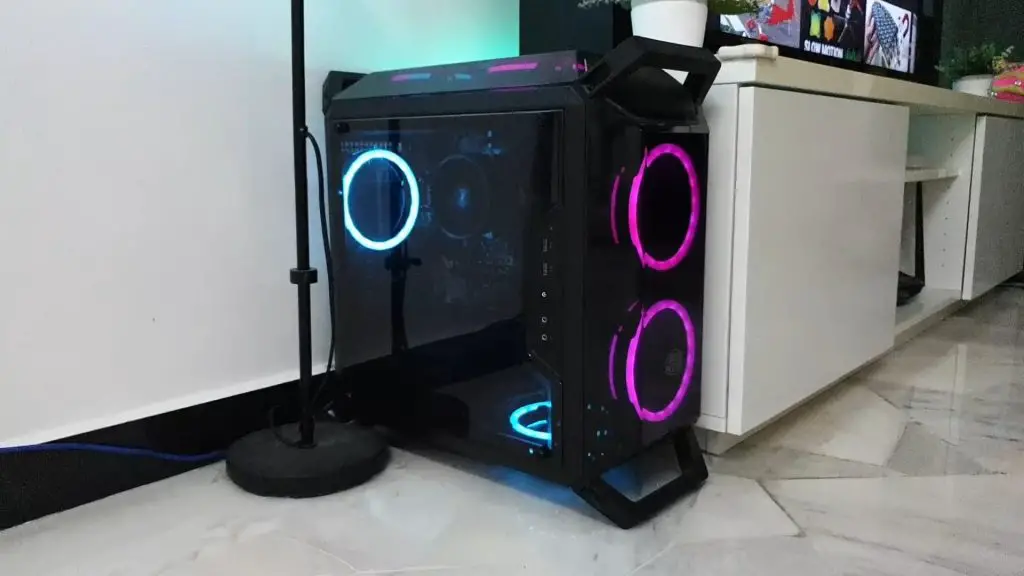 Now, after looking at the same chassis for such a long period of time, I guess it is time to switch things around and go for something more minimalist. That's why I picked the Phanteks P300A Mesh Edition to be my next HTPC case.
Phanteks P300A Mesh Edition
As the name suggests, there is a non-mesh edition for the Phanteks P300. However, we're not going to discuss that because our main focus today is to talk about the features that come with the P300A Mesh Edition as well as our experience of migrating a system into it.
In terms of the outlook, some might say it looks boring with that mesh panel at the front. I, however, see things from a practical aspect – you're going to get a lot of cooling capabilities from this case.
Removing the front panel is extremely easy and I'm liking how Phanteks has used a ball-type joint to secure it in place. It is less prone to breakage and most importantly, removing and installation is extremely easy.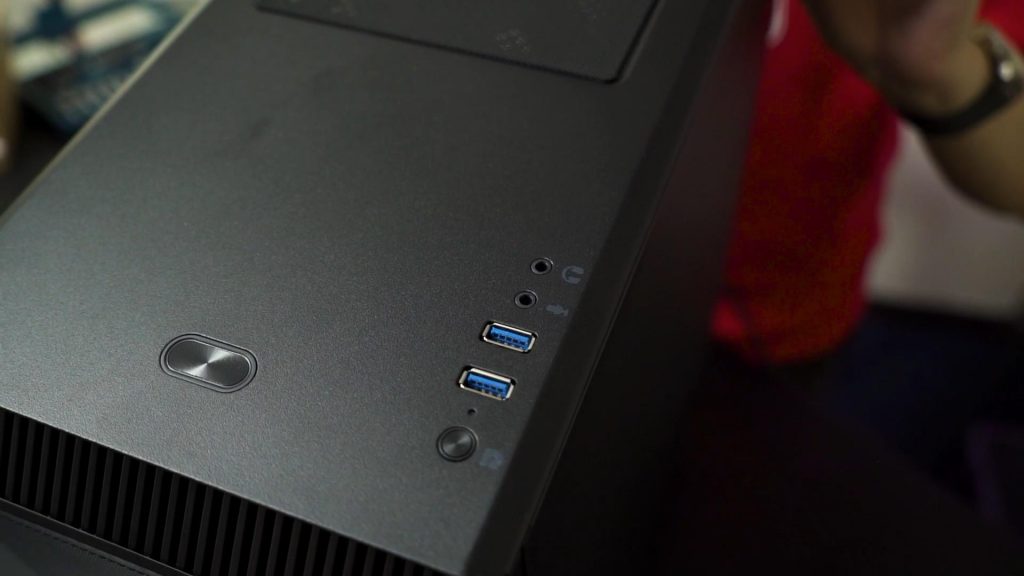 The front or top IO in this case, is pretty generous. You get a huge power button and an easily identified reset button at the side. Two USB 3 ports and dedicated mic and headphone jacks.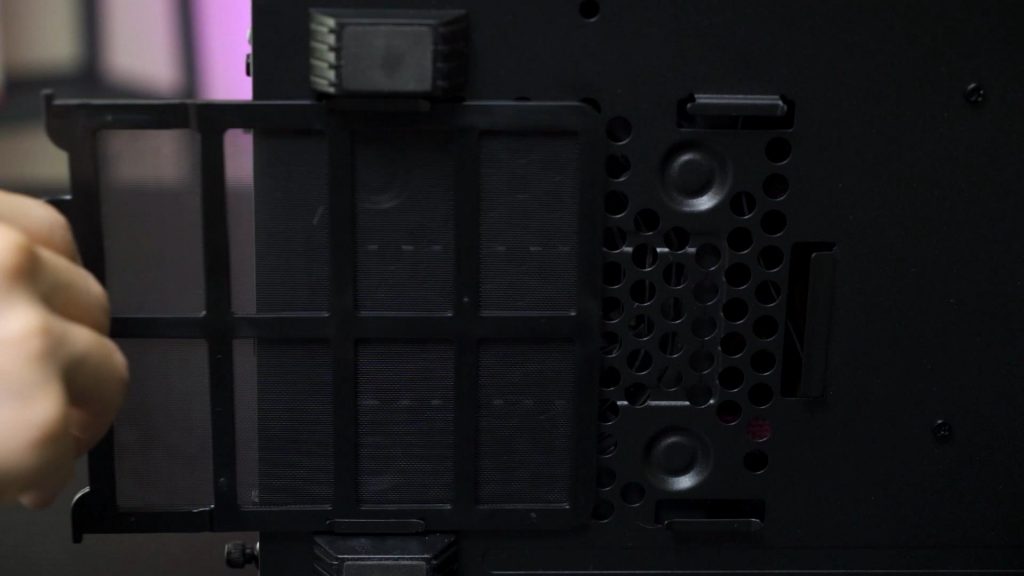 The PSU also gets a sliding dust filter that's easy to remove to clean.
The P300A Mesh Edition comes with a single 120mm fan pre-mounted at the rear. You can mount another two 120/140mm fans at the front.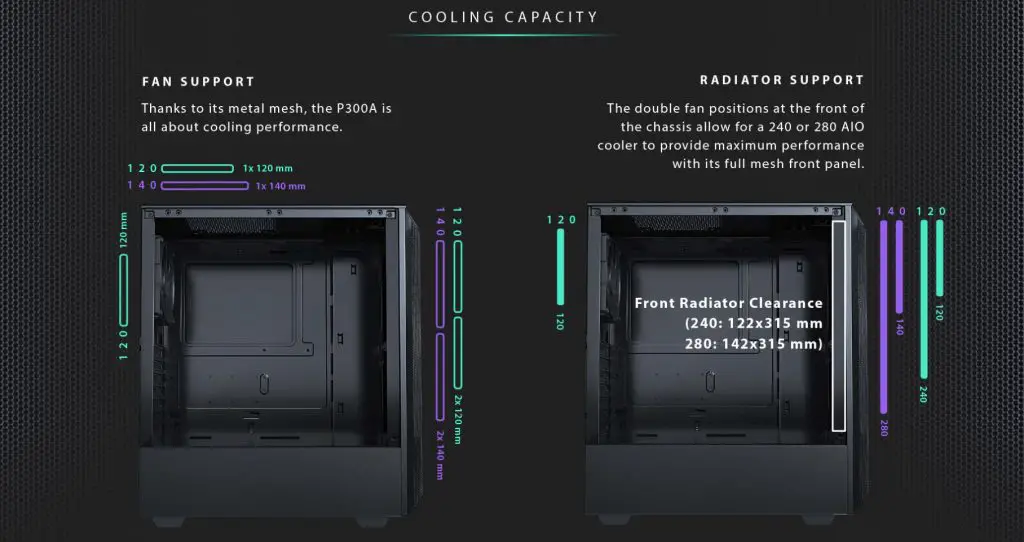 Radiator support is up to 280mm which is more than enough for a budget case.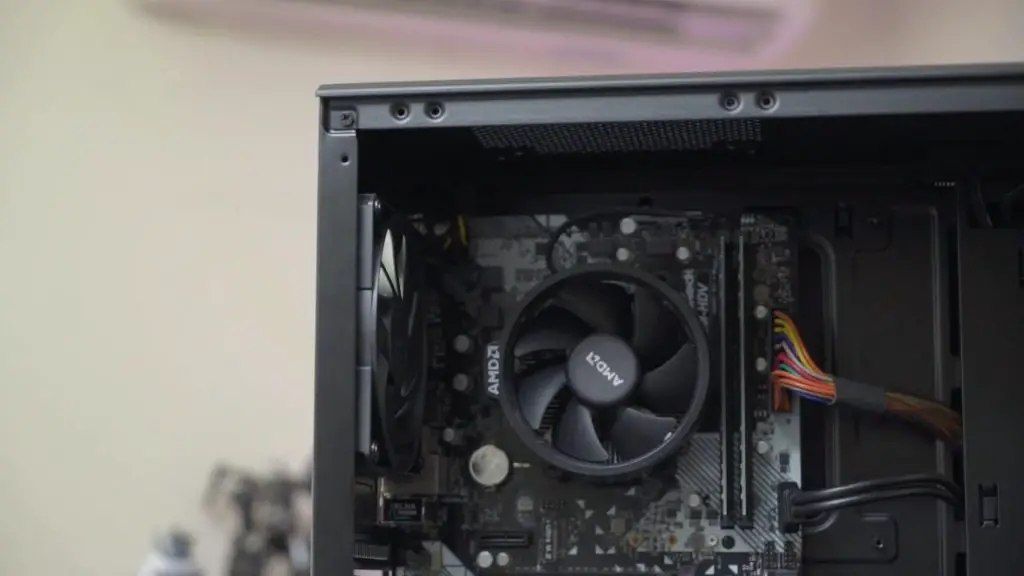 The top fan mount is kinda weird as I don't see any reason to use this as an intake vent.
Even if you have a front-mounted radiator with push-pull fan config, there is still room for your graphics card.
There are two 3.5-inch HDD drive bays underneath the power supply shroud. It is accessible by removing the front panel which I find it as a pretty good feature compared to the conventional mounting method where the side panel has to be removed.
As for the 2.5-inch drive mounting solution, the P300A only comes with a single 2.5-inch bracket even though there are two mounting points for it. Since NVMe SSDs are getting more affordable nowadays, I don't think this is a problem as you can also mount the 2.5-inch drives at the 3.5-inch drive caddy.
Even if there are no rubber grommets, thanks to clever design and cutout positioning, the cable management holes are not that obvious if you look into the PC via the tempered glass panel. The inclusion of the velcro straps is good enough to keep the cables in place. As we're using the Cooler Master MWE500 non-modular PSU, you can see from the images above, there is still room for the extra cables to be kept hidden away from view.
All in all, I'm very satisfied with the case. I added another 140mm fan at the front to provide balanced airflow in the case and now this minimalist HTPC is performing its task in my living room. Granted, I could've gone for a smaller MATX case but I'll just leave that discussion for another day. To learn more about the Phanteks P300A Mesh Edition, do watch our video on the migration and our discussion at the end of the build.