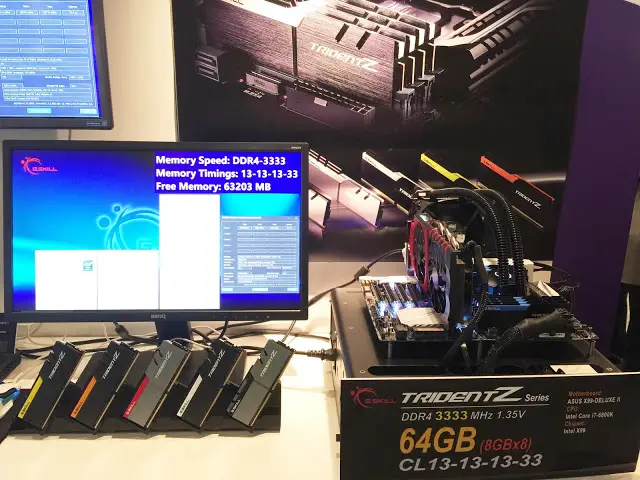 G.SKILL International Enterprise Co., Ltd., the world's leading manufacturer of extreme performance memory and gaming peripherals, displays two super-large capacity DDR4 memory kits at ultra-high speeds with amazingly low CAS latencies at the Intel Developer Forum 2016 this week in San Francisco, including the Trident Z series DDR4-3333MHz CL14 128GB (8x16GB) and DDR4-3333MHz CL13 64GB (8x8GB) memory kits. Both kits are featured with high performance Samsung DDR4 8Gb components and operate on the latest Intel X99 platform with Broadwell-E processors.
Trident Z DDR4-3333MHz CL14-14-14-34 128GB (8x16GB) 1.35V
G.SKILL is dedicated to pushing the performance limit of DDR4 kits to new heights with the latest platform generations. With the launch of Broadwell-E in May 2016, G.SKILL is pushing a 128GB (8x16GB) kit of the high end Trident Z series to a blazing DDR4-3333MHz frequency at a very tight timing of CL 14-14-14-34. Featuring the Intel Core i7-6800K processor and ASUS ROG Rampage V Edition 10 motherboard, this is one of the highest performance memory kits with such massive capacity.
Trident Z DDR4-3333MHz CL13-13-13-33 64GB (8x8GB) 1.35V
On a similar platform, featuring the Intel Core i7-6800K processor and ASUS X99-Deluxe II motherboard, G.SKILL also demonstrated an 8-module kit at 64GB (8x8GB) memory capacity at DDR4-3333MHz CL13-13-13-33. This milestone displays the awesome achievement of combining high frequency, high capacity, and ultra-low latency.
Ripjaws SO-DIMM DDR4-3333MHz 32GB (2x16GB) 1.35V
Building upon the leading overclocking technology from desktop memory, G.SKILL is also able to showcase extremely fast SO-DIMM DDR4 memory at DDR4-3333MHz CL16-18-18-43 32GB (2x16GB) on the Intel Skull Canyon NUC mini-PC system, which would prove useful for increasing performance on the integrated graphics of this portable system.
"Overclocking Innovation" Technical Session with Intel and ASUS – 5731.78MHz CPU Frequency Achieved with Intel Core i7-6950X
Besides the extreme DDR4 demo in the technical showcase, G.SKILL participated in the "Overclocking Innovation" technical session, co-hosted with Intel and ASUS, to share the latest memory overclocking technologies, particularly on the Broadwell-E platform and high density DDR4 memory, to worldwide tech medias, hardware developers, and industry analysts. Additionally, a new 5731.78MHz world record for highest CPU frequency was achieved live during the session by Elmor, a renowned extreme overclocker from ASUS, using G.SKILL Trident Z DDR4 memory, ASUS ROG Rampage V Edition 10 motherboard, and Intel Core i7-6950X processor. The score has been validated by HWBOT.ORG, the world's leading overclocking organization. Please refer to the link below: