With BenQ's acquisition of ZOWIE back in August 2016, all future BenQ gaming-related merchandise will be introduced under the ZOWIE name. Special thanks to BenQ Malaysia, for sending over early one of their latest gaming monitor, the BenQ ZOWIE XL2735 for today's review.
(As BenQ Malaysia has yet to announce the MSRP for the XL2735, we'll revisit this article for price update once it's available)
Specification
Display?
LCD size (inch)?
27
Aspect ratio?
16:9
Max. resolution
2560 x 1440 at 144Hz (HDMI 2.0, DP)
Display area (mm)?
596.74 x 335.66
Pixel pitch (mm)
0.276
Typ. brightness (cd/?)?
250
Typ. contrast ?
1000:1
Typ. DCR (DyNomic Contrast Ratio) ?
12M:1
Panel type?
TN
Response time?
1ms (GtG)
Connectivity?
Input/Output connector?
DVI-DL / HDMI x2 / DP1.2 / headphone jack / mic jack
USB?
Downstream x3 Upstream x1
Electricity?
Power supply (90~264 AC)?
Built-in
Power consumption (On mode)?
65W
Size & Weight?
Dimensions (HxWxD mm)?
559 x 633 x 226
Dimensions with wall mount (HxWxD mm) (w/o Base)?
374 x 633 x 64
Net weight (kg)?
8.3
Gross weight (kg)?
12.5
Stand?
VESA wall mounting 100×100 mm?
V
Pivot 90°?
V
Swivel (left/right)?
45/45
Tilt (°)?
-5~20
Height adjustment (mm)?
140
Special Features?
Dynamic Accuracy
V
Black eQualizer
V
Shield?
V
Color Vibrance?
V
S Switch?
V
Low Blue Light?
V
K Locker?
V
Overview
The included accessories are, a power cord, USB 3.0 type B cable for the built-in USB 3.0 hub, 1 x HDMI cable, the S Switch Arc quick access controller, user's guide, drivers CD and a dust cover.
Appearance wise, the XL2735 looks rather simple we'd say – the classic minimalist design. Unlike most gaming monitors you'll find on the market, it doesn't come with any fancy looking monitor stand nor any blingy LED elements on any part of the monitor.
Its display can be rotated 90 degrees clockwise, with swivel angle of 45 degrees to both left and right, which we find it very useful for multiple monitor setup.
Similar designs implemented for monitors in the office, one is to make cable management easier and another one is to reduce tangled cables on your desk by routing all the necessary cables through the hole.
The S Switch Arc is a quick access controller to the service menu for BenQ gaming monitor and when it's not inside, it can be placed in the round slot on the base of the monitor stand that is specifically made for the S Switch Arc.
At the left of the monitor, you'll find 2 additional USB 3.0 ports and audio jacks for headphone and microphone, as well as the built-in headphone hanger located just right above the USB 3.0 ports on the left of the monitor.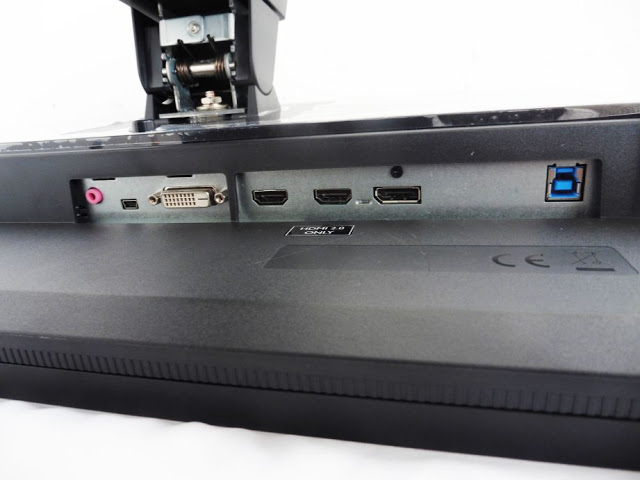 In terms of I/O, starting off from the left, USB mini B port for the S Switch Arc, display output ports like the DisplayPort, DVI-D, 2 x HDMI and the USB 3.0 type B port for the 2 x USB 3.0 ports located on the left of the monitor.
A Kensington Security Slot can be found at the back of the monitor to discourage quick grab-and-run thefts.
Similar to the previous gaming monitors from BenQ, the XL2735 features the same 20-degree angle tilt and monitor height adjustment which allows users to easily adjust for the best viewing angle.
If you prefer to have your monitor mounted to a wall mount or to a third-party monitor arm, the XL2735 is VESA mount ready for your personal needs.
There's a handle on the monitor stand that allows you to carry the monitor single handed without any worries on dropping the monitor, very useful for LAN Parties and Gaming events where monitors are carried around.
A rather unique attachment this is, the XL2735 comes with a pair of removable cover (aka Shield) for its users to minimize to environmental distraction and focus better on what's on the display.
Dust cover helps to reduce dust accumulation on the monitor, but we're pretty sure that 90% of users will just ignore it. Why is that? Well, covering or taking it off from your monitor will become very tedious overtime and not many will actually keep it as a daily practice, not even ourselves. But it is included so those of you who ritually uses it will have one in hand.
On-Screen Display
The on-screen display features quick access to Picture Mode, Color Vibrance, Black eQualizer and the complete OSD menu.
Black eQualizer
Black equalizer allows you to see the hidden dark details that aren't visible on most monitors. The screen above is a scene from Call of Duty: Advanced Warfare and Overwatch, where the character is currently in a low light environment. Raising the gauge slowly reveals what's hidden in the low light area.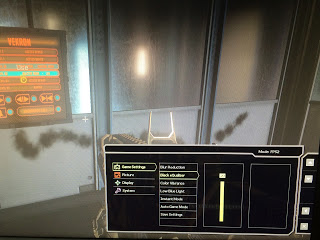 This comes very usefully, especially when you're playing an FPS where the enemies try to blends into the shadows.
Color Vibrancy
Color vibrancy, something that is pretty personal we'd say. The screen above shows the original color without any adjustments. We might find it comfortable to view, but there's always someone else that finds it to be too tough to their eyes or vice versa.
With the Color Vibrance option, you can adjust the color tone to your preference. A pretty sweet feature to have on a monitor.
Dynamic Accuracy 
The Dynamic Accuracy (DyAc) is definitely a great feature to have and the difference is noticeable for games that involve a lot of movement, as we gave this feature a try with games such as Overwatch, Far Cry 4, Battlefield 4, Call of Duty: Advanced Warfare.
For Overwatch, there is noticeable improvement when it comes to the aim. We can see slightly better during maneuver and target aiming, especially for heroes like Pharah, Hanzo, D.Va, Genji, and Lucio.
Of course, the FPS titles we've tested isn't the only games that take advantage of this feature, especially for the 144Hz refresh rate. DJMAX Trilogy, OSU are some of the popular rhythm games where the player's performance is heavily affected by the smoothness of the scrolling speed and moving sprites.We've compared the game play for both rhythm games with our Dell U2312HM and the result is a big thumb up. Scrolling and sprite movement feels almost twice as smooth on the XL2735 and we can hardly notice any blurred edge or shadow trails on the moving sprites. Verdict
Our experience with the BenQ ZOWIE XL2735 was great overall and there's hardly any noticeable downside during usage. While owning one doesn't actually makes you a pro immediately, but compared to most average monitors, the XL2735 gives you that unfair advantage for better visual and smoother game play to further compliment your game skill.Pros
Sleek and stylish design
Quick and easy access to monitor servicing menu with the S Switch Arc
Quick access button to picture mode, color vibrancy adjustment, and black eQualizer
Lots of preset for different purpose (gaming, movie, work, etc)
Black eQualizer allows you to reveal hidden details in dark area without having too much impact on the overall quality
Cons