Intel unveils its new 6th generation Intel Core i7-6700K and i5-6600K processors along with its Z170 chipset motherboards just over a month ago, featuring support for PCIE RAID, DDR4 memory and full range BCLK overclock for unlocked Intel Skylake-S CPU that is supposed to bring a whole new overclocking experience to those who favors much in tweaking their system to performs at its best.
Model

ASUS Z170-Pro Gaming

Warranty

3 Years

Form Factor

ATX

Supported CPU

Intel LGA 1151 Socket CPU

Chipset

Intel Z170

Expansion Slots

2 x PCIe 3.0/2.0 x16 (Single at x16, dual at x8/x8, ) 

1 x PCIe 3.0/2.0 x16 (max at x4 mode, ) 

3 x PCIe 3.0/2.0 x1

Memory Support

4 x DDR4 DIMM slots supporting up to 64 GB
Up to Dual Channel, 2133-3400 MHz

I/O Panel

1 x PS/2 keyboard/mouse combo port(s)

1 x DVI

1 x D-Sub

1 x DisplayPort

1 x HDMI

1 x LAN (RJ45) port(s)

1 x USB 3.1 (red)Type-A

1 x USB 3.1 Type-C

4 x USB 3.0 

2 x USB 2.0 

1 x Optical S/PDIF out

5 x Audio jack(s)

Internal I/O Connectors

1 x USB 3.0 connector(s) support(s) additional 2 USB 3.0 port(s) (19-pin)

3 x USB 2.0 connector(s) support(s) additional 6 USB 2.0 port(s)

1 x SATA Express connector: gray, compatible with 2 x SATA 6.0 Gb/s ports

1 x M.2 Socket 3 with M Key design, type 2242/2260/2280/22110 storage devices support (Supports both SATA & PCIE SSD)

1 x COM port(s) connector(s)

4 x SATA 6Gb/s connector(s)

1 x CPU Fan connector(s) (1 x 4 -pin)

1 x CPU OPT Fan connector(s) (1 x 4 -pin)

3 x Chassis Fan connector(s) (3 x 4 -pin)

1 x 24-pin EATX Power connector(s)

1 x 8-pin ATX 12V Power connector(s)

1 x Front panel audio connector(s) (AAFP)

1 x System panel(s) 

1 x Thermal sensor connector(s)

1 x CPU OV

1 x Clear CMOS jumper(s)

1 x 5-pin EXT_FAN(Extension Fan) connector

1 x ROG extension (ROG_EXT) header(s)

1 x 14-1 pin TPM connector
The Z170 Pro Gaming comes in a rather flashy packaging compared to the Z97 Pro Gamer, featuring the newly launched World of Warships from the renowned creator of World of Tanks and World of Warplanes, Wargaming.net. At the bottom left of the box we find notable features such as its use of the latest Intel Z170 chipset, support for Intel LGA 1151 socket CPU and Windows 10 ready.
The back of the box are more features highlights that ASUS intentionally wanted everyone to notice i.e Gamer's Guardian with the use of high quality components and extra protective design to ensure its longevity, RAMCache to improve games and application launching speed as well as the implementation of the latest USB 3.1.
The included accessories consists of cable labels, User's Manual, SATA cables, SLI bridge, Driver CD, I/O shield cover and the new CPU installation tool that helps to make CPU installation easier and reduce the risk of accidentally bending the CPU socket pins.
The CPU installation tool is a thin plastic bracket that can be clipped onto your CPU which ASUS claims to make CPU installation easier and greatly reduce the risk of bending your CPU socket pins.
Clipping it to a CPU is fairly easy, but do handle with care as the bracket itself is pretty thin and you'll break it first before bending your CPU pins in not handled with care.
While it doesn't really makes any difference for the experienced users, it does really makes installation less of a heart stopper for the newbies.
The installation tool fits perfectly without any issue.
As the 2nd generation of the Pro Gaming series, the Z170 Pro Gaming has a far more distinctive heatsink for its VRM and chipset that gives a boost to its appearance – far better compared to its predecessor, the Z97 Pro Gamer. Aside of its heatsink, another noticeable changes is the audio capacitors used. 
While the chokes used is still not the favorable Super Alloy chokes used on higher end ROG motherboards that we hope for, the renown 10K Black Metallic Capacitors used is still something that will at least make up for that. 
The Z170 Pro Gaming supports 4 x DDR4 DIMMs up to a total of 64GB and memory speed of 3400MHz.
While SATA Express devices is still pretty uncommon, ASUS still included it on the Z170 Pro Gaming just in case if you happens to get one in the future.
Other than just looks better than the Z97 Pro Gamer, the newly designed chipset heatsink is what we consider as the beginning of the Pro Gaming series identity to take its shape. 
By far the SATA Express devices isn't something common you can find locally, therefore the M.2 SSD with a higher availability and runs at the same speed as the SATA Express (10Gb/s) will be a good alternative to tryout the 10Gb/s standard. 
The Z170 Pro Gaming supports up to 3-way SLI / Crossfire to satisfy your need for that extra juice for GPU.
The entire audio solution of the Z170 Pro Gaming is made isolated from electromagnetic interference (EMI) by a protective shield which ASUS claims to be able to effectively eliminates analog interference to ensure flawless sound quality. The SupremeFX 2015 features ESS ES9023P DAC with Hyperstream technology, Nichicon premium audio capacitors, SupremeFX Shielding, 2VRMS Headphone Output, NEC De-pop Relay and Dedicated Clock.
The usual Nuvoton sensor chip for monitoring of temperatures, voltage, fan speed, etc.
Here's the key element behind the renown auto tuning feature, 5-way Optimization – the TPU chip which features precise voltage control and advanced monitoring through Auto Tuning and TurboV functions.
The rear I/O panel: 
1 x P/S2 Keyboard Mouse combo port
1 x S/PDIF, Display port and HDMI, VGA and DVI-D
2 x USB 2.0 ports
4 x USB 3.0 ports
1 x USB 3.1 Type-A port
1 x USB 3.1 Type-C port
1 x Intel Ethernet ports
5 x Audio Jacks
The UEFI BIOS interface shares the same color scheme of the UEFI BIOS on the ROG branded motherboards. Accessing it the first time will lead you to the Ez Mode interface that has all the basic functions to allow quick and easy system optimization even to entry level users.
The Q-Fan Control function is an easy to use function that allows you to configure the fans to behave according to temperature straight from the motherboard. This can be accessed by pressing F6 key.
The new EZ Tuning Wizard is a simple to use utility that offers quick and easy system over-clocking and RAID configuration with a single click.
Advanced users may opt for the Advanced Mode for more tweaking options. The main tab basic details of your system and also the option to adjust your system date, time and language.
The Ai Tweaker is where advanced users will spend vast amount of time to tune their system clock speed, voltage, strap, etc. Highlighted in yellow are the brief details on the targeted outcome of the current system tuning.
At the Advance tab, users can further adjust the settings of CPU, storage devices, USB ports, On-board Devices, APM, Network Stack, Platform Misc and so on.
Monitor tab allow users to monitor components temperature and fan speed, adjust fan speed with profiles so the fans will behave accordingly.
Monitor tab allow users to monitor components temperature and fan speed, adjust fan speed with profiles so the fans will behave accordingly.
The Tool tab comes with some useful function such as the ASUS EZ Flash Utility for BIOS update via flash drive (similar to the BIOS flashback button) and the ASUS Overclocking Profile to backup your stable over-clocking profiles.
The functions in the Exit tab is pretty common but still worth to mention.
Load Optimized Defaults – Basically this will restore the changes done to the factory default settings.
Save Changes & Reset – This will save the changes done and restart your system.
Discard Changes & Reset – This will save the changes done and restart your system.
Both option 2 and 3 can be accessed without the need of accessing the exit tab as user will be prompted with a confirmation message when exiting the BIOS via the Esc key.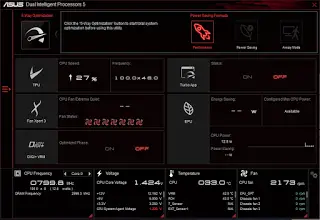 The AI Suite III might looks the same like the one we've seen previously, but taking a closer look on the interface proves us wrong. As more and more features being added, the familiar icon menu we've used to see is now a list of options for us to choose from.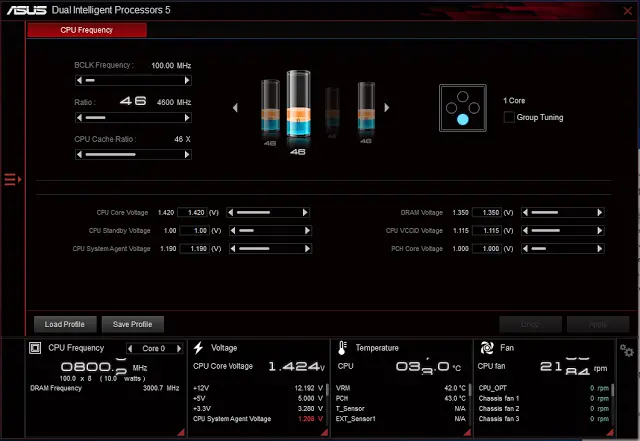 The Dual Intelligent Processor 5 5-Way Optimization is an auto tuning feature that allows you to optimize your system to perform according to your needs. If you have no clue on how overclocking is done but still wanted to improve your system performance, this is the very thing you'll need.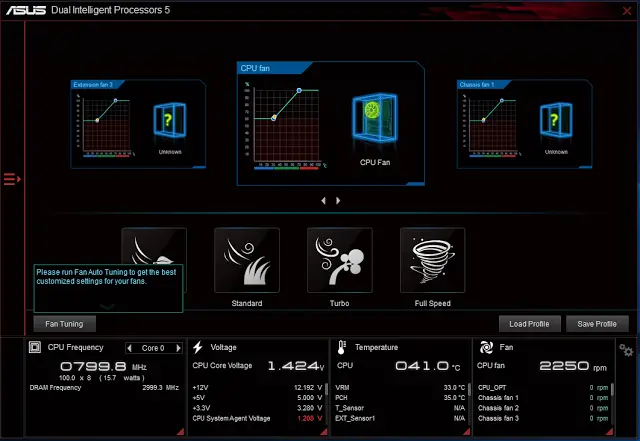 Fan Xpert 3 an Expert features easy to use fan configuration with several profiles that can be applied to all fans attached to your motherboard to suit all your needs – Silent, Standard, Turbo, Full Speed.
Digi+ Power Control usually comes in 2 different tab for CPU and DRAM, but things seems a little different here with the Z170 Pro Gaming. The CPU tab allow users to adjust CPU power phase, VRM switching frequency, thermal control etc to achieve higher and better power efficiency.
The Turbo App utility allow users to configure several options for a designated application to enhance the overall experience when running a certain applications – set process priority, performance, audio profiles and internet connection priority.
Moving on to the EPU power saving function function, we have all the power saving options available. The auto tab features some basic options such as turning off display, set system to sleep and fan profiles after the system is left unattended for a certain amount of time. The performance tab only comes with options to turn off display and set system to sleep.
Power saving tab has the same feature as the auto tab and an add-on feature to limit the maximum power consumption of the CPU.
Away mode tab allows users to go even further in power saving by having the same options available in power saving mode and some extras to mute system sound and USB power output control.
The PC Cleaner is a new feature that helps to scan your system for unwanted clutters and remove it to free up disk space – Not something we'd expect to have in the ASUS AI Suite.
Enabling this option will shorten the charging time when your iPod, iPhone and iPad is connected to the USB port. We have personally tested the AI Charger+ with an iPhone and it seems to work as described.
USB 3.1 Boost allows UASP enabled devices to display improvement in transfer speed, but you'll still be able to notice the improvement in standard USB 3.1 device. Not to be afraid of the term USB 3.1, as it is also compatible with USB 3.0 devices.
EZ Update is a BIOS update utility that automatically checks for the latest BIOS updates from ASUS official and BIOS update can be done easily with a single click on the update button after the latest BIOS file is selected.
System information utility allow users to navigate the details of their motherboard, CPU and Memory – similar as the CPU-Z often used by advanced users during over-clocking session.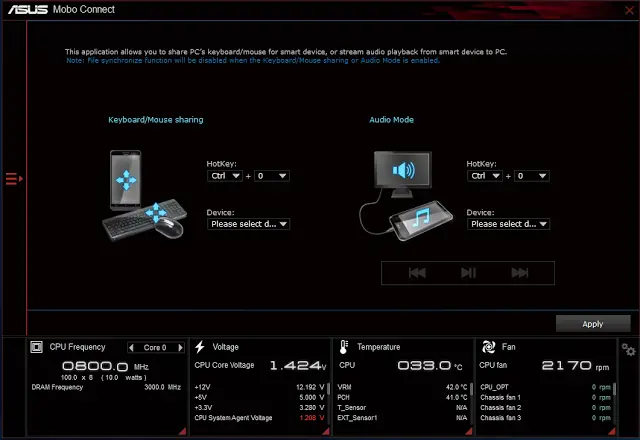 Mobo Connect is another new feature of the Z170 Pro Gaming that allows you to share the keyboard/mouse of your PC with smart devices and stream audio from smart devices to your PC. 
Push Notice is an utility that notify you on selected event via mobile devices so you will always be updated with your system status when you're few miles away from it.
Another new feature of the Z170 Pro Gaming, the LED Control allows you to configure the LED to behave according to the options selected from the list.
No function that affect any of the system performance, the version viewer only display the version of the programs in the AI Suite 3.
Test Rig Configuration

CPU Cooler

Corsair H100i

CPU

Intel Core i5-6600K

Motherboard

ASUS Z170 Pro Gaming 

Memory

Apacer Blade DDR4 @3200MHz

Primary Hard Drive

Crucial M500 120GB

Power Supply

be quiet! Straight Power 10 600W

Chassis

Vector Bench Case
We've ran several test which includes overclocking and benchmark with the configuration above to test the capability of the Z170 Pro Gaming.
As it turns out that the i5 6600K Engineering Sample CPU from Intel isn't really a gem for overclocking, we've tried to achieve the best possible stable result that can be achieve with this CPU.
4.6GHz is the sweet spot for this CPU, not too hot on the temperature and not too high on the vcore. RAM overclocking goes as far to 3200MHz, still some distance away from the advertised 3400MHz but still a pretty good result that can be achieved with ease.
For BCLK overclocking, ASUS's Pro Clock Technology is a base clock generator that allows you to raise your base clock to a whooping 400MHz and beyond without having to select the CPU Strap like we used to do back then. 400MHz isn't something we could achieve during our test, but we manage to achieve 250MHz on the BCLK with some adjustments such as lowering the CPU multiplier, increase the the PCH voltage, increasing PLL bandwidth.
As the 2nd generation of the Pro Gaming series motherboard from ASUS, the Z170 Pro Gaming displays many notable improvements in terms of appearance, features and overclocking potential.
Appearance is something worth to highlight for the Z170 Pro Gaming as it does looks a whole lot better (in my opinion) compared to the Z97 Pro Gamer in which we received quite a few comments from some of our readers who claims that the Z97 Pro Gamer looks like a rushed out product that doesn't show much effort in the design. We have to agree with that on some points, but things are a whole lot different now from what we can see on the Z170 Pro Gaming. While there is not many features added this time, notable improvements such as the implementation of USB 3.1 Type-A and Type-C is something worth keeping our eyes on when supported devices become available in the coming future.   
Overclocking wise, the ASUS Z170 Pro Gaming does exceptionally well compared to its predecessor. Other than the limitation of the CPU itself that prevents us from going further on the CPU frequency, both the memory and base clock overclocking has far exceeded our initial expectation. We're able to go as far as 250MHz on the base clock without needing to select the CPU strap and going 3200MHz on the memory without much issue.
By taking into consideration of what the ASUS Z170 Pro Gaming is capable of, it's not hard for us to determine the badges it deserves from us here at Tech Critter – A Silver and Recommended award badges it is! If you're planning to upgrade your current system with the new Skylake CPU and Z170 chipset motherboard, the ASUS Z170 Pro Gaming is an option that is worth to consider.
Decent overclocking potential
Good alternative for those who wants a balanced point in between the Signature series motherboard and ROG branded motherboard 
5-Way Optimization Auto-Tuning for easy system optimization
Simple but handy on-board feature – BIOS flashback, MemOK, EZ XMP, Power button
ASUS AI Suite III has many useful features gathered in a single piece of software, as if it's a Swiss army knife
Supports the new M.2 and SATA Express interface devices
Absent of power ON/OFF switch, reset switch and clear CMOS switch can be tough for those who has less experience in overclocking