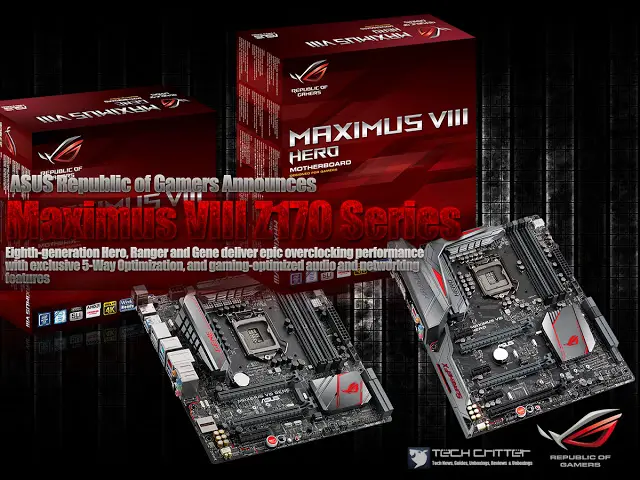 Malaysia, Kuala Lumpur (6th August, 2015) — ASUS Republic of Gamers (ROG) today announced Maximus VIII Hero, Maximus VIII Ranger and Maximus VIII Gene, three new gaming motherboards based on the latest Intel® Z170 Express chipset and engineered with multiple exclusive technologies to deliver epic overclocking performance of Intel 6th-generation processors and DDR4 memory.
ROG's new gaming beasts pack 5-Way Optimization auto-tuning technology for instant performance boosts, second-generation T-Topology for next-level DDR4 memory overclocking, best-ever cooling potential with dedicated water-pump and multiple PWM onboard headers and thermal sensors, plus Pro Clock technology for turbo-charged base-clock (BCLK) frequencies.
The new boards also include the best gaming audio with SupremeFX 2015 with Sonic Studio II, the best gaming networking, the latest Intel Gigabit Ethernet, LANGuard and GameFirst technologies, and the best gaming protection, with smart DIY designs and premium components for maximum durability. Lastly, tons of gaming-optimized utilities are free bundled among these three boards. 
Best gaming performance: 5-Way Optimization, second-gen T-Topology and water-pump headers
Maximus VIII Hero, Maximus VIII Ranger and Maximus VIII Gene all benefit from 5-Way Optimization technology with automated overclocking and unrivaled fan control for instant, highly-controllable performance boosts. This exclusive technology dynamically optimizes essential system aspects based on real-time use for superb CPU performance, everyday energy savings, ultra-stable digital power, cool and quiet fans, and even networking and audio settings tailored for favorite games and apps.
The new ROG gaming motherboards also have second-generation ASUS T-Topology built in, enabling users to take DDR4 memory overclocking to new heights: over 3733MHz is possible with all memory slots populated. Featuring a customized trace layout for reduced crosstalk and coupling noise, second-generation T-Topology ensures time-aligned signal transfer for improved memory stability and compatibility.
For the ultimate in cooling and quietness Maximus VIII Hero, Maximus VIII Ranger and Maximus VIII Gene all feature advanced fan and water-pump controls, coupled to onboard thermal sensors and hardware-level 4-pin/3-pin PWM/DC mode detection — all controlled by the intuitive simplicity of Fan Xpert 3. A dedicated onboard water-pump header ensures that best water-cooling efficiency is instantly accessible, and another fan-extension header is also built in for better upgradability 
Maximus VIII Hero, Maximus VIII Ranger and Maximus VIII Gene introduce Pro Clock technology, a dedicated base-clock (BCLK) generator designed for 6th-generation Intel processors that allows overclocked base-clock frequencies of 400MHz or even beyond. This custom solution works in tandem with ASUS ROG's TurboV Processing Unit (TPU) to enhance voltage and base-clock overclocking control. Boot times can be reduced, jitter is lowered and stability is increased under heavy overclocking — providing an exciting new way to boost performance to extreme heights.
Best gaming audio: Jacked-up SupremeFX 2015 and Sonic Studio II with one-click auto-tuning
Maximus VIII Hero, Maximus VIII Ranger and Maximus VIII Gene pack jacked-up audio, inside and out. ROG's engineers have reinvented integrated audio, with the very best gaming-audio inputs and outputs, special shielded designs, and a collection of carefully-selected, professional-grade audio components, including an ESS ES9023P digital-to-analog converter (DAC) with Hyperstream™ technology, ultra-low-jitter clock, Nichicon® capacitors, 2VRMS headphone amp, and Sonic SenseAmp that automatically detects and optimizes any headset (32-600ohms) for purest sound quality.
SupremeFX 2015 also features intuitive Sonic Studio II to apply different audio effects for the most enjoyable entertainment, plus Perfect Voice noise-cancellation technology for both incoming and outgoing communications to give team conversations total clarity. This intuitive audio-tuning suite includes one-click virtual-surround function that emulates 7.1 channels, through even stereo (2.0-channel) headsets. It offers five more superb audio controls, including Reverb, Bass Boost, Equalizer, Voice Clarity and Smart EQ— ensuring that everything emitted by Maximus VIII Hero, Maximus VIII Ranger and Maximus VIII Gene sounds just amazing.
Sonic Studio II incorporates Casting Enhancer to improve both streaming and recording audio quality, reducing noise artifacts and stabilizing overall voice volume. It also enhances all the rich details and boosts the bass effects of in-game sounds and music to deliver audio experiences with real feeling.
Best gaming networking: Lag-banishing Intel Gigabit Ethernet, LANGuard and GameFirst
Maximus VIII Hero, Maximus VIII Ranger and Maximus VIII Gene combine superior hardware and software technologies to deliver a knock-out blow to lag for online gaming without stutter.
The very latest Intel Gigabit Ethernet (I219-V) reduces CPU overhead and offers exceptionally-high TCP and UDP throughput, freeing up more computing power for gaming and gameplay, while exclusive LANGuard's signal-coupling technology and premium surface-mounted ensure reliable connections and better throughput. The new gaming boards also have electrostatically-guarded and surge-protected components (ESD Guards) for 1.9X-greater tolerance to static electricity and 2.5X-greater protection (up to 15KV) against surges. 
Exclusive GameFirst technology prioritizes game-related packets and allocates more bandwidth to games, eliminating laggy gameplay, streaming stutters and file-sharing slowdown — ensuring Maximus VIII Hero, Maximus VIII Ranger and Maximus VIII Gene gamers are always frontrunners. Users need only choose the Optimization, Game, Media Streaming or File Sharing preset to watch their networks fly.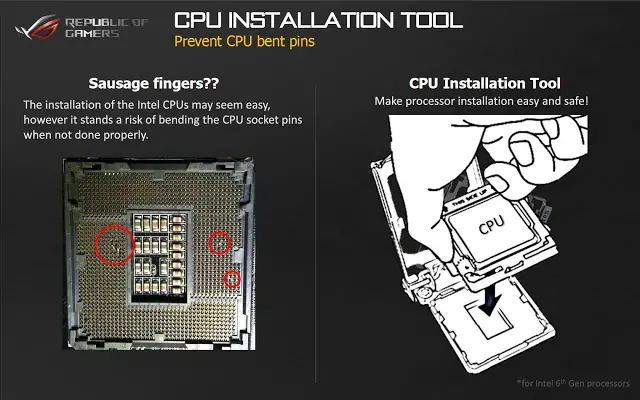 Best gaming protection: Smart DIY designs and premium components for maximum durability
Maximus VIII Hero, Maximus VIII Ranger and Maximus VIII Gene deliver the stability and durability that gamers demand, with long-lasting, premium components and exclusive smart DIY designs board for the best builds and gaming experiences.
Smart DIY features include the CPU Installation Tool to prevent socket-pin damage, TrueVolt USB for a rock-steady 5V power supply to USB ports, one-piece Q-connector front-panel connector, one-clip Q-Slot graphics card installation and Q-DIMM memory slots with one-sided clips for super-simple, super-secure handling of memory modules.
ROG's latest gaming motherboards also have built-in DRAM Overcurrent Protection with an additional resettable fuse to protects connection ports and DRAM against overcurrent and short-circuit damage, dual backplates to provide additional cooling, protection and reinforcement, stainless-steel back I/O connections with 3X-longer lifespan than ordinary panels and black nickel-coated Q-Shield for protection from nicks and cuts while building.
Best gaming extras: Lighting controls, RAMCache, Keybot II and Overwolf
Maximus VIII Hero, Maximus VIII Ranger and Maximus VIII Gene enable brighter builds with customizable LED lighting and controls to cast a stunning multi-color glow, change shades to indicate CPU temperature, or pulsate in time to the beat of favorite tunes.
Uniquely-intelligent RAMCache technology effectively caches an entire storage device so that favorite games and apps launch at breakneck speeds, getting to work the moment it's activated. RAMCache turns milliseconds into microseconds to boost game-load times to stratospheric levels, and minimizes risk of data loss.
ROG's much-loved free keyboard upgrade has also been upgraded to KeyBot II, an exclusive microprocessor controlled by a simple user interface that lets gamers record macros directly from the keyboard, switch profiles in moments, enable special functions with hotkey from F1-F10, start and even boost the PC from shutdown (S5 mode). The brand-new Directional Exchange feature allows fighting-game fans to switch direction at the touch of a button.
Maximus VIII Hero, Maximus VIII Ranger and Maximus VIII Gene are also able to stay in the game with free access to Overwolf, a clever unobtrusive overlay that enables browsing, emailing, instant messaging, streaming or recording without interrupting gameplay. This brilliant helper is all dressed up in color-matched ROG skins to illustrate membership of an elite pack — soon to be available from Overwolf's app store.
AVAILABILITY & PRICING
ASUS ROG Maximus VIII Hero, Maximus VIII Ranger and Maximus VIII Gene will be available in Malaysia in mid of August 2015.
Maximus VIII Hero – RM 1,199 
Maximus VIII Ranger – RM 965 
Maximus VIII Gene – RM 1,065 
**All prices are inclusive 6% of GST. Prices quoted are current and may change without prior notice.