ASUS has launched its Power Couple Worldwide Giveaway campaign which offers its fans across the globe exciting prizes such as 5 GeForce RTX 40 Series GPUs and 7 PSUs from its iconic ROG and TUF Gaming lineup.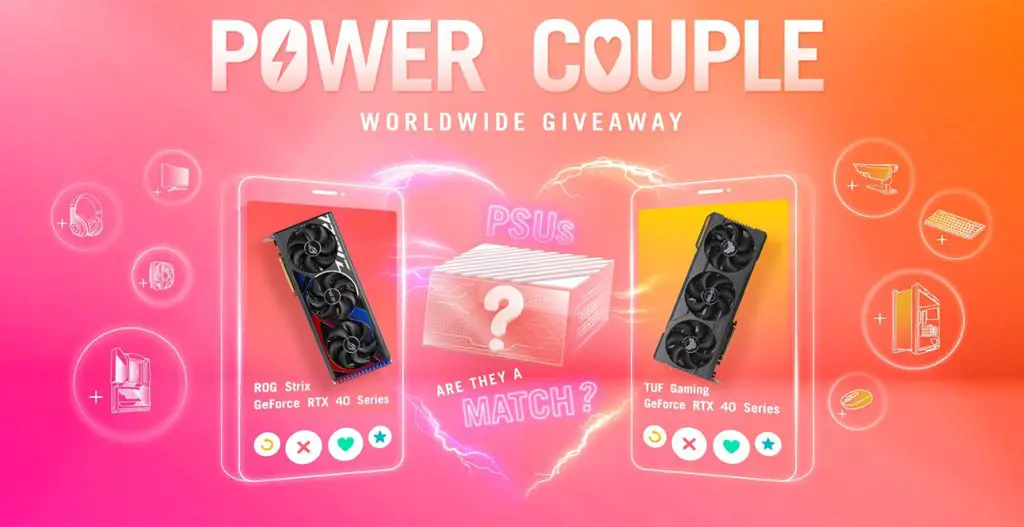 To begin with, the Power Couple giveaway contest runs from 12th May to 26th May 2023 and is divided into several sections, each with a chance to win some of the most popular ASUS PC hardware.
The first section will be consisting of a quiz that tests participants' knowledge of one of five RTX 40 series GPUs including the ROG Strix RTX 4090 and ROG Strix RTX 4070 Ti. And those who correctly answered the questions on a specific card will then be entered into a drawing to win that exact GPU.
Meanwhile, the second section is the section where participants act as matchmakers between ASUS GPUs and PSUs, with each of the components containing a dating profile that has specified preferences.
That's not all, but there's an extra section where participants can tell ASUS which GPU they'd pair with either a ROG or TUF power supply and why. They can also pick other ASUS products such as motherboard, casing, cooler, etc.
Kindly refer to the link below for more information on the Power Couple Worldwide Giveaway:
https://www.asus.com/campaign/Power-Couple-Campaign/