Thanks to a new BIOS update, ASUS's X670 and X670E motherboards are now fully compatible with the latest AMD Ryzen 7000 Series X3D CPUs with 3D V-Cache technology.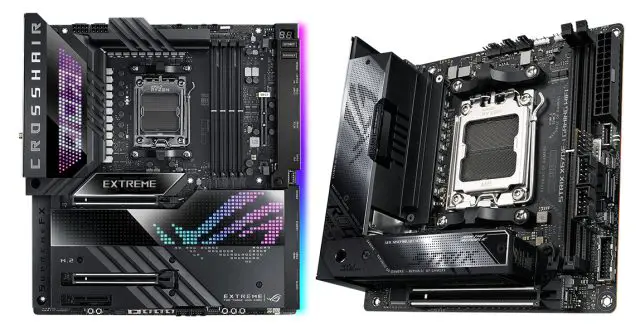 Many of us should have known that the Ryzen 7 5800X3D CPU has been a gamers' favorite since its launch, and AMD is now bringing us two more new Ryzen 7000 Series CPUs with 3D V-Cache technology — the Ryzen 9 7950X3D and Ryzen 9 7900X3D.
To accommodate these latest high-performance AMD processors from day one, ASUS has released new firmware versions for its X670E and X670 motherboards.
Do keep in mind that even if users are building new PC soon after the release of these new CPUs, there is a chance that they might get a motherboard from current stock which lacks the necessary firmware. So ASUS advises them to check whether it is updated with the latest firmware.
And here's a list of the updated BIOS versions for each motherboard model:
| | |
| --- | --- |
| X670 motherboard model | BIOS Version |
| ROG Crosshair X670E Extreme | 0922 |
| ROG Crosshair X670E Hero | 0922 |
| ROG Crosshair X670E Gene | 0922 |
| ROG Strix X670E-E Gaming WiFi | 0922 |
| ROG Strix X670E-F Gaming WiFi | 0922 |
| ROG Strix X670E-A Gaming WiFi | 0922 |
| ROG Strix X670E-I Gaming WiFi | 1222 |
| TUF Gaming X670E-Plus WiFi | 1222 |
| TUF Gaming X670E-Plus | 1222 |
| ProArt X670E-Creator WiFi | 0922 |
| Prime X670E-Pro WiFi | 1222 |
| Prime X670E-Pro | 1222 |
| Prime X670-P WiFi | 1222 |
| Prime X670-P | 1222 |