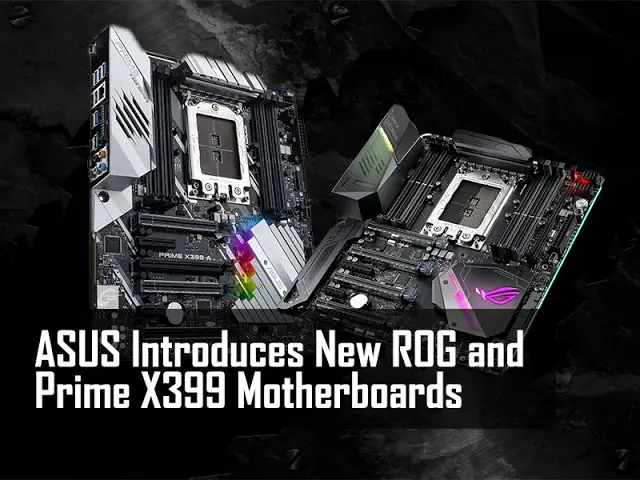 The latest generation of high-end desktops debuts today with AMD's new X399 platform and accompanying Ryzen™Threadripper™ processors featuring up to 16 cores, 32 threads of desktop pounding performance. These SocketTR4 processors require new motherboards, and ASUS is ready with a trio of innovative products. Built for power users, gaming enthusiasts and prosumers, the new lineup of Republic of Gamers (ROG) and ASUS X399 motherboards represent the culmination of decades of experience refining all aspects of motherboard technology.
All our X399 boards share core DNA that includes one-touch intelligent overclocking, refined cooling control, advanced connectivity and improved RGB lighting. Yet they each have their own distinct flavor as well. The ROG Zenith Extreme brings Threadripper into the world of premium dream PCs with provisions for custom liquid cooling and 10Gbps networking. With the ROG Strix X399-E Gaming, hardcore gamers can build stylish rigs with power to spare for high-quality streaming. And then there's the Prime X399-A and its well-rounded foundation channeling the professional side of the platform's prodigious power. 
Which X399 motherboard should you buy for your build? We answer that question and more in our X399 buyer's guide at
EdgeUp ASUS
.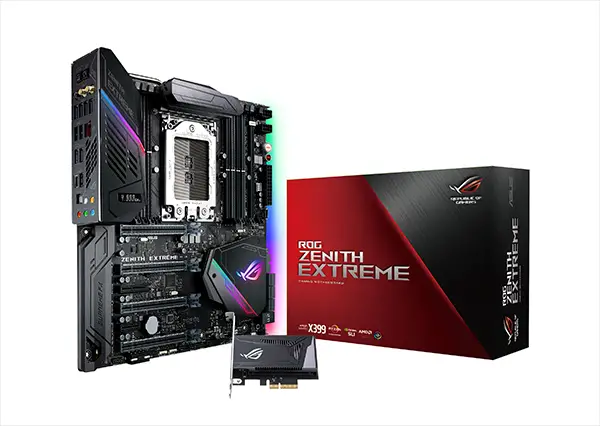 Ryzen gets ripped
There are two kinds of desktop CPU platforms. The mainstream tier runs from two cores up to eight, and it's great for gaming and general use. Its high-end sibling takes everything up a level with more cores, more memory channels, and more bandwidth for graphics and storage. A considerable upgrade in every regard, this high-end desktop platform appeals to power users, content creators, gaming enthusiasts and prosumers who want to blur the line between desktop and workstation. AMD's Threadripper CPU is the latest addition to the desktop's heavyweight division, and for good reason. 
With up to 16 CPU cores and 32 threads, Threadripper doubles the computing resources of AMD's most powerful desktop chips. It's a musclebound monster hungry for complex video editing, 3D rendering, gaming and heavy multitasking that lets you run a staggering 128GB of DDR4 memory on a single board. 
Bandwidth ripples across every inch of the processor. The PCI Express® 3.0 controller boasts 64 individual lanes, 60 of which are available for graphics cards, NVMe® SSDs, and other peripherals. Most high-end desktop chips stop there, but not Threadripper. It incorporates even more I/O with eight USB 3.1 Gen 1 ports that don't have to share interconnect bandwidth with the X399 chipset. Additional USB ports are available in its chipset sidekick, which also serves up six SATA ports and PCIe®2.0 lanes for onboard peripherals like networking.
Each of our X399 motherboards is tailored slightly differently, and it shows in the specs. Here's a quick rundown of how our Threadripper motherboards stack up.
Feature rich, refinement beyond expectations
All our X399 motherboards have extensive overclocking and cooling options available in both the UEFI and software. It all starts with 5-Way Optimization, which intelligently overclocks your system and tunes the cooling based on the individual characteristics of your components. Beginners can effortlessly optimize their entire PC with a single click, while experienced users can adjust tuning parameters to meet their needs.
Refinement extends to the styling, whose distinctive monochromatic themes lay the perfect foundation for understated builds—or much flashier ones with RGB lighting. Our Prime X399 board features multiple headers for LED strips that can light up your entire chassis. The ROG models up the ante with new addressable headers. Each LED in an addressable device can be controlled independently, opening the door for more advanced cosmetic and functional displays. They're both part of a rich ecosystem of Aura Sync products that can synchronize colors and effects across a complete system, from the motherboard and graphics card to peripherals and other components. 
Processors of Threadripper's magnitude pair best with liquid cooling, so we've equipped our X399 motherboards with everything you need. They offer dedicated headers for pumps and all-in-one coolers, so you can get up and running quickly without fussing over the setup. Our ROG models also have headers for monitoring coolant flow and temperatures, and the Zenith Extreme boasts an extra one reserved for custom monoblocks. Our FanXpert intelligence can now adjust each fan's speed based on the hottest input from a group of configurable sensors, including the GPU diode on compatible graphics cards.
Bandwidth is a huge part of Threadripper's appeal. The mother lode of PCI Express lanes stands ready for the multiple high-end graphics cards required for truly cutting-edge gaming and VR experiences. All of our X399 motherboards support three-way SLI and CrossFireX setups, and the Zenith Extreme can call upon a fourth card for record-setting benchmark attempts or an extra jolt of compute power. To protect your investment, SafeSlot reinforces the graphics slots against damage from increasingly heavy GPU coolers.
Threadripper has enough PCIe to easily connect multiple NVMe SSDs directly to the CPU. But it's not enough to just have a bunch of M.2 slots. The fastest SSDs can heat up under heavy sustained loads, causing performance to drop when you need it the most. To improve thermals, the M.2s on all of our X399 motherboards are either covered by heatsinks or positioned so that drives are in the path of airflow. On top of that, the boards come with U.2 ports for the cabled NVMe SSDs derived from data centers.
With so much bandwidth inside the platform, we had to give our X399 motherboards lots of ultra-fast connectivity to reach outside the box. For external devices, USB 3.1 Gen 2 ports provide 10Gbps links in all the flavors: Type-A, Type-C™, and front panel. The Gigabit networking uses reliable Intel controllers, and that's just the start. The ROG Zenith Extreme takes networking up a notch with not only a wired 10Gbps (10G) Ethernet card, but also an 802.11ad Wi-Fi module.
This new generation receives our latest on-board audio enhancements, including a Realtek® S1220 series codec paired with an amplifier and premium components that produce immersive and crystal clear sound. The ROG Zenith Extreme goes one step further with the ESS® Sabre 9018Q2C DAC and offers audio quality that rivals some dedicated sound cards.Both the ROG boards feature our exclusive Sonic Studio III and Sonic Radar III software suites along with support for Sonic Studio Link that allows virtual surround sound and other effects in conjunction with the HTC Vive™ or Oculus Rift™ VR headsets.
AVAILABILITY & PRICING
The availability of the ASUS Prime X399-A and the ROG Strix X399-E Gaming motherboard has yet to be confirmed, but ROG Zenith Extreme will be available somewhere around the mid of August.