ASUS has recently revealed the full lineup of the B650 and B650E series of motherboards that goes with AMD's Ryzen 7000 desktop processors.
Available in 4 different series, one can pick the most suitable motherboards that either fit the aesthetics or bang-for-buck category depending on the use case.
First up is the ROG STRIX series consisting of the white-themed B650-A Gaming WiFi and 3 B650E-E, F, and I in the standard black. The B650E boards have better power phases to provide a stronger and stable current to drive the new AMD chips to their fullest potential assisted by beefy VRM and M.2 heatsinks to chill the components effectively. Specfically, the "E" model contains some quality-of-life features like twin PCIe 5.0 x16 slots and PCIe Q-Release Button for easy GPU removal, and a total of 19 USB ports. Meanwhile, the "F" is basically a scaled down "E" version while the I is the usual ITX form factor board.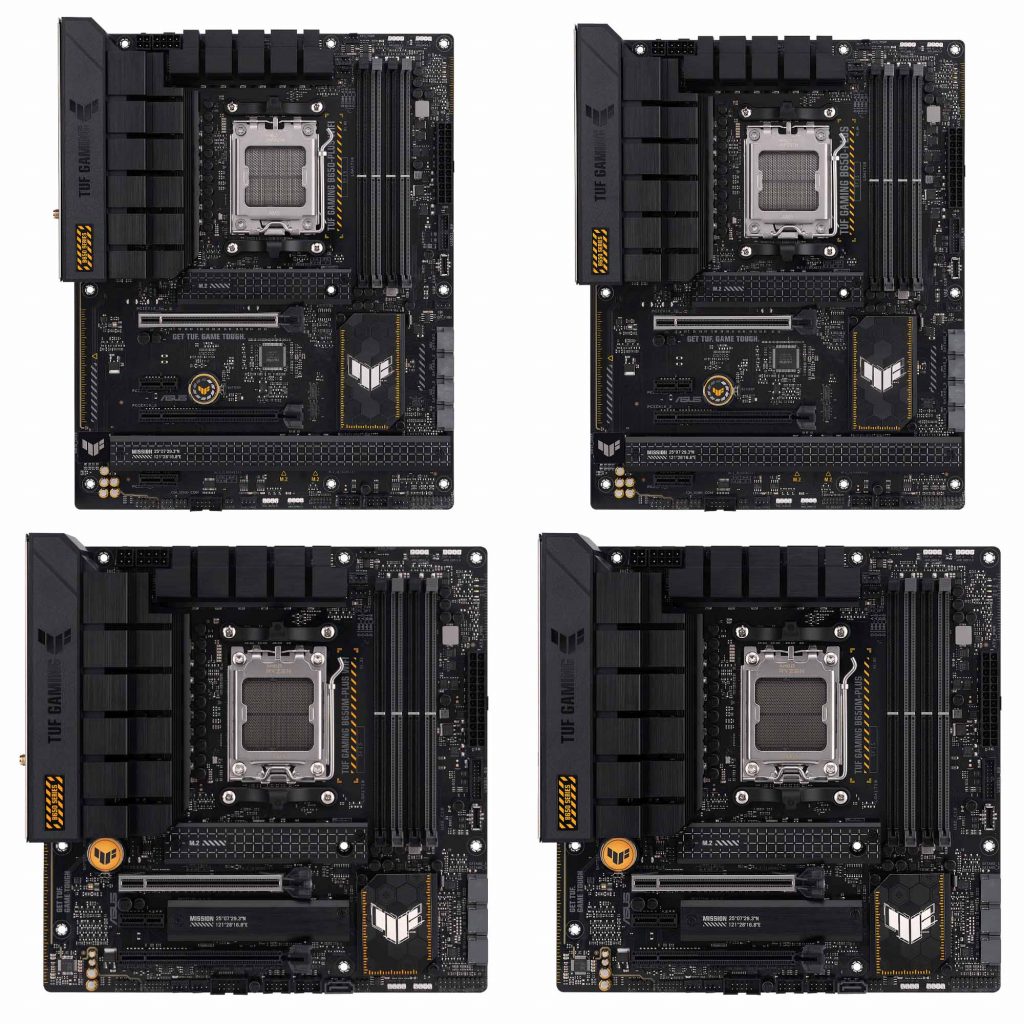 The military-grade counterpart has 4 boards as well with all of them being the base B650 and available in 2 form factors of ATX and mATX with optional built-in Wi-Fi support. All of them support DDR5 RAM, host a PCIe 5.0 M.2 slot, and one onboard USB 3.2 Gen 2×2 USB Type-C port in addition to 2.5GbE. Those who are looking for the industrial look of Black and Orange should find one of these feature-packed boards relatively soft for the wallet.
For the professionals, the ProArt family got the one and only B650 CREATOR variant but it is capable of harnessing all the connectivity options to cater to industrial use. DDR5 and PCIe 5.0 are in and users can utilize the twin PCIe 4.0 x16 slots in x8 / x8 config for a dual GPU setup. For the front panel, there will be USB 3.2 Gen 2×2 Type0C ports to power all the high bandwidth equipment while another one is on the rear I/O that can output DP 1.4 signal up to 8K60Hz.
The basic yet get the job done PRIME series has 4 variations as well with 1 ATX and 3 mATX form factors and of course being the most budget options, all of them are just B650 and not B650E but if the restriction doesn't matter to you, you still can enjoy all the goodies like 2.5GbE LAN, PCIe 5.0 M.2 slots, and DDR5 support out of the box.