2018 April 17 – Local specs & pricing confirmed
The ASUS FX series gaming laptops are being introduced into the TUF Gaming series. The FX504 is the first laptop in the new TUF Gaming Series. This series embraces the core essence of the legendary The Ultimate Force (TUF) Series, resulting in affordable gaming laptops that prioritize stability and durability above all else.
To ensure system longevity and stable performance, FX504 features the patented Anti-Dust Cooling (ADC), and it is powered by the latest-generation Intel Core processor and NVIDIA GeForce GTX 10-Series graphics. FX504 also features a gaming keyboard with a 20-million- key-press lifespan, a 15.6-inch 60Hz display, and 7.1-channel surround sound.
Performance and portability
FX504 is powered by up to 8th Generation Intel Core i7-8750HQ processor and features up to NVIDIA GeForce GTX 1050 Ti graphics with full Microsoft DirectX 12 support. With a slim 2.5cm chassis and an overall weight of just 2.3kg, FX504 offers a combination of performance and portability that's great for on-the-go multitasking, entertainment, and gaming.
HyperCool technology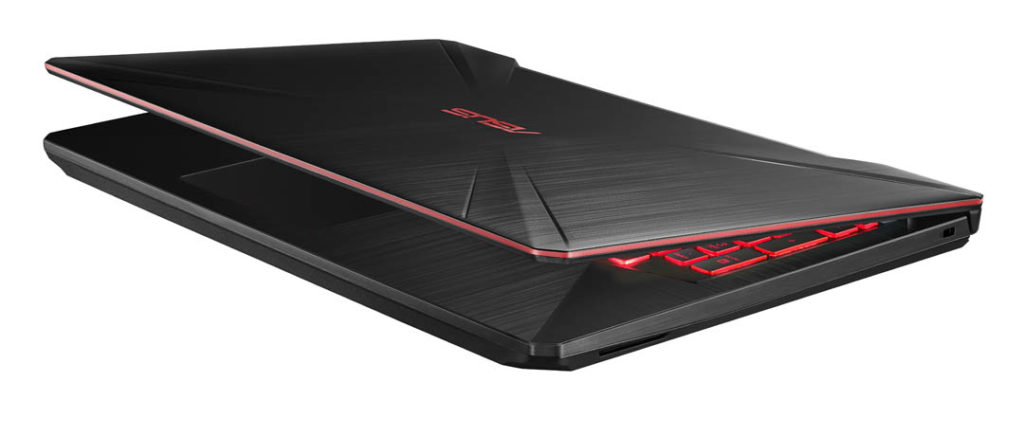 The thermal design of FX504 significantly prolongs its lifespan and provides stable cooling during intense gaming marathons. HyperCool technology pairs the patented ADC system with Fan Overboost. The ADC system expels harmful dust particles and dirt through two dedicated tunnels to prevent build-up in the thermal fins. The Fan Overboost function provides users with three different modes for the perfect balance between fan performance and noise level.
Additional cooling features include a pair of copper heat pipes and a dual-fan system to cool the processor and graphics card independently, while the trapezoid-cut lid optimizes airflow to increase thermal efficiency by up to 27% compared to a standard laptop chassis. An intelligently-placed fan is located right below the WASD key group to ensure the keyboard stays cool even during long gaming sessions.
Specifications & Availability ETA
[2018 April 17 Update] The new ASUS TUF Gaming FX504 is now available at ASUS official retail channels. The specification list is sorted by the price range (descending order).
The new ASUS TUF Gaming FX504 is expected to available in April 2018. The specification list is sorted by the price range (descending order). Pricing details to be updated.
Model Series
Model Name
Local Product Spec (Malaysia)
Panel Tech
SRP (RM)
ASUS TUF
FX504G-EE4071T
i7-8750H/4G/1T SSHD + 128G PCIE SSD
GTX1050Ti 4G/WIN10/FHD IPS Wide View 250nits 60Hz
IPS
RM 4,399
ASUS TUF
FX504G-DE4096T
i7-8750H/4G/1T SSHD + 128G PCIE SSD
GTX1050 4G/WIN10/FHD IPS Wide View 250nits 60Hz
IPS
RM 4,199
ASUS TUF
FX504G-DE4092T
i7-8750H/4G/1T SSHD
GTX1050 4G/WIN10/FHD IPS Wide View 250nits 60Hz
IPS
RM 3,899
ASUS TUF
FX504G-DDM091T
i5-8300H/4G/1T SSHD
GTX1050 4G/WIN10/FHD TN 200nits 60Hz
TN
RM 3,299