Last week, AMD officially revealed a new subset of 'Zen 4' architecture dedicated to the mobile computing sector in the form of 'Zen 4c' first introduced within the Ryzen 7040U series lineup.
For those who are thinking of getting the upcoming 'Zen4c' laptops because of better performance, you'll be disappointed because this new core architecture is designed for the efficiency game.
First, the entire die size has been shrunk and occupies 35% less area than the standard 'Zen 4' which in turn means everything is more densely packed that trades clock speeds for a smaller package.
And that pretty much sums up the physical difference between 'Zen 4' and 'Zen 4c' because the rest of the technical numbers are identical.
The sample graph, courtesy of the official source, easily compares both architectures with the standard 'Zen 4' outperforming 'Zen 4c' in higher wattages thanks to its ability to boost higher and achieve higher multi-threaded benchmark scores.
However, the situation flips around with 'Zen 4c' taking the lead at lower wattages, showcasing the improved efficiency game that harnesses every drop of electric juice in a better way.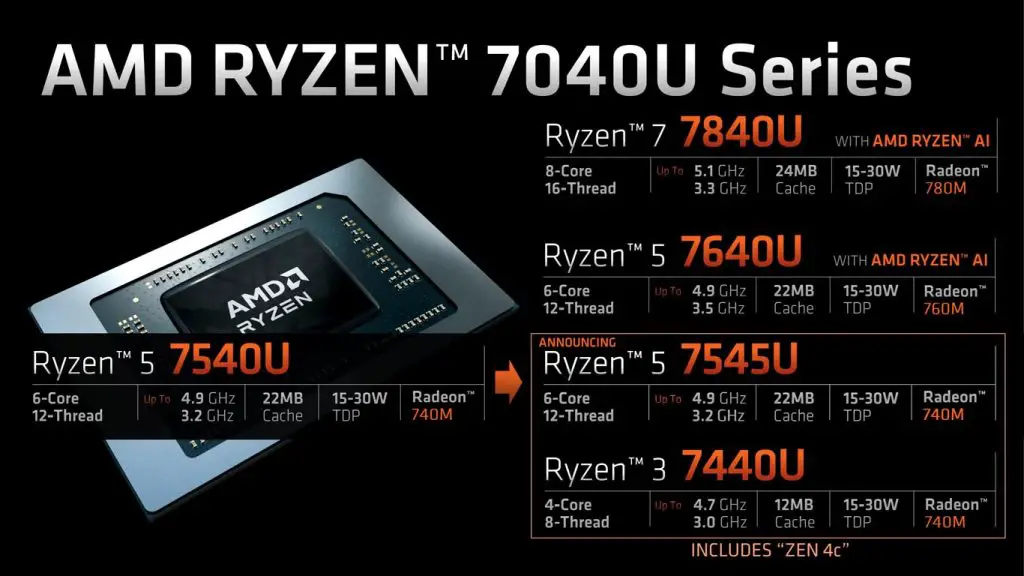 While the rest of the Ryzen 7040U series remains the same, two new SKUs will be added to the mix, namely the Ryzen 5 7545U equipped with 2x Zen 4 and 4x Zen 4c cores, and the Ryzen 3 7440U doing a 1x Zen 4 + 3x Zen 4c config instead.
While the keen-eyed may correctly identify 7545U as the one with Zen 4c cores instead of the pure Zen 4-equipped 7540U, the 7440U is completely in the mess as one may not really know which version are they getting with their next purchase – old or new.
Products shipped with these 2 new chips will either enter the market before 2023 ends or in early 2024.