AMD has announced the release of its highly anticipated Ryzen 7040HS series CPUs, which are designed for high-end notebook PCs and feature an advanced artificial intelligence (AI) engine. These processors build upon the success of the Ryzen 7040U series CPUs and offer exceptional performance.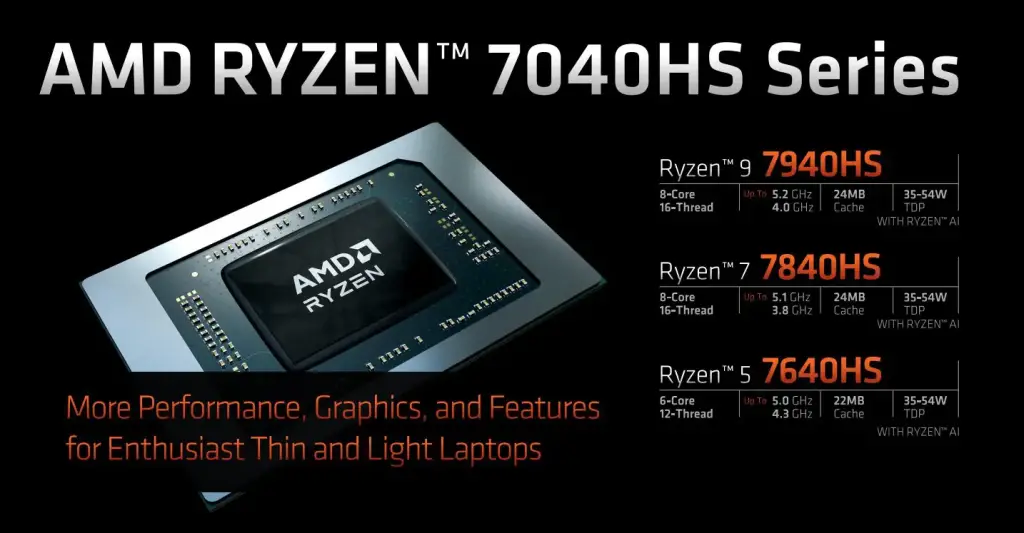 The Ryzen 7040HS series combines AMD's Zen 4 architecture CPU cores with the RDNA 3 architecture graphics cores Radeon 780M/760M, all integrated into a single chip. This integration allows for unmatched performance, with a maximum boost clock of 5 GHz or higher. The thermal design power (TDP) has also been enhanced, ranging from 35W to 54W.
This slideshow requires JavaScript.
A key feature of the Ryzen 7040HS series is the "Ryzen AI" engine, powered by the innovative XDNA adaptive AI architecture. This AI engine optimizes AI processing while reducing the workload on the CPU cores, resulting in efficient performance. Additionally, users can enjoy enhanced webcam image enhancement functionality through the Neural Processing Unit (NPU) feature called the "Studio Effects Pack," which is integrated into the Windows 11 operating system.
The Ryzen 7040HS series offers a range of models to suit different needs, including the high-performance "Ryzen 9 7940HS" with 8 cores and 16 threads, the powerful "Ryzen 7 7840HS" with the same configuration, and the versatile "Ryzen 5 7640HS" with 6 cores and 12 threads. Leading manufacturers such as Razer, ASUS, HP, Lenovo, and Acer will gradually release notebook PCs equipped with the Ryzen 7040HS series CPUs.
AMD's release of the Ryzen 7040HS series represents a significant milestone in delivering exceptional performance, advanced AI capabilities, and an immersive computing experience for high-end laptop users. With its powerful architecture, innovative AI engine, and collaborations with renowned manufacturers, AMD aims to redefine the notebook PC landscape and meet the increasing demands of tech enthusiasts and professionals.