Flashy design, feature loaded and mediocre sound quality, those are the general perception of a pair of gaming headphones. But hey, aren't headphones supposed to focus on audio quality instead of bells and whistles? What makes matters worse is the pricing where consumers are literally paying an unjust price for those extra side features instead of audio.
That got me thinking, is it really that difficult for gaming peripheral manufacturers to pay attention in the audio quality department? They should be a bunch of innovative guys unlike the tried and tested traditional headphone manufacturers.
Today, what we have in our labs is a rather special gaming headphones from Logitech – the G633 Artemis Spectrum, which promises exceptional audio quality with its Pro-G audio drivers as well as their expertise from the acquisition of Ultimate Ears. Let us dive into the review shall we?
Retails for RM599.
Specifications
General
Connectivity: USB or 3.5mm audio jack
Headphone
Driver: 1.6 in (40 mm)
Frequency response: 20Hz-20KHz
Impedance: 39 Ohms (passive), 5k Ohms (active)
Sensitivity: 107dB SPL/mW
Microphone
Microphone Pickup pattern: Cardioid (Unidirectional)
Size: 4mm
Frequency response: 100Hz-20KHz
Software Support
Windows: Windows 7 or later
Mac: OS X 10.8 or later
Console: Sony PS4, Microsoft Xbox One
Unboxing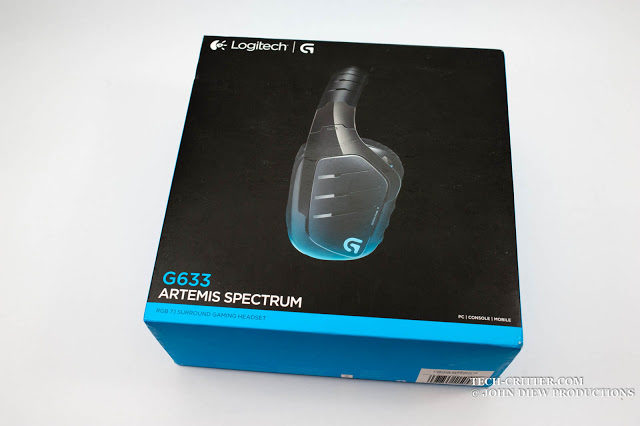 I was expecting the headphone to come in a larger box like how the other headphones would. Well, I guess Logitech does have something up its sleeves when it comes to packaging optimization.
More information of the headphone at the rear.
Color me impressed, this is a box that you will use for storing/displaying your cans when not in use.
Taking out the headphones and there's a box that contains the cables.
Simple and easy understanding illustrations on the headphones dual connectivity feature.
What you get in the box:
Logitech G633 Artemis Spectrum
USB cable (look at that thickness)
3.5mm audio cable with inline controller
Documentation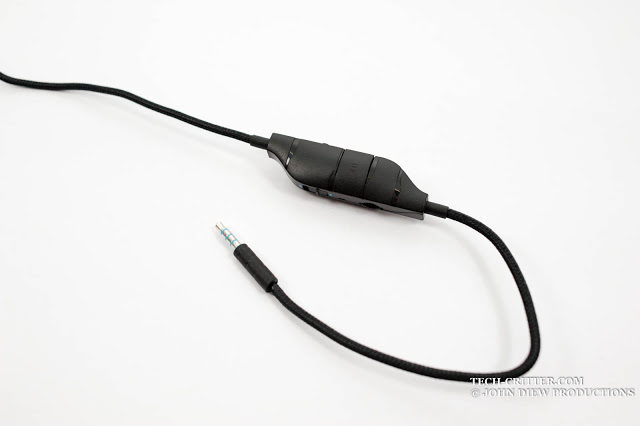 3.5mm audio cable for mobile phone and consoles. It comes with an inline controller as the buttons at the back of the headphones would only work with USB connectors.
With this cable, you can use the G633 AS with your mobile phone or consoles.
The inline controller also comes with a microphone.
As seen in the photo above, there's a switch that allows you to choose whether to use the headphone's folding microphone or the inline controller's microphone.
Microphone mute switch and the volume controller.
The build quality, however, to be frank, for a headphone at this price, I wasn't expecting the inline controller to be this flimsy.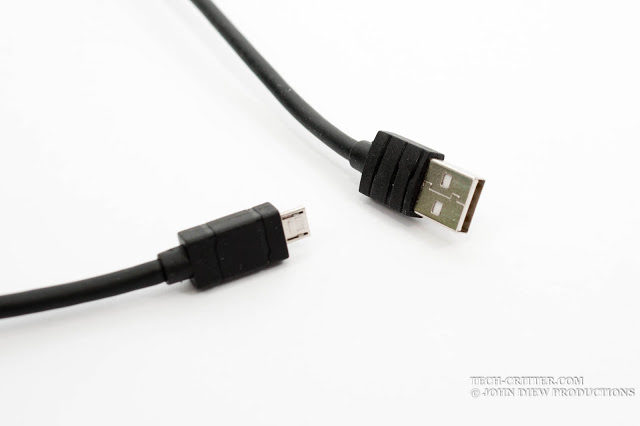 USB cable is a real surprise – 3 meters long and about 1.5 times thicker than usual USB cables.
Thick cables are great but not a good experience when you have one of those dangling from your headphones.
I replaced the cable with my phone's micro USB cable and it felt much natural with thinner and lighter cable.
Design & Hardware
The headphones are mainly constructed of plastic as the outer frame while having a flexible aluminum piece as the frame across the headband.
As a result, the headphones is extremely lightweight for something of that size.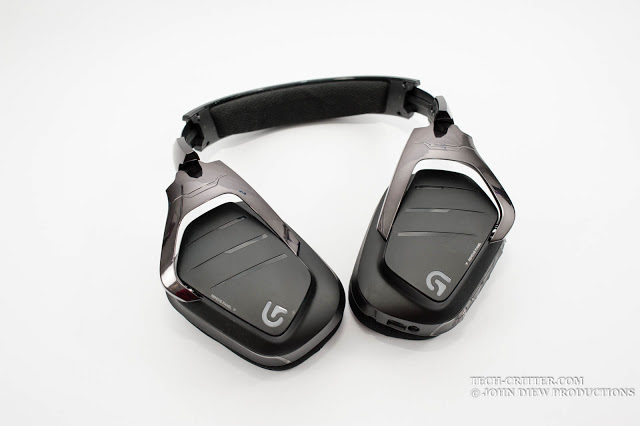 Glossy finish though looks good in the eyes, but a nightmare to maintain especially all those fingerprints and oil smudges.
The cans can be turned 90 degrees just like some other DJ headphones.
Close up at the headphones size adjustment. They are marked for easy and personalized micro size adjustments.
The top band is cushion padded and it is very comfortable for long hours usage.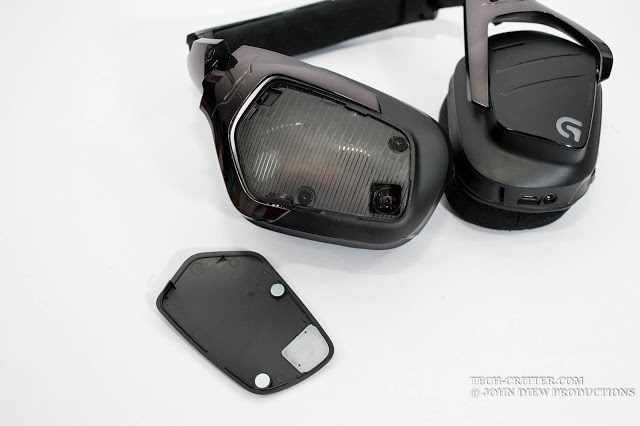 One of the unique features of G633 AS is the customization of the side plates as they are magnetically attached to the cans.
Even so, users can't really do anything with it unless Logitech releases any customized side plates. 3D print, anyone?
Then we come to the back of the headphone where all the G key lies.
From top to bottom:
USB/3.5mm mode switch
G3
G2
G1
Microphone mute
Volume scroll wheel
The G keys are customizable up to your preference if you have Logitech Gaming Software installed, But the microphone mute key function is permanently fixed. Why make another microphone mute key when the microphone would automatically mute when it is folded up?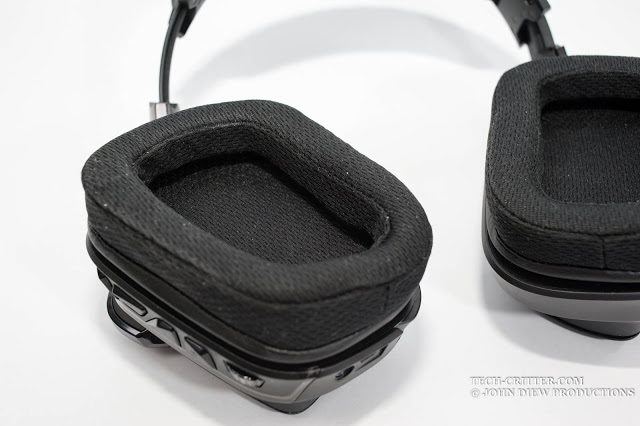 Splendid combination of soft fabric and foam used on the ear cups. Comfortable to the skin and thanks to the deep ear cups, I've worn the headphones for hours and it doesn't irritate my ears at all.
The noise canceling microphone is cleverly folded into the side of the cans. It automatically un-mutes when you pull it down.
It extends and bends for optimum voice pickup.
The folding microphone sounds a little softer and artificial than the inline microphone, probably due to the noise canceling effect that muffles some of the speech. The advantage of this folding microphone is that the speech is directly picked up from the mouth and it sounded more directional instead of the "emptiness" sound signature picked up by the inline microphone.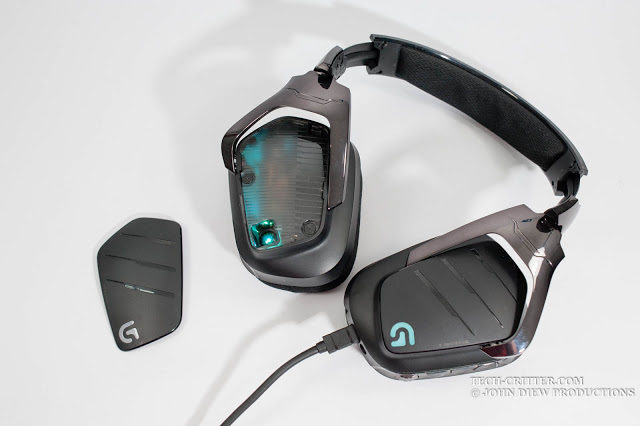 Plugging in the USB cable.
Bright and vivid RGB LED.
The LED stripe at the back of the headphones serves no purpose nor improvements to audio quality except for aesthetics.
Pretty much it is there just to capture the attention of the audience. Great for publicity when professional gamers use it during live stream tournaments.
LED lighting is customizable via the Logitech Gaming Software.
Still, I have to admit that they look really cool.
Software
Logitech Gaming Software (LGS) can be downloaded from Logitech Support site.
You don't need to re-install if you previously installed LGS for another product.
G keys customization.
Lighting configuration.
I prefer to have the equalizer set to flat because I prefer natural and original sound profile for general purpose. For application specific sound profile configuration, I would rely on the application's own equalizer, for instance, Foobar's equalizer for music.
Dolby Virtual Surround sound mixer for surround sound configuration.
As the name suggest, they're virtual instead of real physical 7.1 drivers. Honestly, turning on this feature is great for games but it literally destroys all my stereo media especially music. So, surround sound doesn't magically make everything awesome.
Final Thoughts
Now, the million dollar question – How does it sound?
Before I go into my opinion on the sound quality, I need to clarify something, as the G633 Artemis Spectrum is marketed as a 7.1 surround headset, for the record, it is running a virtual surround instead of true surround. A true surround headset would come with at least 4~5 drivers on each side in order to reproduce the surround experience. Virtual surround headset, however, relies on software to convert stereo signal then output as surround-alike sound.
There are a lot of on-going debates whether true surround can be reproduced on a headset or not. You see, cramming all 4~5 drivers so near to each another in a small compartment must have a negative impact on the overall sound quality. Some more nowadays some of those decent stereo drivers are so good that they can reproduce up to par surround quality.
First, the surround sound. As seen in the Logitech Gaming Software's virtual surround configuration page, the G633 AS comes with the Dolby Surround Mixer where it did really good in games and movies, but terrible for music. That's more or less the nature and weakness of virtual surround.
Putting aside the Dolby Surround Sound and back to the true stereo, I must admit that the sound quality is surprisingly good. The high and lows are equally balanced, although I felt that the drivers are leaning towards the lows, but thanks to the breathable ear cups, the bass is much more toned down and harmony. Somehow it changed my stereotype perception on gaming headset's audio quality.
Of course, it is still far from audiophile-grade cans, but at least now Logitech proved that they can also combine design, quality and feature into one package. That actually means a lot, not only for the consumers but to the industry as well where more and more players out there would ramp up their R&D to churn out affordable yet quality gaming headsets.
If you're in the market looking for a pair of great sounding gaming headphones, do try out the Logitech G633 Artemis Spectrum.
Pros:
Lightweight
Comfortable ear pads
Good sound quality
Dual input option (USB and analog)
Detachable cable
Good noise canceling microphone
Cons:
Virtual surround
Overkill USB cable
Size, non-travel friendly
#####
If you like what we do and want to help us to continue doing it please feel free to donate, or if you wish to donate by other means than Paypal please contact us at
[email protected]