Lenovo is venturing into the budget gaming laptop market with its LOQ brand (pronounced as "Lock"), offering competitively priced PCs. Their LOQ laptops and desktop towers maintain the familiar design elements of their existing Legion lineup, providing gamers with a budget-friendly option that doesn't compromise on quality.
The Lenovo LOQ family includes both 15-inch and 16-inch gaming laptops, available with both Intel and AMD processors, starting at just RM3,949. The base model features an AMD Ryzen 5 7640HS with an Nvidia GeForce RTX 3050 laptop GPU in a 15-inch chassis, but upgrading to a model with an RTX 40-series GPU is recommended for smoother gaming performance.
In this review, we'll focus on the LOQ 15IRH8 model, which is equipped with a 13th-generation Intel Core i7-13620H processor, an Nvidia GeForce RTX 4050 GPU, 8GB DDR5 memory, and a 512GB M.2 PCIe 4.0 NVMe SSD. While pre-configured units are available from physical or online retailers, Lenovo's official website allows you to customize your configuration.
Design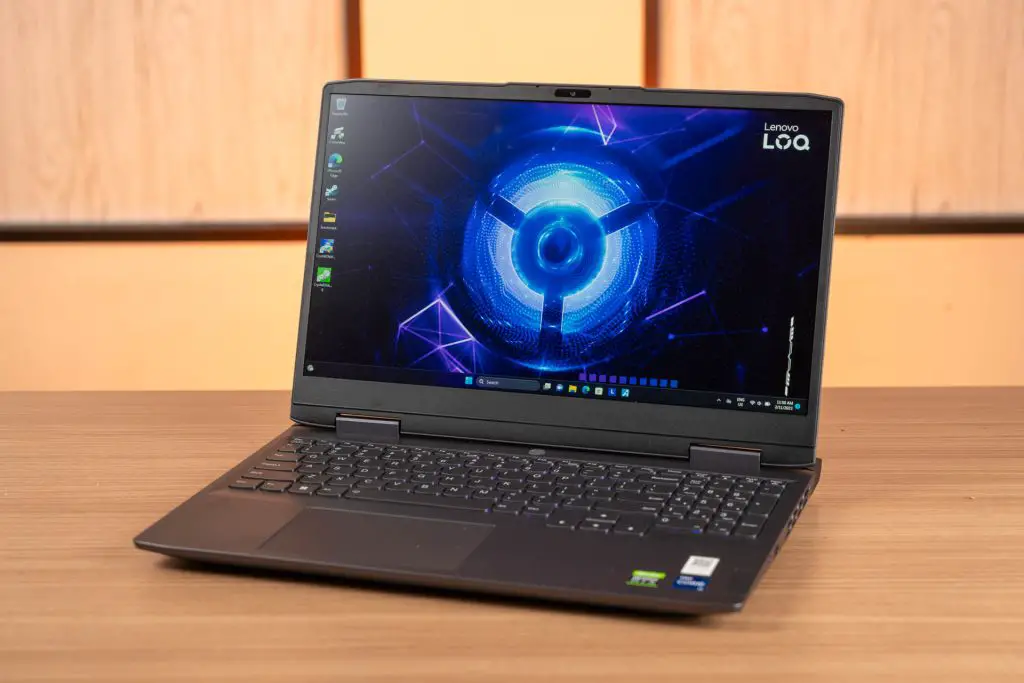 Design-wise, the LOQ laptops bear a strong resemblance to Lenovo's Legion notebooks, offering a premium look and feel. However, unlike their pricier Legion counterparts, the LOQ 15 features an all-plastic body. It's not the slimmest or lightest laptop, weighing about 2.4kg and measuring 22mm at its thinnest point.
But it compensates with a decent selection of ports, a full-sized keyboard with four-zone backlighting, and a spacious touchpad. The laptop is available in Strom Grey and Onyx Black color options.
IO
Rear ports:
2x USB-A 3.2 Gen2 (10Gbps)
Gigabit Ethernet
HDMI 2.1
DC power port
Right:
Electronic e-shutter switch
USB-A 3.2 Gen1 (5Gbps)
Left
USB-C 3.2 Gen2 (10Gbps) DisplayPort 1.4, 140W power delivery
3.5mm combo audio jack
It also offers Wi-Fi 6 and Bluetooth 5.1 for wireless connectivity.
One standout feature of the LOQ 15 is its comfortable keyboard, the same one found on Lenovo's Legion laptops. The concave keycaps and full-sized layout with a number pad make for an enjoyable typing experience. There are two keyboard backlight options available for customization, either white or 4-zone RGB. The touchpad is smooth and roomy, suitable for non-gaming tasks. The LOQ 15's speakers get adequately loud but are not a substitute for quality gaming headsets.
Display
Moving on to the display, the LOQ 15 sports a standard 15.6-inch WQHD IPS panel with a 2560×1440 resolution and support for a 165Hz refresh rate. While it features an anti-glare coating to reduce reflections, it falls short in terms of maximum brightness, reaching only about 350 nits. Some backlight bleed may be visible, particularly when viewing darker images. The display's colour vibrancy may not be on par with other options on the market, and manual calibration is recommended. The laptop has sizable bezels, and the lack of a 16:10 aspect ratio display might disappoint some users. However, support for a 165Hz refresh rate with G-Sync provides smooth performance, both in and out of games.
A 1080p webcam with an electronic shutter switch is included, delivering serviceable quality.
Performance
Performance-wise, the LOQ 15 is equipped with a 45W Intel Core i7-13620H processor with 10 cores and 16 threads, paired with an Nvidia GeForce RTX 4050 laptop GPU with a total graphics power (TGP) of 95W. It also includes 8GB of DDR5 RAM and a 512GB M.2 NVMe SSD. Users can choose to configure the laptop with an Intel Core i7-13700H and an RTX 4060 GPU, although this will increase the cost. The overall performance is in line with mid-range gaming laptops in 2023.
This slideshow requires JavaScript.
Cyberpunk 2077 at Ultra Settings can achieve roughly 45 FPS. With some settings adjustments, it can comfortably achieve 60 FPS, making it a reliable choice for gaming and productivity tasks. My suggestion is to skip the 8GB RAM configuration and directly upgrade to 16GB.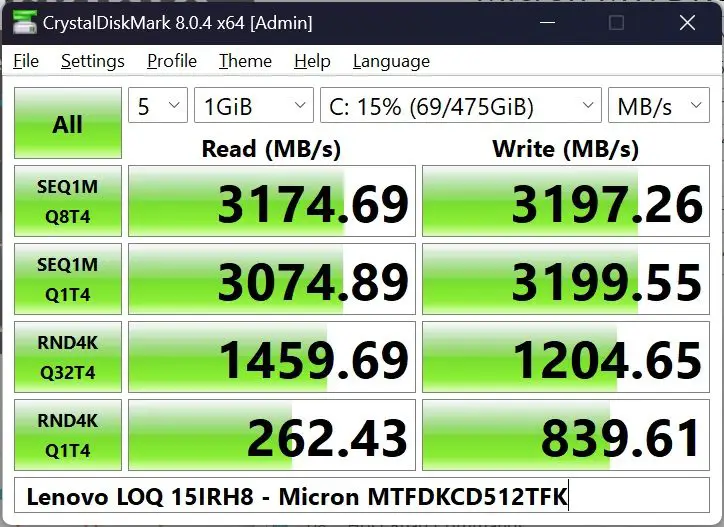 The built-in Micron MTFDKCD512TFK M.2 PCIe 4.0 SSD delivers reliable read and write speeds, and the laptop offers an additional M.2 slot for expanding storage.
Thermal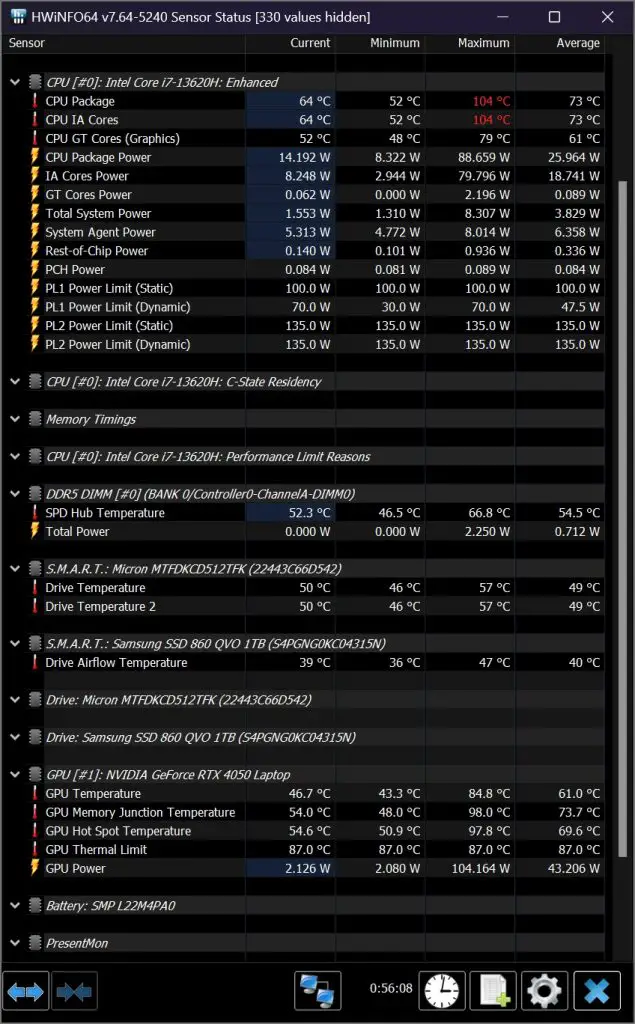 One drawback is the laptop's thermal performance, as it tends to run hot. During testing, the CPU reached temperatures of up to 104 degrees Celsius, causing performance throttling. The GPU also operated close to 85 degrees Celsius. The fans run at maximum RPM during demanding tasks, resulting in relatively high system noise levels.
Battery Life
First thing first, you should never game on the battery as it will drain the battery faster than you could enjoy the game and worst of all, the PC will not be performing at its best. Our mid-tiered usage with mostly Google Chrome and internet media streaming with NVIDIA Optimus manages to squeeze 5 hours of battery life out of the 60Wh cell. While the battery life may not match some laptops with a 99Wh battery, it should provide a decent amount of usage on a single charge for typical tasks.
Conclusion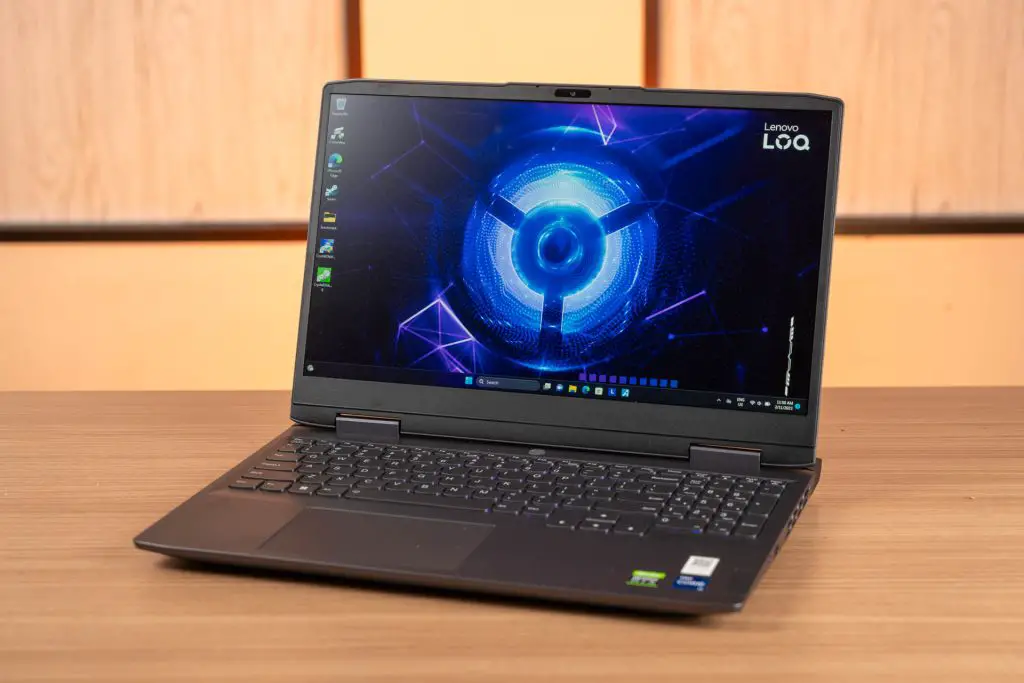 To sum up, the Lenovo LOQ 15 is a suitable choice for casual gamers seeking an affordable laptop with an RTX 40-series GPU, a comfortable full-sized keyboard, and reliable performance for both gaming and work. However, it may not be the right pick for those looking for a highly portable laptop, with a 16:10 display, or a color-calibrated, high-brightness display.
Despite its minor shortcomings in battery life and display quality, the Lenovo LOQ 15 offers solid value for budget-conscious gamers, featuring an attractive design and competitive performance.