We are currently witnessing a remarkable evolution in the world of computing. The devices continually shrink in size while packing an ever-increasing punch. In this age of compact computing, mini PCs are offering a compelling blend of portability, performance, and versatility.
Today, we will take a look at the GEEKOM MiniAir 11, exploring its form and function as well as explaining how mini PCs can fit into certain workflows.
GEEKOM MiniAir 11 Specifications
11th Gen Intel Celeron N5090 (4 cores, 4 threads) 15W
Intel UHD Graphics 605
8GB DDR4, expandable up to 32GB
256GB NVMe SSD, expandable up to 1TB
Intel WiFi5 & Bluetooth 4.2
Gigabit Ethernet
What's in the box
The MiniAir 11 comes in a small box with well-designed paddings.
GEEKOM MiniAir 11
Power adapter
Mini DisplayPort to HDMI adapter
HDMI cable
Wall mount bracket & screws
Carrying bag
paper documentation
GEEKOM included a mini-DP to HDMI adapter to support up to two 4K display outputs.
The package also includes a wall mount bracket.
This is a 65W power brick that powers the system. Sooner or later, we will all move to USB-PD-based design.
Around the GEEKOM MiniAir 11
Measuring 117 * 112 * 34.2mm, the MiniAir 11 is just about 0.45 liter in volume. The weight is a remarkable 500.3 grams.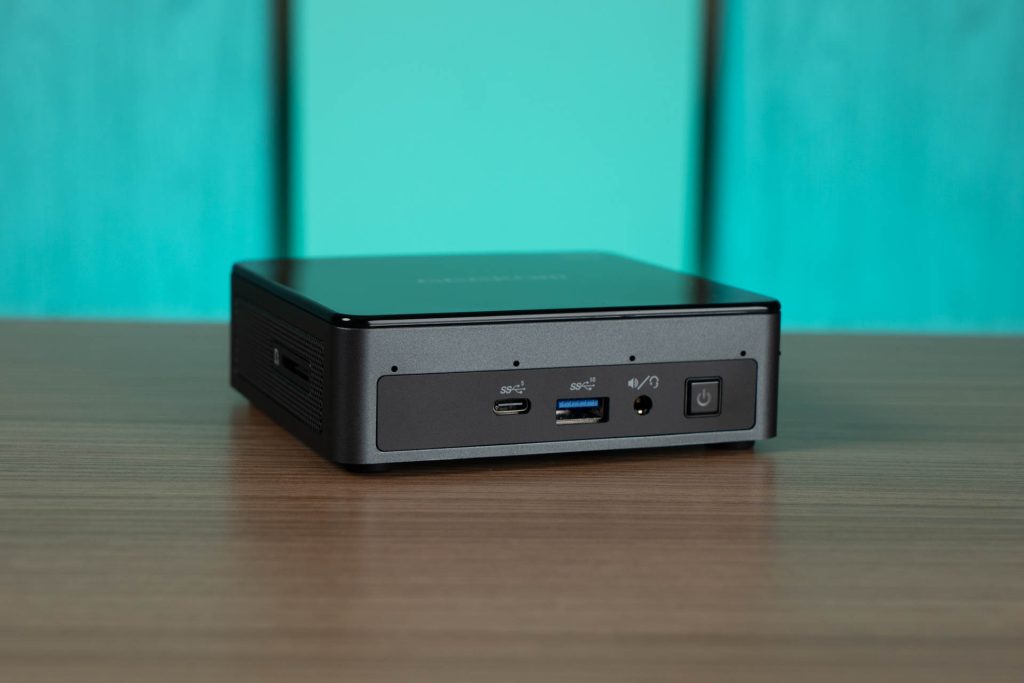 Front IO:
USB 3.2 Gen 1 Type-C
USB 3.2 Gen 2 Type-A
3.5mm combo audio jack
power button
Excellent front IO that put some small form factor PC to shame.
They even included a full-size SD card reader.
Rear IO:
DC-in
Mini DisplayPort
RJ45 gigabit ethernet
2x USB 3.2 Gen 1 Type-A
1x USB 3.2 Gen 2 Type-C
HDMI 1.4
The four rubber feet provide a stable placement for the MiniAir 11.
Serviceability & Upgradability
The bottom cover is secured by four captive screws.
There are 2 SODIMM slots and 1 NVMe slot, supporting up to 32GB RAM and 1TB SSD. The CPU is a BGA chip that is soldered to the motherboard, thus you can't upgrade it unless you have the right tools to do the job.
Performance Expectations
I have to set the expectations straight before we step into the performance benchmarks. Initially, I have no plans to conduct benchmarks since a mini PC has a specific use case that could not be justified with benchmarks. On top of that, the 11th Gen Intel Celeron N5095 will definitely fall short when compared with modern CPUs.
Nonetheless, I think it is still beneficial to know the actual performance level coming from this quad-core chip.
To give you some idea, this 15W BGA CPU is about the same performance as the Intel Core i3-6100 at 51W. It is a decent chip that can handle everyday tasks with ease. That is what a mini PC does best, it is excellent for 90% of your work such as web browsing, music and movies.
Games, however, will be the limitation of this CPU since it relies on the iGPU – Intel HD Graphics 605. Sure, you still can run some light casual games on it as long as it does not put too much stress on the GPU.
Active cooling is doing a great job of dissipating the heat generated by the CPU. So far the maximum temperature we have recorded is at about 70c. Besides, we could hardly tell if the fan was working or not.
Use Case & Conclusion
If you're here expecting to see an ultra-compact gaming machine, unfortunately, this is not for you. We are so spoiled by all the high-end PCs on social media that it has misled us into believing we need an RTX 4090 for watching YouTube videos. Spoiler alert, you don't. Besides, not everyone is a power user that demands all the available resources from the machine.
Hence, a mini PC is a perfect computer for those who want an ultra-minimalist setup. It is for those who need a basic computer to perform home computing stuff such as web browsing, listening to music and watching movies. In fact, it is also suitable for educational and commercial use cases such as a classroom PC that connects to the projector or a PC for the receptionist and guests.
The GEEKOM MiniAir 11 fits perfectly into this demographic of users and use cases. The flexible configuration is the cherry on the cake as it allows customers to decide whether to purchase the barebone machine or a factory-configured, ready-to-use machine.
RM669 – N5095 Barebone (no RAM, no SSD)
RM749 – N5095 8GB + 256GB
RM899 – N5095 16GB + 512GB
RM899 – N5105 8GB + 256GB
Product link:  https://my.xiapibuy.com/product/813429660/19027384484/
RM139 off coupon code: GEEK09201 (Applicable to all GEEKOM products in the store)
Expiration time: 31st October 2023