This is ASUS's latest generation of ultrabooks. It has the usual ZenBook design language but there are a few changes here and there to make it different from its predecessors. And this for this generation, it is unexpectedly lower-priced, too. So, how does this laptop stand out on its own?
Let's find out in this review – and honestly, I like this generation of ZenBooks. There are a couple of reasons why I like it, but there is also one reason that might be a dealbreaker.
The specs
For the latest generation of ZenBooks, ASUS opted to use Intel's latest 10nm processors, codenamed Ice Lake. Specifically, the ASUS ZenBook UX425 that we have here uses this list of specs:
14-inch IPS LCD with 16:9 aspect ratio
Intel Core i7-1065G7

Integrated graphics (iGPU)

8GB RAM
512GB SSD
67Wh battery
The new 10th Gen Intel processors are weird. It's split into two branches – Comet Lake at 14nm, and Ice Lake at 10nm. The main difference here is that the Ice Lake processors have a much better iGPU but worse multi-core performance when compared to Comet Lake, which is something that Hardware Unboxed explained very well.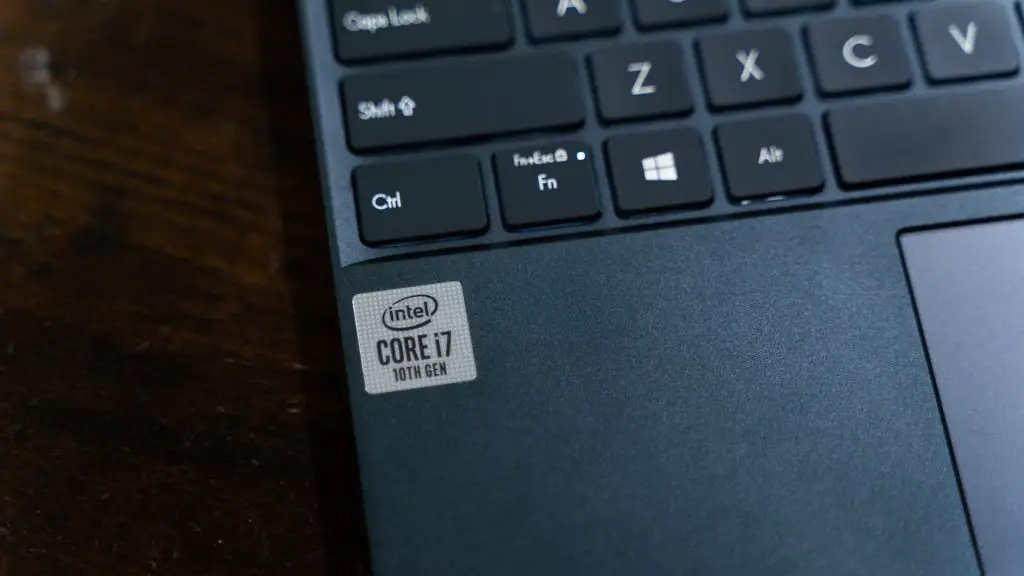 Either way, the iGPU isn't as good as AMD's, let alone NVIDIA's MX series. So, don't expect to play games on this chip. Still, we did some benchmarks for the sake of completion.
ASUS ZenBook UX425

Intel Core i7-1065G7; Integrated graphics
8GB RAM

3DMark Fire Strike
2001
3DMark Time Spy
1310
Cinebench R20
Single-core
410
Cinebench R20
Multi-core
1398
Unigine Valley (score)
325
Unigine Heaven (score)
197
Unigine Superposition (score)
1239
PCMark 10
3952
Classic ZenBook design
This generation of ZenBooks is the thinnest yet – and it's true. This ZenBook is thin and yet ASUS managed to retain USB Type-A ports on this laptop. Of course, we'll get more into ports later.
The ZenBook's design language is still the same as before – which is good to see that ASUS actually retains their tradition. It's an all-metal design and has chamfered edges all around the screen and the deck, which makes it very comfortable to use and not bite into my flesh.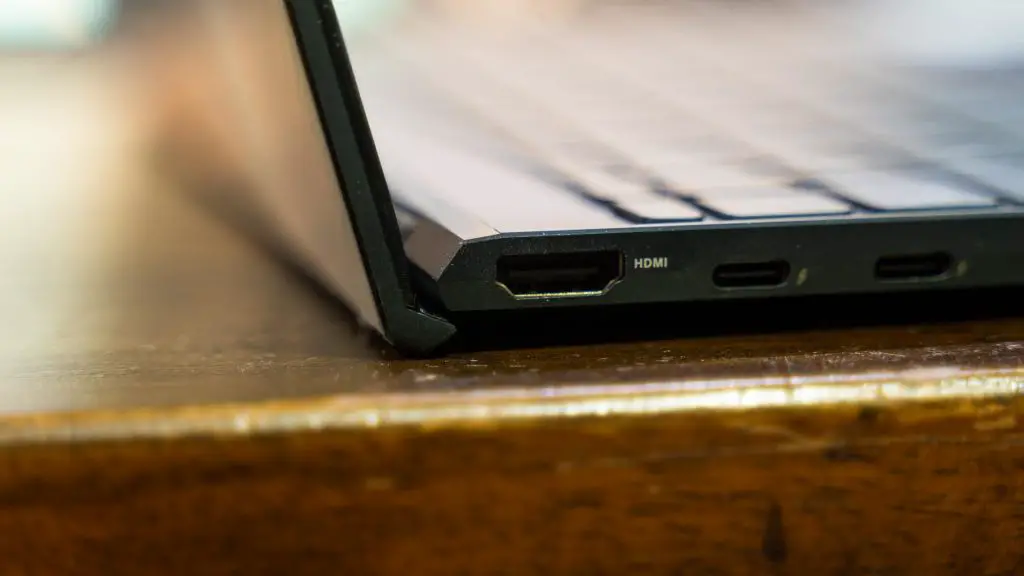 The lid still has the concentric circle design that ripples out from the ASUS logo, which is pretty much what ASUS had done since the inception of the ZenBook series.
Fantastic screen
Opening up the lid – which can be done with just one finger – we can see the ErgoLift hinge that makes the whole laptop stand up by a little. Not for cooling purposes, but for comfort while typing on this laptop.
Whichever the case may be, this laptop has a fantastic 14-inch 16:9 screen, with 1080p in resolution. In this day and age, I'll say that for a laptop of this purpose, 1080p resolution is the Goldilocks resolution.
The colors produced from this screen are great and through my eyes, I didn't notice anything wrong. The brightness is alright, though using under direct sunlight might be a problem. Bezels are also rather thin, which really helps to minimize the footprint of the laptop.
The keyboard/trackpad
Both the keyboard and trackpad of the ZenBook UX425 is actually pretty good. The keyboard layout is a pretty standard laptop keyboard and there's also an extra column of keys at the right side. Those keys are very useful and I'm glad that ASUS didn't waste those extra space. The keys themselves are actually very tactile and responsive to type on.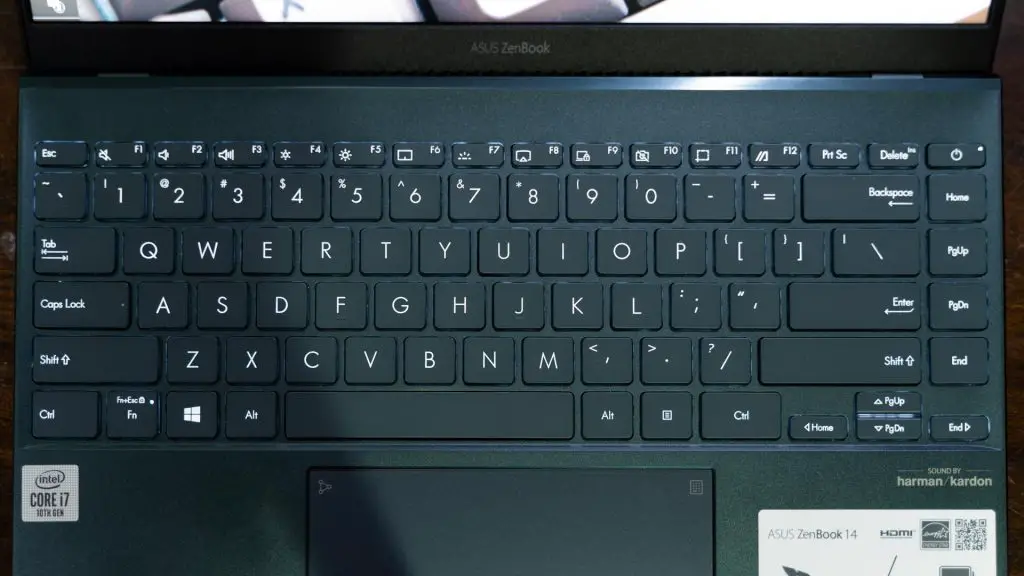 When I look at this keyboard layout, my immediate complaint is the power button location. It should be moved outside the keyboard array to prevent any mispresses. While ASUS did make it stiffer to prevent accidental presses, it doesn't actually solve the issue. I'd much prefer the power button to be moved elsewhere.
By the way, there's no fingerprint scanner on this laptop too.
My fingers can glide on the trackpad easily. It also has the NumberPad feature – which is the same as the ExpertBook B9450. It has two levels of brightness and you can also swipe in from the sides to summon the Windows 10 calculator app to do some quick math.
The lack of a 3.5mm audio jack
And for some reason, ASUS removed the 3.5mm audio jack from this laptop. This is the first time that we come across a laptop that doesn't have an audio jack – and to me personally, I don't mind it. That differs between everyone's use case – if you're someone who needs that audio jack for music or meetings – which is super important in this day and age – then too bad. This is a dealbreaker.
And I don't understand why ASUS removed the audio jack too. There is obviously space inside and with a bit more of engineering, this could be the ultimate ultrabook for the price.
Anyway, the ZenBook 14 UX425 comes with: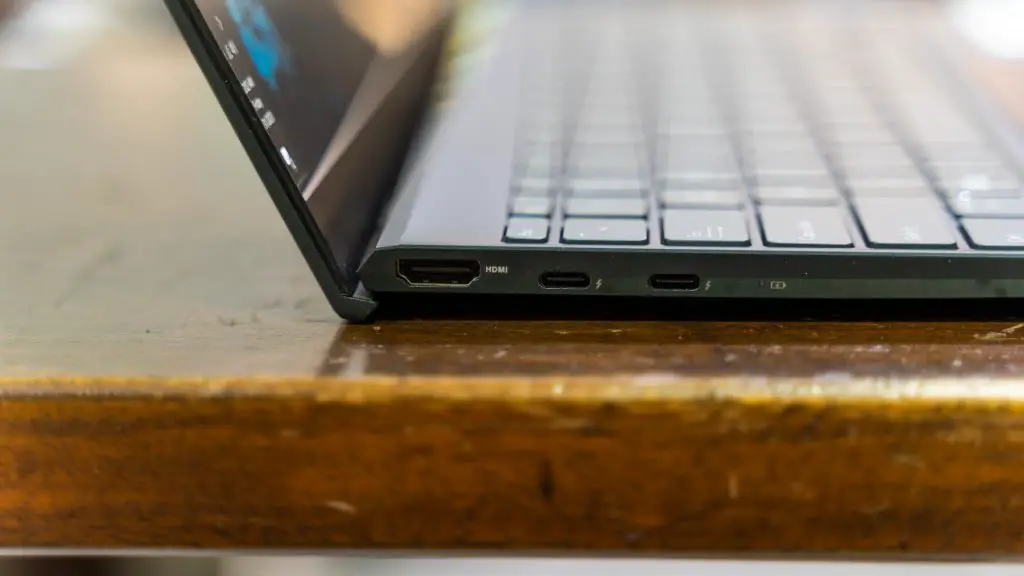 Full-sized HDMI port
2x Thunderbolt 3 ports
USB 3.0 Type-A
MicroSD card reader
Expected lack of upgradability
For a laptop of this thinness, I actually expected that everything would've been soldered onto the motherboard. To my surprise, ASUS managed to make a dedicated user-serviceable M.2 SSD slot. It's not the easiest to get into since this laptop uses Torx screws and you need to literally pry open the rubber feet – but that's a story for another time.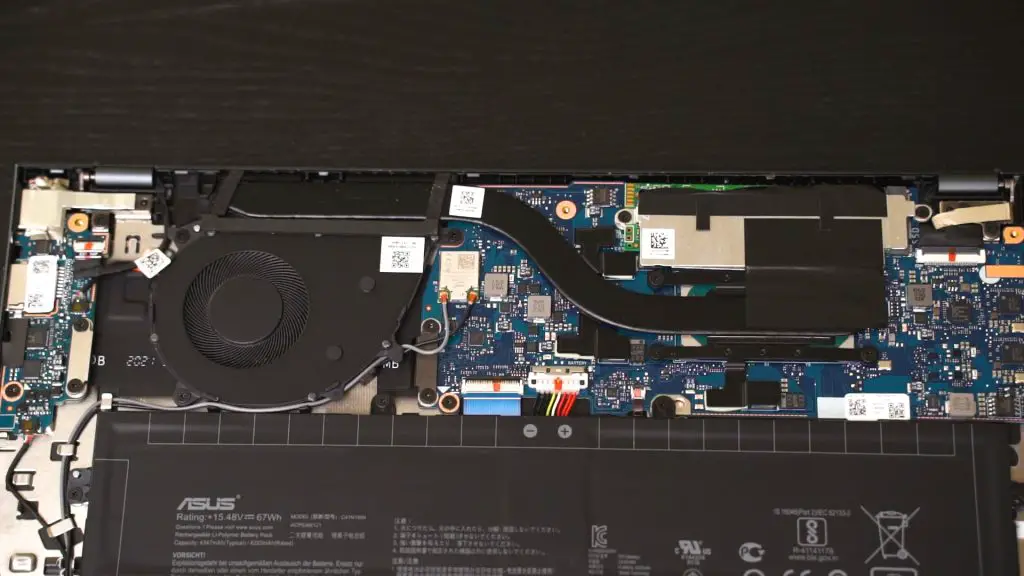 The M.2 SSD is placed beside the CPU. I'm not particularly worried about the thermal issues here because let's face it – this ASUS ZenBook 14 UX425 is not made for anything intensive like video editing or gaming anyway. So, I don't have to worry about the CPU transferring heat to the M.2 SSD and eventually throttling the SSD.
Great battery life
That included 67Wh battery in this laptop can last for about 9 to 10 hours depending on our workload – but generally, I'm surprised and I really like how the battery performs for an ultrabook.
Verdict?
In a way, the ASUS ZenBook 14 UX425 is very similar to the recently-released ASUS ExpertBook B9450. They both look very similar to each other – barring the color and material difference. The major difference here is that the ExpertBook B9450 has a hinge that lets the screen open up to nearly a 180º, and of course – the ExpertBook B9450 has an audio jack too. But the price gap is way too big, so it's not really fair to compare both of these laptops.
While the lack of an audio jack doesn't bother me with my use case, it might be troublesome for you. ASUS plugging in that included high-quality USB sound card dongle that ASUS provided means that you'll have to sacrifice one of the Thunderbolt 3 ports. But that also means you can re-use that dongle for your Android smartphone, too.
Despite my complaints, the ASUS ZenBook 14 UX425 is a solid ultrabook and earns its spot because of its much lower price point compared to the ExpertBook B9450. The ASUS ZenBook 14 UX425 is available in two variants – either in the Intel Core i5-1035G1 or the Intel Core i7-1065G7. Everything else remains the same, except for the price.
Intel Core i5-1035G1 version: RM3,999
Intel Core i7-1065G7 version: RM4,699 (this is the one we reviewed)
That extra RM700 just to get a CPU bump is just not worth it. The Intel Core i5-1031G1 should be good enough for most use cases – and let's face it, we're not going to be doing anything CPU-intensive on this laptop anyway.
This exact laptop with the exact same specs is also available in a 13-inch form factor, which is called the ZenBook 13 UX325. Slightly smaller, but if that's what you want – then that's available as an option as well. Personally speaking, I'll pick the 14-inch ZenBook 14 UX425 instead.