The Acer Predator Triton 500 SE was announced in late 2021 to serve as a hardware update and design refresh for the 2020 Triton 500. Apart from the obvious design update with the brand-new 16:10 aspect ratio display, what you also get is an Intel Core i9-11900H processor and RTX 3080 laptop GPU.
That goes without saying, this review came pretty late because of the sample delay, especially when other gaming laptop brands have started selling their newly refreshed models with Intel 12th gen processors as well as RTX 3070 Ti and 3080 Ti.
Nonetheless, I still spend some time with the laptop and see what kind of user experience we can expect.
Video Review
Design
I love how Acer has decided to go with a cleaner aesthetics for this generation. The Predator branding is more subtle than before instead of an "in-your-face" kind of style. It is as if Acer straight away take their ConceptD series creator laptop and slaps a Predator logo on it. Honestly, I think this is an excellent design.
The metal alloy chassis has a smooth sandblasted finish and it is the most smudge-resistant laptop. What a refreshing experience especially right after using the SCAR 17.
IO Ports
The variety of ports selection is excellent, especially with the two Thunderbolt 4 ports and the USB ports are at least USB 3.2 gen2 speed.
Display
Opening the lid reveals the new 16:10 aspect ratio display. This 16-inch panel has a Quad HD+ 2560×1600 pixel resolution. It has a 165Hz refresh rate and 3ms response time. On top of that, it also supports NVIDIA G-SYNC. That should add quite a bit of cost to the laptop's final price tag. Coming close to 100% sRGB colour coverage, I think this is an excellent display for all-purpose.
By the way, the hinge can open to almost-180-degrees flat.
Keyboard & Trackpad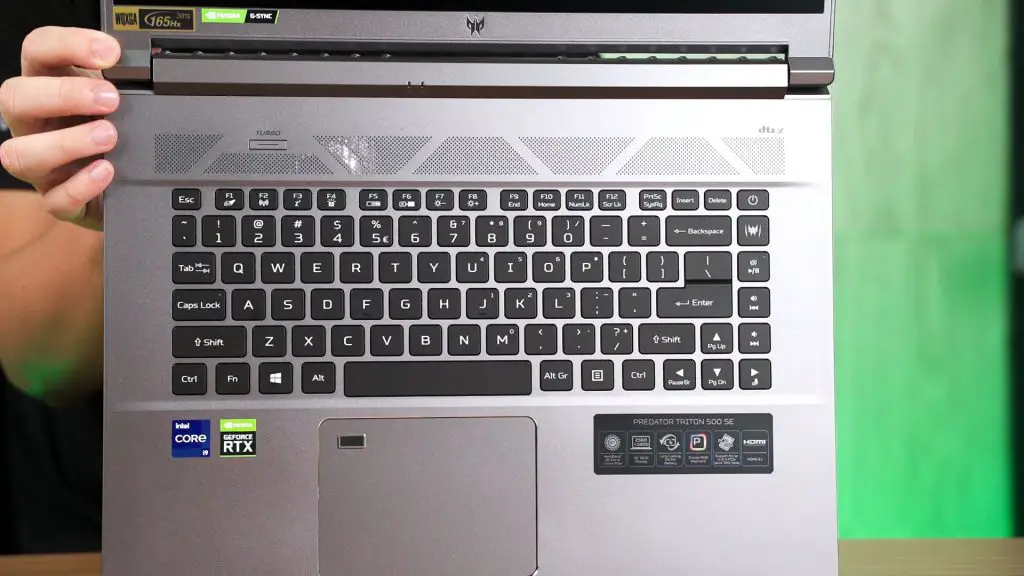 The keyboard is disappointing, at least for me. Don't get me wrong, it is a usable keyboard at the very least but Acer could've done better.
First of all, in order to cater to the slim laptop design, they had to reduce the key travel distance. If you're used to those Ultrabooks, then it won't be much of an issue. The bigger problem lies with the gap between each key, 5mm is wider than the usual gap which is about 2mm-3mm, the result is a lot of typos.
As for those who are looking forward to a per-key-RGB backlit keyboard, unfortunately, you will have to live with this 3-zone backlit. For an RM12,999 laptop, this is unacceptable.
The trackpad works well and includes an integrated fingerprint scanner. The glass surface provides a smooth pointing and gesture experience.
Performance
I don't really see any reason for me to dwell deeper into the CPU performance, since 12th Gen intel processors are here and they're leaving the 11th gen behind in terms of raw muscle power. However, if you're getting this laptop for gaming, then it doesn't really matter cause the GPU is more important at churning out frames.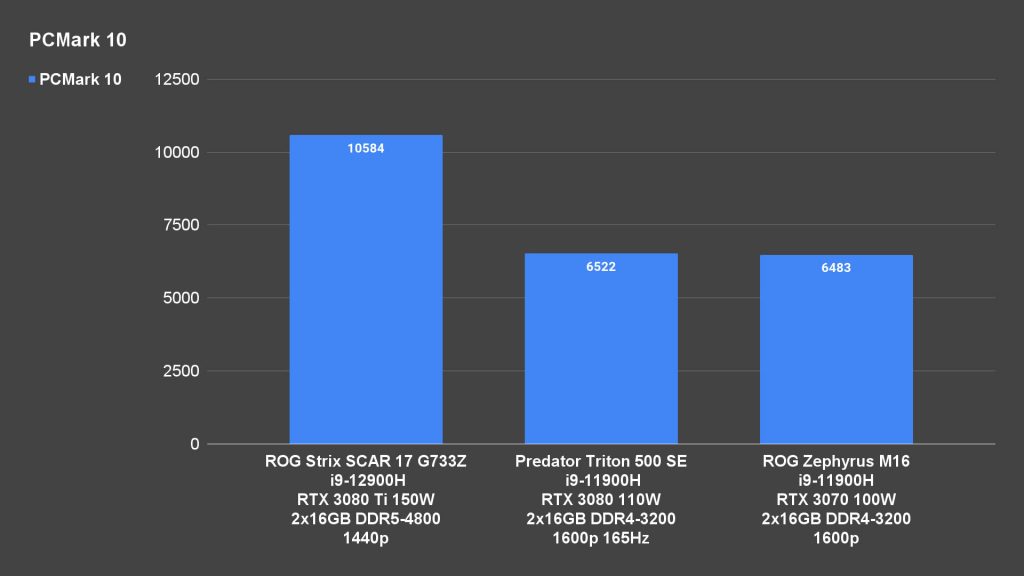 While Acer global is offering the Triton 500 SE with two configurations, either an RTX 3070 or RTX 3080, We will only be getting the RTX 3080 based on the available information I could get from Acer Malaysia and their online store. The RTX 3080 in this laptop has a maximum TGP of 110W.
We compare the gaming test with another two laptops, the 2022 Strix SCAR 17 with RTX 3080 Ti 150W and the 2021 Zephyrus M16 with RTX 3070 100W. Unfortunately, we don't have any laptop with RTX 3080 running at 150W max TGP, so the SCAR 17's 3080 Ti at 150W should give you a rough estimation of the possible maximum performance.
If we look at the game – Control, Generally, the 3080 has about 5-10% extra performance against the 3070 while the 3080 Ti at 150W is miles ahead.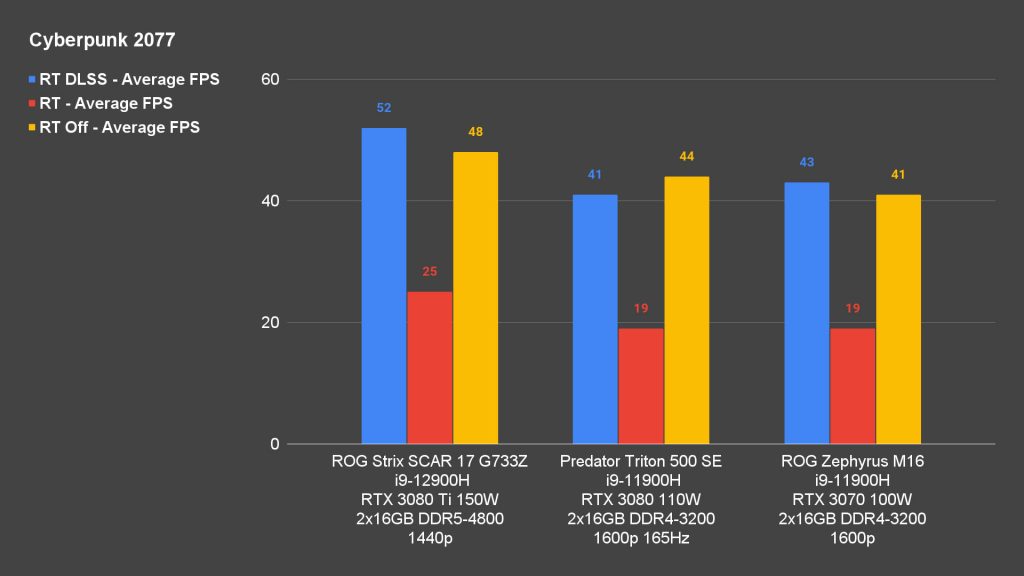 As for CyberPunk 2077, the performance is hardly any different from the 3070. In other words, the 3080 could be limited by its maximum power draw at 110W.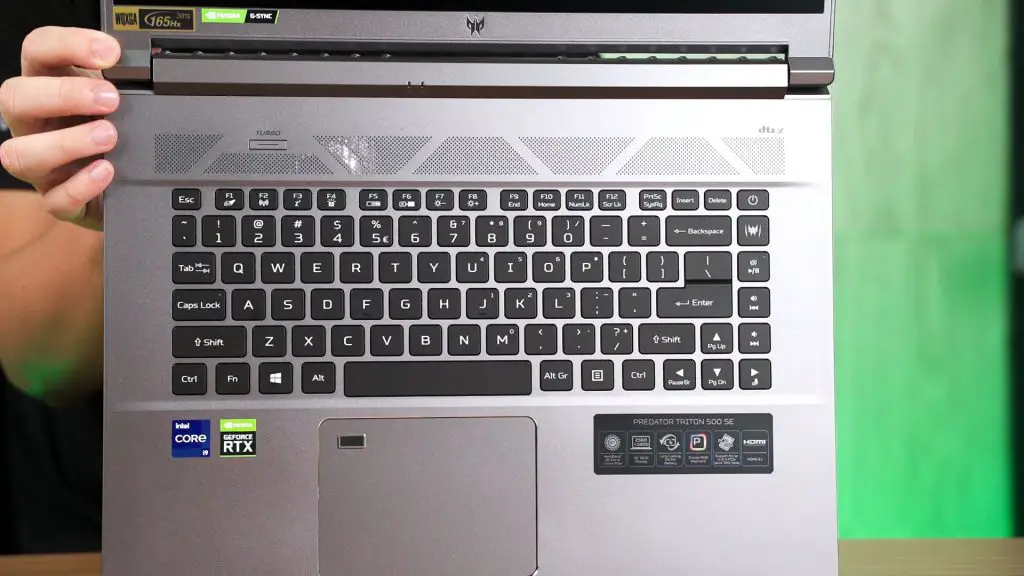 As for the cooling, I have to admit that this chassis has a pretty unique cooling design. The keyboard has been shifted downwards a little bit to give way to the perforations at the top for cool air intake.
Basically, the cooling fan draws in cool air from the bottom and keyboard deck, then exhaust hot air out through the vents at the back and side.
Now the main question – does it actually work. Well, sort of? In our test, we configured the Acer Predator Sense software to Extreme profile and then push the games at maximum graphical settings. The GPU temperature is kept at a respectable high-70c range. I don't really notice if the GPU went above 80c on average. That is really good.
I can't say the same for the CPU because it will hover around 95c to 100c when you're playing games with the Extreme profile. Only if you choose the Default Predator Sense profile, then it will go down to 90c-95c. By the way, there's this TURBO button above the keyboard to switch to the TURBO profile. This profile will push everything to the maximum, including the fan RPM. In real-life experience, I don't really see much of the FPS increment, but you get 2 things in return – 1, lower CPU & GPU temperature by about 2-3c and no2, jet engine fan noise.
Conclusion
The Acer Predator Triton 500 SE, there is a lot to like about this laptop. Clean and professional aesthetics, lots of high-performance ports, and a beautiful 16-inch display. I know the 12th gen is here but for gaming, it doesn't really have that much difference when compared to the 11th gen. If I were to complain, I would pick on why they would pick the Core i9 and RTX 3080 110W. It makes the laptop more expensive for a small margin of performance. This laptop is best to go with i7 and RTX 3070 even if it is 110W. RM12,999 for i9 and 3080 is only for those who have extra to spare.
Where to buy (affiliate links):
Amazon (US) – https://amzn.to/37NhBbr
Lazada – https://invol.co/claker8
Shopee – https://invol.co/clakerk