PNY memory kits have been around for quite some time but we never really pay much attention to it until now due to the low availability here in Malaysia. According to our source, the PNY XLR8 Gaming Epic-X RGB DDR4 3200MHz, a surprisingly affordable single module kit with RGB lightings is one of the popular choices for those who are looking into building a budget gaming PC.
We manage to get our hands on the 8GB single module kit from a close friend of ours just to give it a try, and here are our thoughts on the XLR8 Gaming Epic-X RGB DDR4 3200MHz 8GB.
Specifications
| | |
| --- | --- |
| Memory Type | Desktop DDR4 |
| Channel Type | Single Channel |
| Form Factor | DIMM (Desktop) |
| Capacity | 8GB |
| Frequency | 3200MHz |
| Timing | CL16-18-18-36 |
| Voltage | 1.35V |
| XMP Support | Yes |
| Speed Compatibility | 3200MHz, 3000MHz, 2933MHz, 2800MHz, 2666MHz, 2400MHz, 2133MHz |
| Module Dimension | 1.45mm x 6.2mm x 46.5mm |
| OS Compatibility | Windows 10 and older |
| Warranty | Lifetime Limited |
Unboxing
The XLR8 Gaming Epic-X RGB DDR4 comes in both single-channel and dual-channel kit but we'll be taking a look at the single-channel kit for this review. While some kits do come with some fancy accessories like case badge and sticker, the XLR8 Gaming Epic-X RGB DDR4 is the only thing you'll get in the box. Single module kit like this is commonly used for budget gaming PC builds in single-channel configuration but we recommend going with a dual-channel configuration if the budget allows.
Design-wise, the XLR8 Gaming Epic-X RGB DDR4 features an all-black heatsink, black PCB, and a lightbar for the RGB elements. The RGB lighting design is fairly simple and is not over-exaggerated like some of the kits that are made specifically for the look. The lightbar has a frosted translucent design that helps to diffuse the lights from the RGB LEDs, which gives it a soft glow effect that is much more comfortable to look at.
Under the heatsink, you'll find the memory ICs with PNY branding which according to Thaiphoon Burner, are the CJR die from SK Hynix. Based on our previous experience with memory kit using similar ICs, the XLR8 Gaming Epic-X RGB DDR4 we have here should be able to do a decent DDR4-4000 with this kit.
As for the RGB lightings, the frosted piece on the lightbar helps to diffuse the dead bright lights from the LEDs and gives a soft glow that isn't painful to look at. The RGB effect can also be synced with the motherboard software (we're using ASUS AURA for this test) and can be disabled if you need a break from all the trippy RGB effects, once in a while.
Test System Setup
| | |
| --- | --- |
| CPU | Intel Core i7-8700K |
| Motherboard | ASUS ROG Maximus X Apex |
| Memory | XLR8 Gaming Epic-X RGB DDR4 3200MHz |
| Graphics Card | NVIDIA GeForce RTX 2080 SUPER |
| Power Supply | Cooler Master V1200 Platinum |
| Primary Storage | PNY CS900 120GB |
| Secondary Storage | WD Black 6TB |
| CPU Cooler | MasterLiquid ML360R RGB |
| Chassis | Cooler Master Test Bench V1 |
| Operating System | Windows 10 64bit |
Overclocking
We tried pushing the XLR8 Gaming Epic-X RGB DDR4 as much as we can just how far can we go from its rated speed at 3200MHz CL16-18-18-36. The adjustments done during the test include increasing the VDIMM, primary timings, and sub timings to ensure the settings are stable and able to clear HCI MemTest with at least 400% coverage each.
Going for DDR4-3600 is pretty easy for the XLR8 Gaming Epic-X RGB DDR4 with slight adjustments to the primary timings. We've tried going DDR4-3600 with the XMP timings but failed, so we ended up with a slightly adjusted timing of CL17-18-18-38 and VDIMM at 1.38V. We ended up with 38 for tRAS instead of 36 because of one error around 360% during our HCI test and having 38 for tRAS enables us to go up to 600% without any error.
Moving up to DDR4-3866 will also require adjustments to the primary timings and VDIMM to CL18-20-20-38 and 1.4V. The system will post with CL18-18-18-38 and CL18-19-19-38 but you will get random crashes on your browser, unusually long loading time for some software and it will not get past 200% on HCI.
DDR4-4000 requires further adjustments on the primary timings to CL19-20-20-39 but the VIMM can remain at 1.4V. The kit can survive up to 600% on HCI with this setting, with no random crashes and unusual loading time but we didn't notice any significant system performance improvement at this point.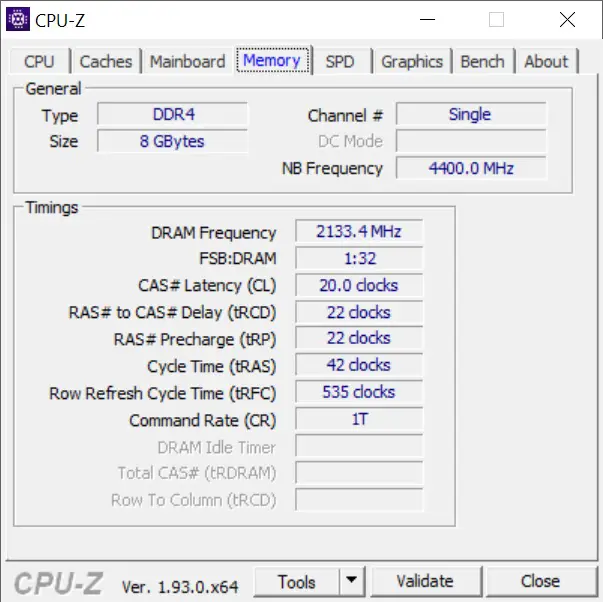 We ended the test with DDR4-4266 at CL20-22-22-42 and 1.42V, which is the best we can do for now as we were unable to get a stable DDR4-4333 after numerous attempts. The kit can survive 400% on HCI and 2 hours on RealBench but we did notice that the temperature gets slightly higher at 45-46°C range, which is slightly higher than all the previous settings we have.
Final Thoughts
Design-wise, the XLR8 Gaming Epic-X RGB DDR4 doesn't have that crazy or premium looking design like what you'll see on the more premium brands like G.SKILL, Corsair, etc but it'll still get the job done if you're on a rather tight budget for your RGB build. As for the performance, we're able to reach DDR4-4266 with this kit but that's something we do just for fun. We recommend you to go with DDR4-3600 or DDR4-3866 for AMD systems if you feel like going higher with this kit as the adjustments required on both primary timings and VDIMM is very minimal.
The XLR8 Gaming Epic-X RGB DDR4 isn't really an outstanding kit in terms of overclocking but there isn't really much to complain about as it's only priced at RM 149. It's a rather reasonable choice if you're just looking for an affordable, good looking DDR4 kit with reasonable speed on a tight budget.
Pros
Simple and clean design
RGB lighting is soft and not blindingly bright
RGB lighting can be synced with most of the major brands' motherboard software
Very affordable
Lifetime warranty from PNY
Cons
Loose timings
Limited overclocking headroom