MagniumGear has recently unveiled the brand-new Neo Qube 2 and Neo Qube 2 IM (Infinity Mirror edition), both of which are a true showcase of mid-tower chassis without compromise.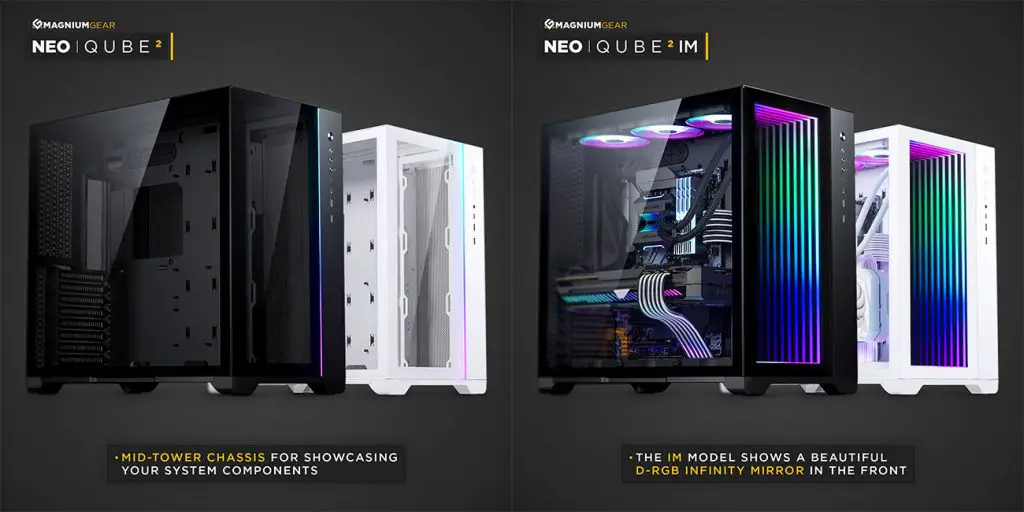 The cases feature a dual-chamber design that simplifies installation and cable management, while the dual tempered glass panels highlight all system components. Both of them can house the most powerful gaming systems available today and can support up to 3 x 360mm radiators. Furthermore, the airflow has also been maximized by the use of low restriction mesh on all sides and a high-quality slidable dust filter at the bottom.
The Digital-RGB lighting is integrated and comes with a pre-programmed controller that works software-free straight out of the box. The NEO Qube 2 has all connectors installed for Digital-RGB expansions and can optionally sync with a compatible motherboard for software control.
Pricing and Availability
The MagniumGear Neo Qube 2 and Neo Qube 2 IM are now available in the market for the following prices:
Neo Qube 2 Black — USD$129.99 (est. RM578)
Neo Qube 2 White  — USD$139.99 (est. RM623)
Neo Qube 2 IM Black — USD$169.99 (est. RM756)
Neo Qube 2 IM White — USD$179.99 (est. RM801)