G.SKILL International Enterprise Co., Ltd., the world's leading manufacturer of extreme performance memory and gaming peripherals, is excited to announce the release and availability of the RIPJAWS KM570 MX mechanical gaming keyboard, featuring genuine Cherry MX keyswitches and full keyboard customizability without additional software. The genuine German-made Cherry MX keyswitches, available in flavors of red, brown, and blue, is the world's highest quality keyswitch that will let each keystroke feel exactly the same for 50 million keystrokes and an even longer durability
Hassle-Free Typing Experience
Building upon the same foundation as the high-end KM780 series, the KM570 MX mechanical gaming keyboard is designed specifically for no-nonsense gamers and perfect for minimalistic typists who want a wide range of keyboard customizations.For an easy setup, the KM570 MX is simply plug-and-play, with no additional software required. This means no hassles when moving your keyboard from PC to PC, and all keyboard settings are controlled and stored on the keyboard itself.
Plenty of Media Controls, Lighting Effects, and Per-Key Customizations
Packed with plentiful advanced features, the KM570 MX includes full keyboard customization from 7 different lighting effect presets (with adjustable brightness and speed), per-key custom lighting, media control hotkeys and dedicated volume control keys, to on-the-fly macro recording and Windows application shortcuts. All settings are immediately saved into the keyboard's onboard memory, so your customization settings and macros are always present when you need it.
For a mid-range enthusiast keyboard, the KM570 MX keyboard also includes n-key rollover, 100% anti-ghosting, highly response 1000Hz polling rate, Windows key lock, and a long 2m (6ft) braided cable, ideal for anyone who is looking for an easy-to-use and featurefulmechanical keyboard.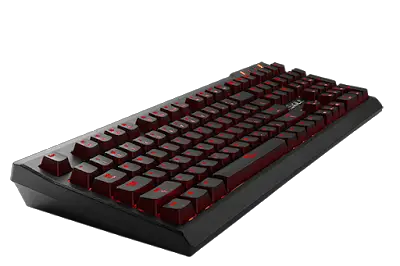 Product Availability
The G.SKILL RIPJAWS KM570 MX series mechanical gaming keyboard is already available on Newegg.com bearing Cherry MX Blue, Red, and Brownkeyswitches.