Want a laptop for your coding and programming needs? Students require a budget-friendly yet high-speed device. Coding and programming need more RAM than other PC tasks. You require at least 6 to 8GB for efficient processing. As for faster coding skills, an online programming homework help website provides the best service for programming assignments.
What to Look for in a Coding/Programming Laptop
Why is RAM Important?
According to Intel reports, slow systems can drastically hinder productivity. A slow PC can lead to up to 11 hours of wasted time yearly. This figure is only a sum of the total time to load the computer. Low-RAM devices can thus lead to 29% less productivity in projects.
Another critical feature to look out for is screen space. Small monitors can feel excessively cramped when coding. Programming work can be an issue on such a small screen, mainly if working longer hours. However, you can use ports to expand the number of displays.
Your programming and coding laptop also should have good battery life. Low-powered devices can cause issues with portability, especially during class presentations and projects.
Best Type of Storage for Programming
Solid-state drives (SSDs) are the most commonly used storage in IT. For general work, this option is more than adequate. However, with some programming assignments, you may have to access multiple files simultaneously.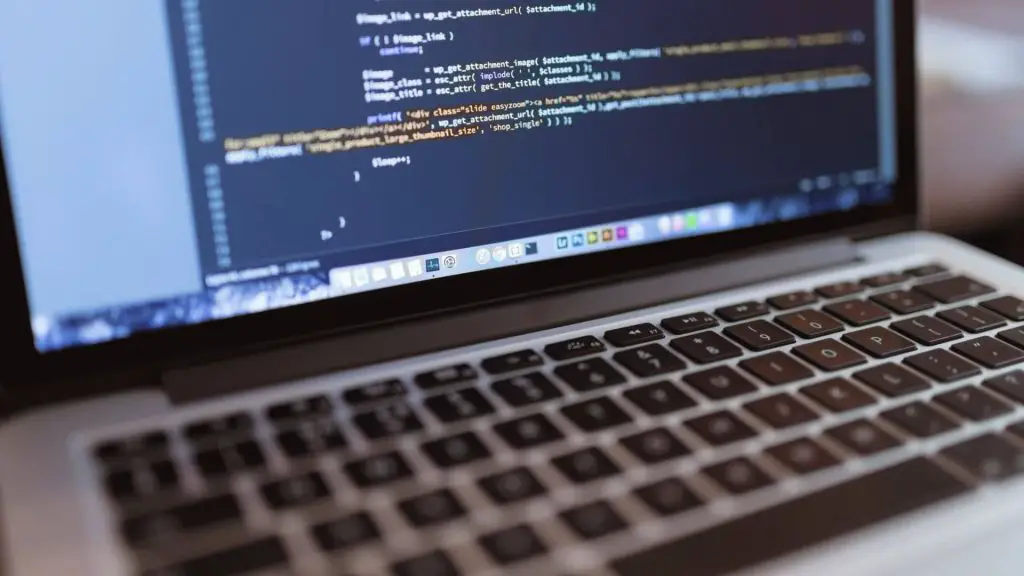 Sometimes you may even need to store extensive programming tools. The slower speed of a traditional hard drive may be a liability in these cases. So, for best results, you should opt for laptops with 512GB+ drives.
Is GPU Needed in Programming?
A GPU-integrated laptop is integral if you are using ML in your assignments. For students and entry-level editors, an NVIDIA-equipped system does a satisfactory job. Moreover, you also get the option to choose from multiple basic and high-grade GPUs.
Nvidia installations contain several proprietary CUDA codes to help programmers optimize their work output.
Best CPU Type for Programming
When choosing your programming laptop, you should pay attention to CPU elements like
Core Counts: Multi-core CPUs are preferred as they can handle the processing required in coding. Programming assignments involve working on multiple files simultaneously. A multi-core CPU can handle virtual tools and compilers used in these cases.
Power ratings: The Intel chips on your coding laptop should have a high thermal design power (TDP) or a Base Power wattage. However, should you want a longer battery life, you must opt for a lower-wattage device.
Manufacturer: Intel and AMD are pocket friendly and effective. With Windows-based devices, you can choose a manufacturer that you like. Mac users, on the other hand, get an Apple installation by default. However, these are as effective as their Windows counterparts.
Multi-thread processing feature: This feature allows your CPU to run multiple tasks simultaneously, making it more efficient. The more threads your CPU has, the better its performance will be. It's important to note that not all programs can take advantage of this feature, so do your research before investing in a CPU with multi-thread processing.
Best Laptops for Coding and Programming
Best Premium Coding Laptop (For Mac Users): Apple MacBook Pro 16
Apple MacBook Pro 16 is the holy grail for coding and programming because of its high-speed capabilities. If you want a cheaper alternative, you can opt for MacBook Pro 14. But if performance is your focus, the former model is superior.
This Apple offers a premium-feel 16-inch widescreen. The Pro 16 also boasts a solid keyboard, perfect for writing code. The laptop's touchpad is smooth and responsive, with little to no lag.
Apple also offers you a wide variety of port selections.
Your Pro 16 external options include three USB-C/Thunderbolt 4 ports.
This device also boasts high-speed performance, aided by an efficient GPU.
This quality makes Apple MacBook Pro 16 amazing for game development. The powerful GPU enables you to create high-quality graphics for your projects.
Best Programming Laptop for Windows Users: Dell Precision 5570
With a 15+ inch screen width, a 12th Gen Intel processor, and an NVIDIA GPU option, it's easy to see why Dell's Precision 5570 is popular with coders. The option to choose the GPU upgrade helps you keep the price pocket-friendly. If you don't need high graphical horsepower in your system, you can opt out of the NVIDIA installation. However, with just 3 USB-C/Thunderbolt 4 ports available, you may require an external dock.
Best Budget-Friendly Laptop for Coding Students: Acer Swift 3 14
If budget is your biggest concern, the Acer Swift 3 14 is your laptop. This model offers value for money with its high-quality 1080p display. The Acer Swift also has premium-feel hardware in a 14-inch wide display. This laptop is easy to carry. Coupled with a long battery life, the Swift 3 14 is easily one of the best entry-level laptops for students.
Acer has given this model a clean, sharp feel; even the screen provides adequate lighting for the price point. However, the brightness level can be an issue sometimes. The laptop's visibility is meager in well-lit areas prone to glares. You may also face problems with the keyboard layout and touchpad responsiveness.
However, Acer offers a wide variety of customizations for this laptop. For example, you can configure your device with up to 16 GB of RAM. The storage is also extendable up to 512 GB. Moreover, the Swift 3 14 comes with a Thunderbolt 4, an HDMI port, and a fingerprint sensor.
Best Mid-Level Laptop for Coding/Programming Students: Lenovo IdeaPad Gaming 3
Affordable yet feature-laden, the Lenovo IdeaPad Gaming 3 is the best mid-level laptop for coding students. Some programming assignments require high processing power, and this gaming laptop is perfect for these settings. Lenovo's offering comes with an AMD Ryzen 5 5600H CPU. Ryzen 7 5800H options are also available, with RAM expandable up to 16 GB. Should you choose to, you can also replace the memory modules using a manual service.
The IdeaPad 3's gaming-based design means the keyboard can handle extended coding sessions. Users also get several NVIDIA GPU options to prioritize their graphic design. With Lenovo's model, you can choose an entry-level GPU like GeForce GTX 1650 or a mid-range option like RTX 3060.
However, the issue with the IdeaPad Gaming 3 is the poor battery life. With a full charge, you get about 5 hours of use. However, the high-grade NVIDIA-driven performance and sensible pricing compensate for the weak battery.
Conclusion
Testing a laptop for programming qualities and requirements is a must. Before you finalize your choice, you must evaluate a device based on its CPU, GPU, storage, and more. Such an examination gives you a comprehensive idea about its performance.