To support the increase of core count on the 8th Generation Intel® Core™ Processors, ASRock has upgraded its CPU VRM design to provide more power phases than ever. More cores can demand more power when overclocking, and so, with up to twelve power phases, the ASRock power system is designed for maximum overclocking ability and stability. While the spotlight is focused on CPU and graphics performance, less glamorous subsystems are just as important. These new ASRock motherboards feature Hyper DDR4 design to provide outstanding memory overclocking ability – up to an insanely fast DDR4 4333MHz.
Supporting the latest peripherals, accessories and mobile devices, ASRock's high-end motherboards – such as the Fatal1ty Z370 Professional Gaming i7 and Taichi – provide a USB3.1 Gen2 Type-C header to ensure the most powerful and versatile USB connection can be easily accessible at the front of the PC case. And not only that, the flagship Fatal1ty Z370 Professional Gaming i7 accelerates gaming, SOHO and home office usage, by providing the latest AQUANTIA AQtion™ 10Gb/s super-fast Ethernet on board.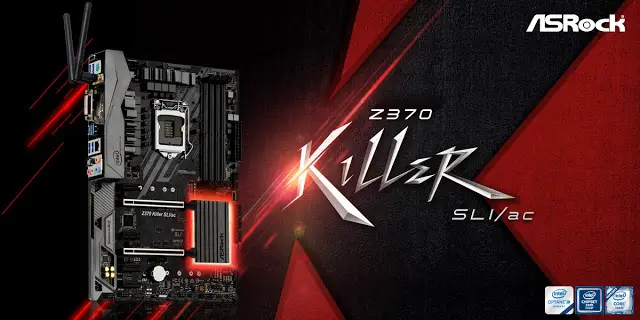 The perfect mid-range fighter
ASRock's Killer SLI series motherboard has always been the best choice for budget multi GPU setups. And now the Z370 Killer SLI continues that tradition by offering the best CPU power solution in its class, with 10 phase power, as well as a USB3.1 Gen1 Type-C front header, and 2x Ultra M.2 to provide super-fast PCIe Gen3 x4 speed for SSDs, also with the cool new design, the black and gray PCB artwork gives the motherboard a striking but classy feel.
Of course, while high-end users get all the attention, every user wants performance and stability. In fact, ASRock has always been the perfect solution for mainstream users, and continues to offer these users a great blend of computing performance, graphics power and amazing stability, even bringing 10 phase power design to the Z370 Pro4 and Z370M Pro4 series motherboards, which represents the best power solution available from any of the companies competing in this market.

ASRock's Z370 series: the best across the board
With this new line up of ten unique Z370 series motherboards, ASRock is now able to offer the best solution across the board for all of the 8th Generation Intel® Core™ Processors. In fact, with this new motherboard series, ASRock is today redefining how a stable and powerful motherboard should be built. ASRock's Z370 motherboards are available in ATX, mATX and mITX platforms, with boards for users from the mainstream up to high end gamers and enthusiasts.