Long have we waited as CEO Lisa Su from AMD officially reveals their answer to the NVIDIA GeForce RTX 40 series GPUs – the Radeon RX 7000 series.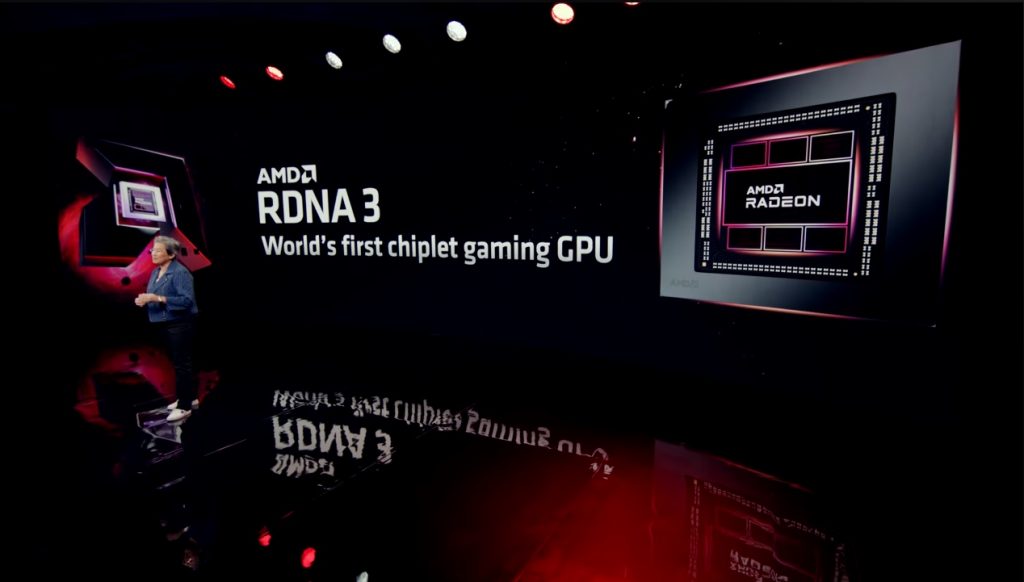 Utilizing Team Red's famous chiplet-based design appearing only in the desktop CPU 'Ryzen's household, the RDNA 3 architecture is not using only a single form but two process nodes of 5nm and 6nm that carve out the respective transistors for specific jobs in order to achieve higher energy efficiency of up to 54% more performance per watt over the last generation. Featuring up to 24GB of GDDR6 VRAM with up to 384-bit of memory interface on top of the max 96 new unified CUs, AI throughputs have also been improved to deliver as much as 2.7x better performance while the 2nd-generation ray tracing tech is now 1.8x better, not to mention the current fastest interconnect link that can go as fast as 5.3TBps.
Made to complement 4K gaming and pushing them to become the next mainstream, AMD showcases the best of the two models first as per tradition which is the Radeon RX 7900 XTX and RX 7900 XT with the former matching the spec description mentioned above while the latter tones down everything a little while priced USD100 cheaper. While most of the computing numbers are different, at least the same thing is given to them which is DisplayPort 2.1 support with UHBR 13.5 that can power either 4K/480Hz or 8K/165Hz for all your futureproofing needs (Assuming hardware and monitor technology can improve in an absurd rate) while the standard HDMI 2.1a is present as well. Additionally, multi-encode and decode streams of up to 8K60 for HEVC and AV1 are here to take over as the next-generation video streaming powerhouse.
Let's hit a pause and get you up to date with a simple spec check first.
Model

Compute Units

GDDR6

Game Clock (GHz)

Boost Clock (GHz)

Memory Interface

Infinity Cache

TBP

Price

Radeon RX 7900 XTX

 

96

24 GB

2.3

Up to 2.5

384-bit

96 MB

355W

$999

Radeon RX 7900 XT

84

20 GB

2.0

Up to 2.4

320-bit

80 MB

300W

$899
Aside from hardware improvements, AMD is also readying the FidelityFX Super Resolution (FSR) version 2.2 which will bring even more optimization and improvements to current and upcoming games that makes up to 216 titles while version 3.0 will come with a brand new underlying core technology called AMD Fluid Motion Engine that touts to be twice as better. They are also streamlining the process of applying its in-house AMD Radeon Anti-Lag, AMD Radeon Boost, and AMD Radeon Super Resolution to a single button click via Software: Adrenalin.
The last thing on the list is the introduction of AMD Advantage from the laptop scene into the desktop environment. In case you didn't know, AMD Advantage is basically a PC fitted with an AMD CPU and GPU that can unlock the use of Smart Access Memory and SmartAccess Video for even more performance down the line. Aside from moving house, the existing AMD Advantage laptops with updated computing parts are slated to launch in the coming days.
Launch Date
Not pulling a fast one like Team Green, AMD and partners will be launching both the Radeon RX 7900 XTX and 7900 XT on the same day which is December 13 so perhaps this will be one of the best Christmas gifts?
Also, the far lower power consumption rate and the absence of 12VHPWR effectively make them far safer so if you don't mind ray tracing while staying as a normal gamer that doesn't toast their GPUs, this could be very enticing to get.