DDR5 memory has been in the consumer market for quite some time now and unlike the ludicrous price we're seeing when it first launched, it's now much more affordable. XPG is one of the earliest brands to have DDR5 memory available on day one and this time, we'll be taking a look at the XPG Lancer DDR5.
The XPG Lancer DDR5 we're looking at today, unlike the existing models, is actually a newer revision that comes with both Intel XMP and AMD EXPO profiles and we're looking forward to seeing what we can do with it.
Unboxing
The XPG Lancer DDR5 ships in the same package as what we've seen previously but this time, we can see both the Intel XMP and AMD EXPO certification stickers at the top right corner of the box. You won't find any specs at the back of the box but we can see from the label stickers that the memory timings still remain the same at CL 40-40-40.
Design-wise, it's almost identical to the XPG Lancer RGB DDR5, featuring the same thick heat spreader with a brushed metal finish, except that there's no RGB light bar on this model. It's not something for the RGB fanatics but it is an option for those who don't need any RGB lighting in their system – you don't get extra FPS from the RGB anyway.
Test System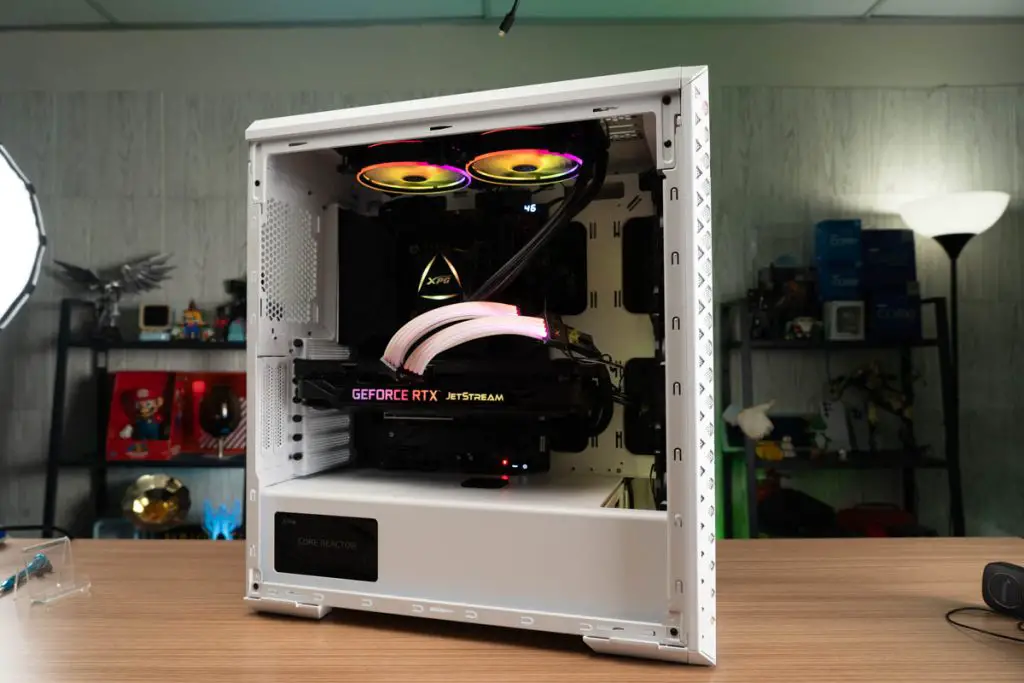 For the test this time, we're using the PC provided by XPG and you can refer to the following specs list as reference:
| | |
| --- | --- |
| CPU | Intel Core i7-12700K |
| Motherboard | MSI MEG Z690 Unify X |
| Memory | XPG Lancer DDR5 6000MHz 32GB |
| Graphics Card | Palit GeForce RTX 3070 JetStream |
| Power Supply | XPG Core Reactor 850 Gold |
| Primary Storage | ADATA Legend 850 Lite 1000GB |
| CPU Cooler | XPG LEVANTE 240 Addressable RGB CPU Cooler |
| Chassis | XPG Defender Mid-Tower Chassis |
| Operating System | Windows 10 64bit |
Gallery:
ADATA Legend 850 Lite 1000GB
We will also be using ADATA Legend 850 Lite 1000GB NVMe SSD as our primary storage.
The price of the SSD has gone down significantly and even this reasonably fast PCIe Gen4x4 SSD is just priced at RM309 for a 1TB version. It is just a better option for modern gaming PCs especially newer game titles that demand higher read speed.
Memory Overview
The kit will run at DDR5-4800 by default if you don't enable the Intel XMP or AMD EXPO profile, so you'll have to enable it in order to get the kit to run at the advertised speed. Unlike DDR4 memory, the system agent voltage required to run at this speed is actually very low, so it'll be fine even if you're using a non-K SKU that has a locked system agent voltage of 0.9V. In fact, our previous test also shows that you can get a DDR5 memory kit to run at DDR5-7200 with the system agent voltage at 0.9V, but with most of the timings on auto.
The XMP profile for the XPG Lancer DDR5 is at DDR5-6000 CL40 and the VDIMM of 1.35V, but it's technically what most manufacturers will do to ensure the best compatibility and stability. For DDR5 memory kits, we always recommend optimizing them to get the best results, especially for gaming purposes. As of now, we still think DDR5-6000 CL30 is the nice sweet spot that can be achieved with ease and minimal effort.
If you're using a motherboard like the Z690 Unify X we're using for this test, you can find the built-in presets in Memory Try It to get started. For most use cases, the DDR5-6000 CL30 preset will do just fine but if it's not stable enough to pass stress tests like Karhu Ramtest or TestMem5 + Anta777 Extreme config, you'll have to adjust the voltages accordingly e.g. CPU VDDQ and VDD2, RAM VDD and VDDQ.
You can also further tighten the timings after you can get DDR5-6000 CL30 preset to run stable, here are some of the things you can do:
Lowering the tRAS to 28 if possible
Set the command rate to 1T
Set the tRRDL and tRRDS to 6 and 4
Set the tFAW to 16
Set the tRFC to 300
Set the tREFI to 65000
Set the tRDRD_sg and tRDRD_dg to 11 and 7
Set the tRDWR_sg and tRDWR_dg to 17 and 17
Set the tWRWR_sg and tWRWR_dg to 9 and 7
Set the tWRRD_sg and tWRRD_dg to 52 and 40
Set the tXP to 4
The rest of the timings can go on auto
RAM VDD and VDDQ at about 1.4V+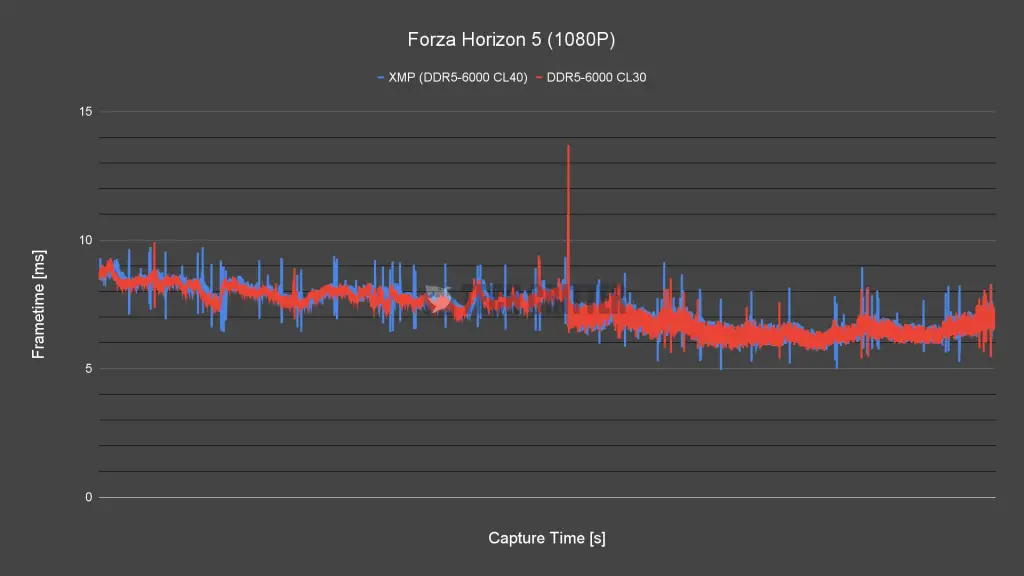 We've done a quick test with Forza Horizon 5 for a quick showcase of what kind of improvement you can get by just tightening the timings. From the frametime graph above, we can see that the performance from the tightened timings will give you a much more consistent performance as compared to the XMP profile.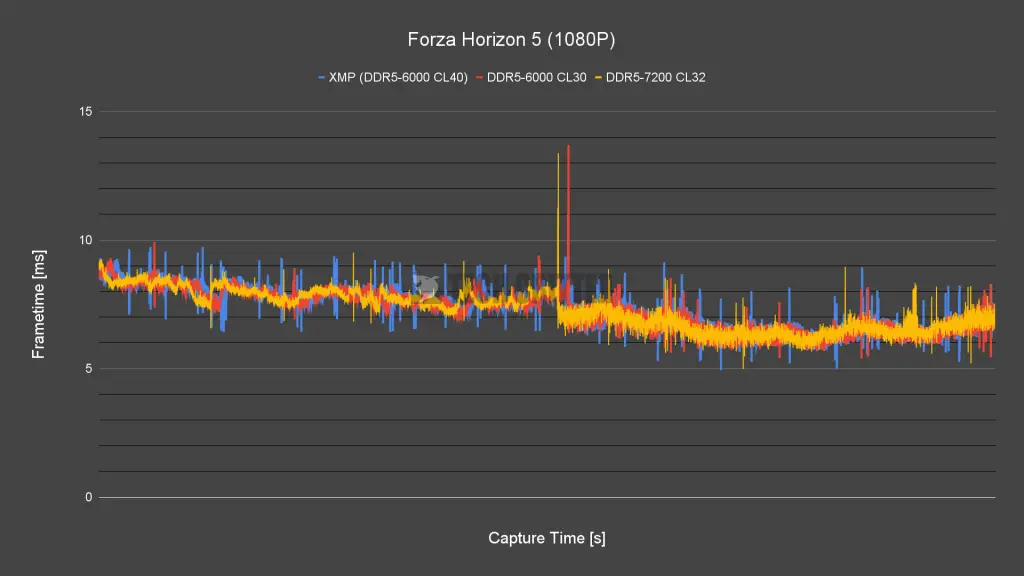 And since the XPG Lancer DDR5 can actually achieve DDR5-7200 CL32, we've also done a quick test just to show what kind of performance we can expect from it. Although we can see a slightly more consistent performance on the DDR5-7200 CL32, it really depends on the motherboard and CPU you use and it will directly affect the time and effort to achieve this. So we think it's still better to stay on DDR5-6000 CL30 for now if you're looking for the easy way out.
Final Thoughts
As mentioned earlier, most of the DDR5 memory kit will require some optimization if you're looking for a better performance and we really recommend doing so because it's technically a free performance boost that doesn't require too much effort. The XPG Lancer DDR5 is one of the DDR5 memory kits that has a reasonable overclocking headroom to reach DDR5-7200 but that's totally optional unless you're really up for the challenge. For most use cases, DDR5-6000 CL30 is fine and it's easily achievable with the XPG Lancer DDR5.
While it lacks the RGB elements which most of the time, are falsely interpreted as a feature that a product labeled with 'gaming' should have, it totally works just great and we've shown what it's capable of from our quick test above. As someone who is not fond of the fancy RGB elements, I think this also makes a great addition for those who want a clean build without any of the unnecessary RGB elements.
Where to buy (affiliate links)
ADATA Lancer DDR5
Amazon US: https://amzn.to/3OyU5QM
Lazada: https://invol.co/cljkeo8
Shopee: https://invl.io/cljkeqe
ADATA Legend 850 Lite
Amazon US: https://amzn.to/3OXrlTr
Lazada: https://invol.co/cljkeox
Shopee: https://invl.io/cljid00