Welcome back to our weekly Sun Cycle announcement with this week's coverage of all cooling-related items (Well, nearly all of them.). Let's see what's in stock.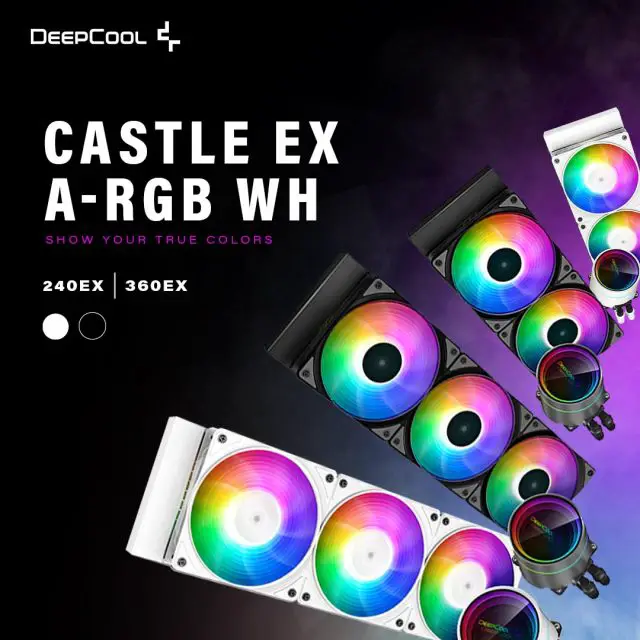 First up is DeepCool's new CASTLE EX ARGB All-in-One cooler that is equipped with the new infinity mirror that now sports the DeepCool logo together with 2 or 3 CF120 PWM fans for fully modular fan control and color control upon the 12 RGB LEDs per fan to your liking. The overall pump mechanism has also been improved to have a lower chance of leaking.
Next up to the GPU side of things, a new holder with ARGB is also released by DeepCool with triple-axis adjustability to make sure the holder properly holds the GPU at the correct angle and with a tiny hint of RGB lights following through it.
Moving back to the CPU air cooler, the new AS500 PLUS welcomes a White edition that boasts the same quintuple heat pipe design while embracing the bright and clean style with 2 140mm PWM white-colored fans for a great cooling performance within a relatively slim profile which can be beneficial for additional clearance of RAM kits.
Meanwhile, ID-COOLING's WF-14025 XT PWM fans use hydraulic bearings to significantly reduces spinning noise while maximizing speed and longevity at the range of 800 to 1600 RPM. Therefore, simple yet powerful is its core product highlight.
Speaking of simple, the new SE-914-XT Basic also by ID-COOLING comes with both Intel and AMD mountings for great compatibility across several generations of sockets. Using an X-shaped fin for better airflow, the medium height cooler can perform efficiently in all sorts of form factors too, including mini-ITX builds due to its size.
Availability
All items are now readily available at online platforms and offline dealers at the following MSRP.
DeepCool CASTLE EX A-RGB AIO: RM389 (240mm, Black) / RM399 (240mm, White) / RM499 (360mm, Black) / RM519 (360mm, White)
DeepCool ST-500 ARGB GPU Holder: RM69
DeepCool AS500 Plus White CPU Cooler: RM289
ID-COOLING WF-14025 XT: RM30 (Black / White)
ID-COOLING SE-914 Basic: RM99