The 20th volume of Weekly Sun Cycle has managed to squeeze in at the last day of November and everything on the list today is about keyboards. Let's get to that.
We'll start things off with one of the premium prebuilt brands Ducky and its latest One 3 Series keyboards. Sporting a brand new QUACK Mechanics design, these new keyboards will carry new features to provide more functions and accessibilities to the user. Being a long-time supporter of the Cherry MX switches, Ducky will also include a new SKU that uses the Cherry MX Clear switches with an actuation force of 55g and is tactile yet non-clicky. The current color profiles known for the series include the Daybreak, Fuji, Matcha, and the iconic Yellow Ducky.
Enough with the prebuilt stuff and moving on the pimping scene, the Glorious GPBT Celestial Series keycaps takes the good old "Fire and Ice" fantasy into the physical world by applying a gradient profile across selected keycaps with DYE sublimation legends in proprietary font styles to provide enhanced readability and a flair of sophistication. The PBT material also creates a crisp clack on each press as well.
For the connectors, the Glorious Coiled Cables is built to last with its double-braided design while the springy spring is able to pertain its flexibility for a long time thanks to its high resistance to getting pulled by an external force. 4 colors of Cobalt Blue, Glorious Gold, Electric Blue, and Forest Green is slated for the market as the first batch stock.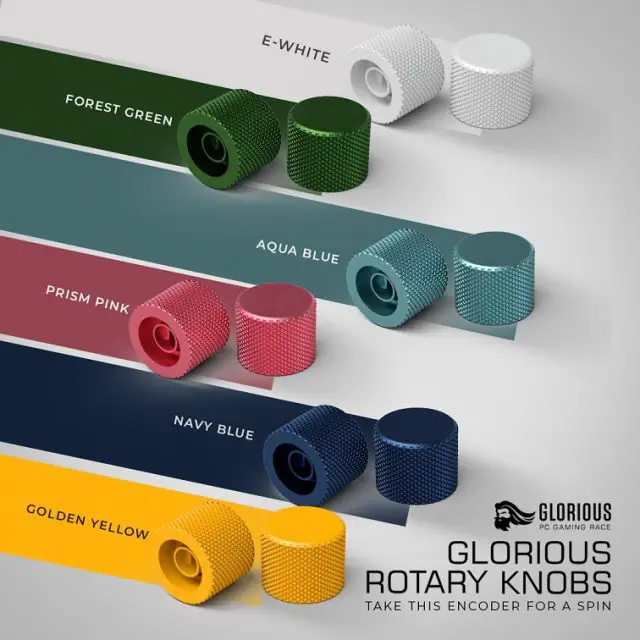 Rocking a GMMK Pro and felt the need to change up the style yet the knob doesn't go well with the theme? Glorious got these extra ala carte knobs in 6 different colors so you can get one each and proceed to pimp your GMMK Pro any time into any style you like.
Utilizing the same color profile as the GMMK Pro knobs are the top frames for the same keyboard to keep your keyboard within the same color scheme as the rest of your setup and peripherals.
Availability
Unfortunately, none of these are readily available for the Malaysian market as they still need a bit more time to finalize everything but I'll see these coming out within next month, hopefully.