Custom water cooling setup is the next level of cooling solution for PC enthusiasts who wants more performance from their overclocked system, where the amount of heat started to become something that even the best air cooling solution couldn't handle. There are pros and cons diving into the world of custom water cooling setup which involves a lot of money and also the risk of damaging your system due to leakage, but it's all worth the trouble when performance matters the most.
XSPC is one of the company that offers some pretty decent custom water cooling kits, especially for its RX series, AX series and EX series. Mega thanks to XSPC for the provision of its RayStorm Pro Ion AX240 water cooling kit for today's review, and also to those of you who has been requesting for this to happen. Let's proceed with the review and see what kind of performance can we expect from the RayStorm Pro Ion AX240 water cooling kit!
(The XSPC RayStorm Pro Ion AX240 Water Cooling Kit retails at RM899)
Unboxing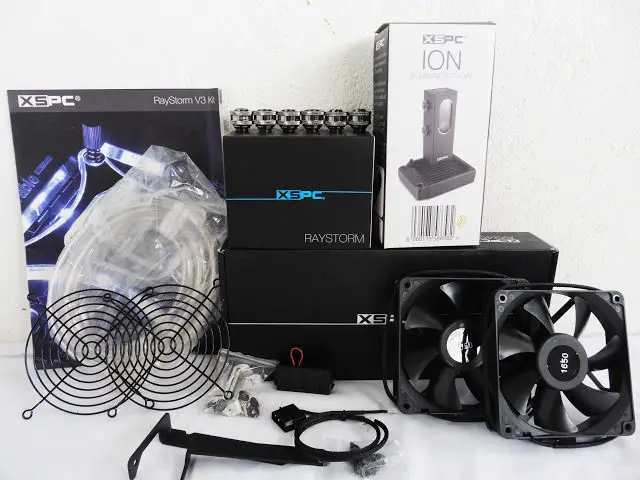 Kit Contents
RayStorm Pro CPU Waterblock (Intel only)
Ion Pump/Reservoir
AX240 240mm Radiator
G1/4″ to 7/16″ Compression Fittings (Black Chrome) x6
XSPC 1650rpm 120mm Fan x2
120mm Fan Grill (Black) x2
Socket 1366 and 115X Backplates
80mm to 120mm Radiator Bracket
Twin 3mm White LED
5mm White LED
2 Meters of Clear 7/16″ Hose
24pin ATX Bridge Tool
K3 Thermal Paste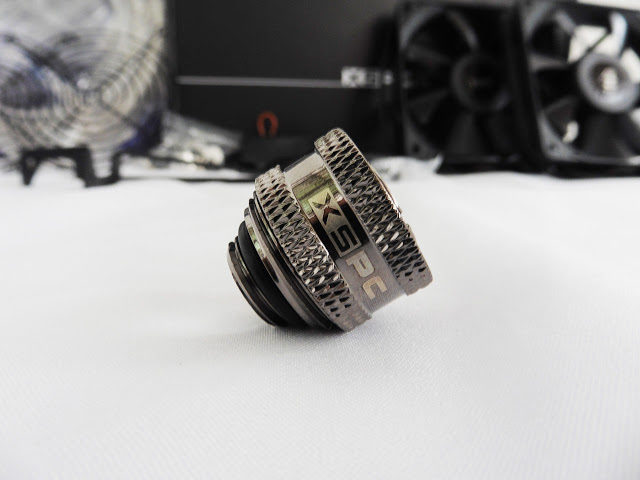 The G1/4″ to 7/16″ compression fittings in black chrome included.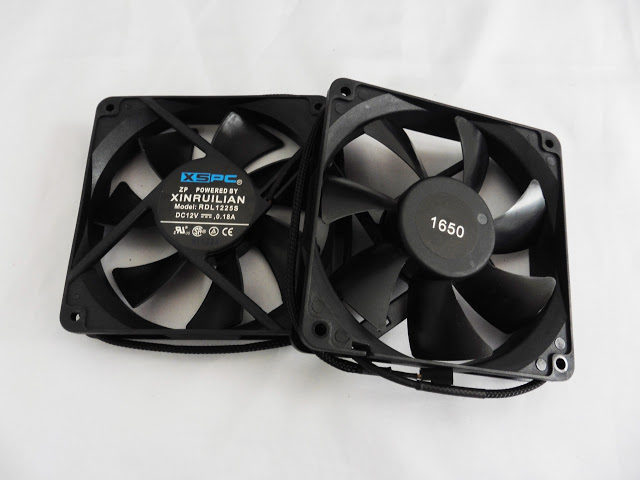 The included radiator fans from XINRUILIAN packs a total RPM of 1650, airflow of 65.2 CFM and static air pressure of 1.8 mmAq.
The Radiator – AX240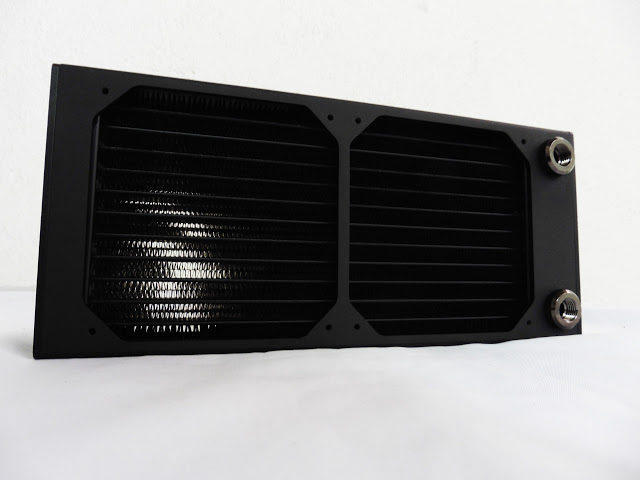 As the name of the kit suggests, the XSPC RayStorm Pro Ion AX240 water cooling kit comes with an AX240 dual fan radiator for 120mm fans.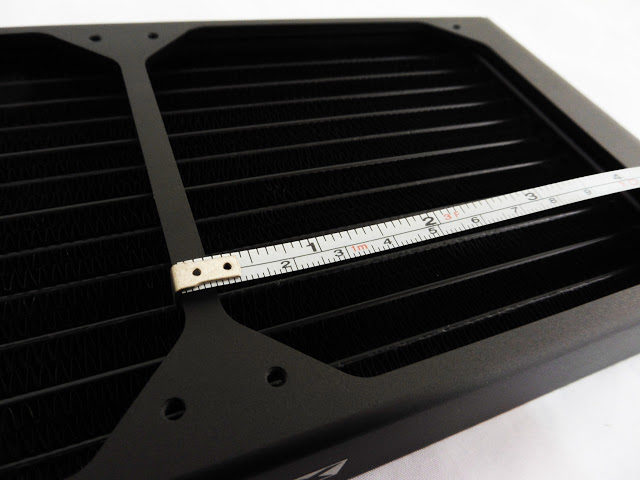 Unlike most AIO radiator we've seen, the AX240 radiator comes in a split array design consists of 16 fins per inch on each sides, totaling it up to 32 fins per inch.
While the actual thickness of the radiator isn't actually 40mm, you'll have to cater for that extra space required when installing it to your system.
The extra spaces between the frame of the radiator give extra clearance for the radiator fan screws so that it wouldn't damage the fins as what we've seen on some AIO units.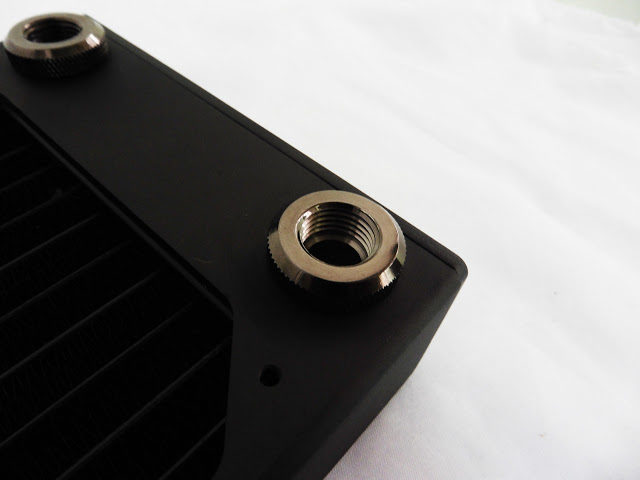 G1/4″ ports for G1/4″ fittings on the radiator, compatible with not only the ones from XSPC itself but pretty much all G1/4″ fittings available in the market. Thumbs up for that.
The RayStorm Pro CPU Block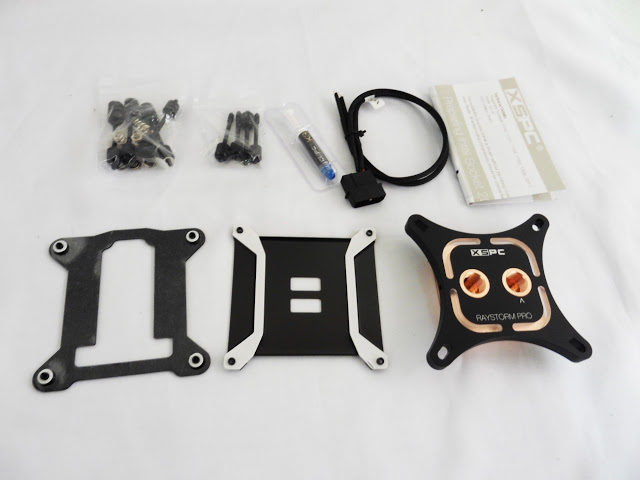 The RayStorm Pro CPU waterblock kit comes with comes with XSPC's K3 thermal paste, a pack of mounting screws for the included bracket for 115x socket and 1366 socket, mounting screws for 2011 socket, LED for the CPU waterblock and the RayStorm Pro itself.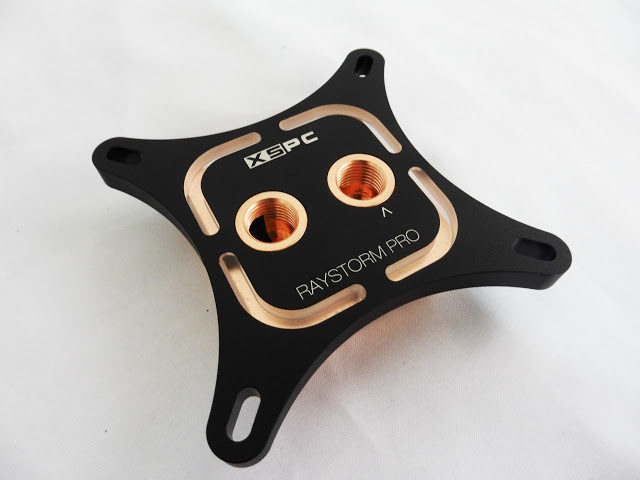 The RayStorm Pro waterblock as depicted, with markings on the bracket to indicate the inlet.
The RayStorm Pro uses a pure copper block top that gives you that little extra performance gain over the entry level RayStorm V3 with its CNC cut Acetal top.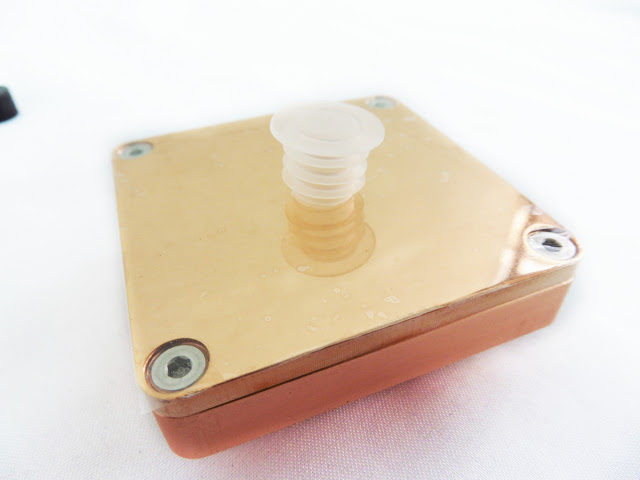 The base of the CPU block has a mirrored finish for a better contact point between the IHS of the CPU.
The Ion Pump Reservoir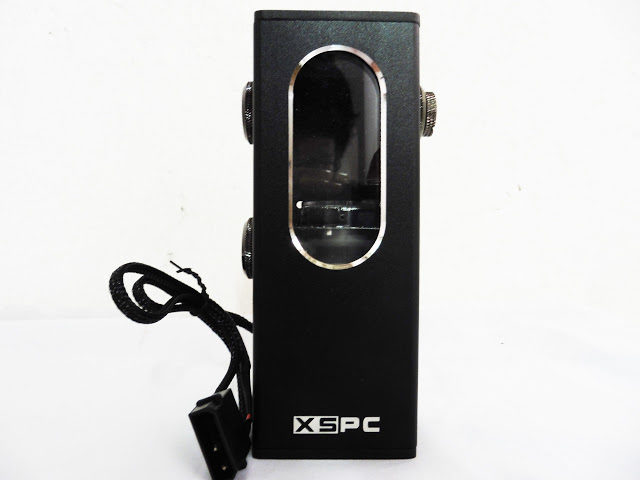 A custom water cooling kit isn't complete without its reservoir and pump, and the final piece to the XSPC RayStorm Pro Ion AX240 water cooling kit is the Ion Pump Reservoir. It's a compact pump & reservoir combo with a head delivery of 2 meters inside, made to fit into even the tiniest water cooling compatible mainstream chassis we can find.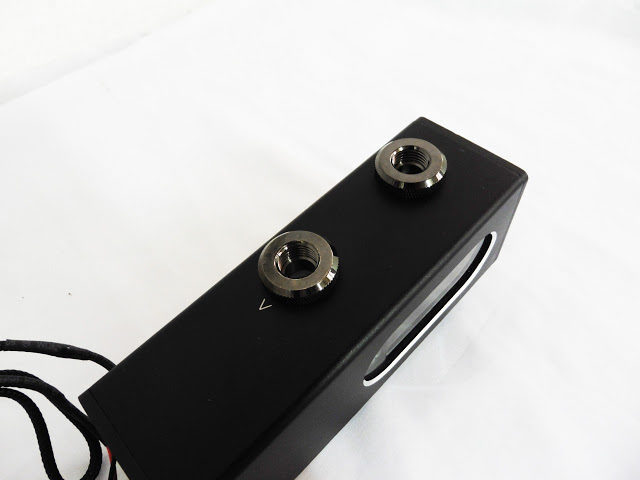 You'll find 2 x G1/4″ ports at the side of the Ion pump reservoir with the bottom port labelled to indicate that water flows out from this specific port so that first time user will not install the loop in the wrong direction.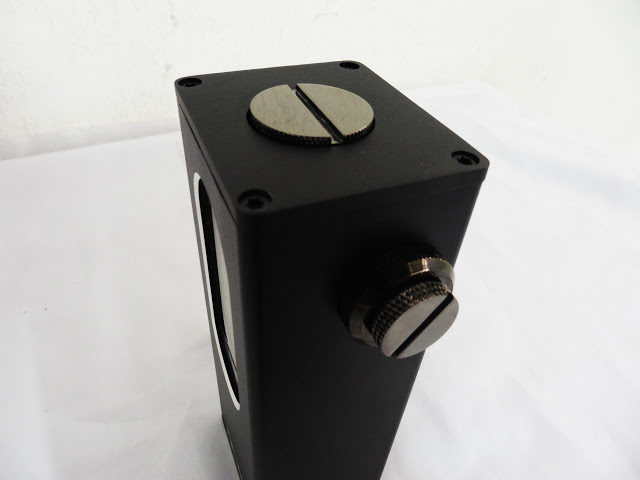 At the top you'll find the fill cap to make the job of filling your loop much easier, but do remember to use a piece of coin to secure / loosen the cap.
Installing The Kit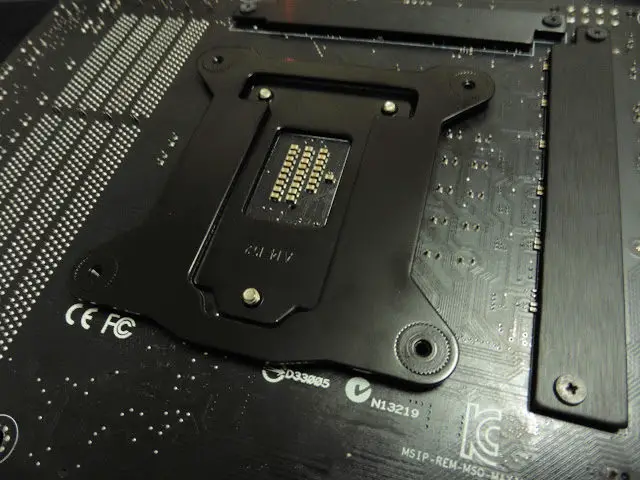 Like most CPU coolers nowadays, the RayStorm Pro has to be mounted with the included backplate if you're using a mainstream motherboard with 115x socket. We will first align the backplate according to the cutout as shown above.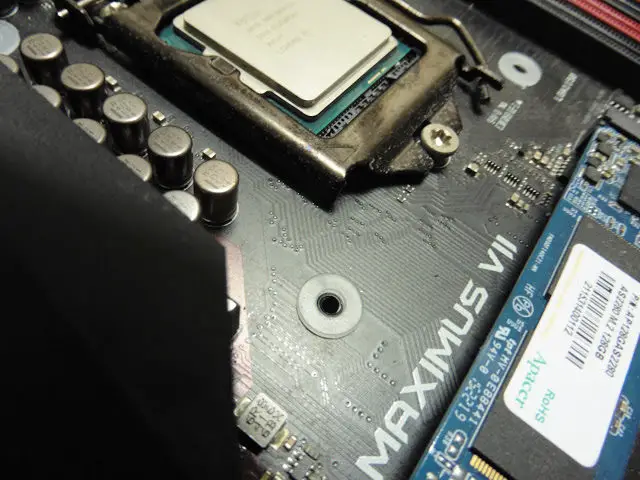 Once the bracket is ready, place the spacers on top of each mounting holes to create an insulating later to prevent the mounting screws from touching against any circuit lines on the motherboard.
Now, secure the mounting screws to keep the backplate intact.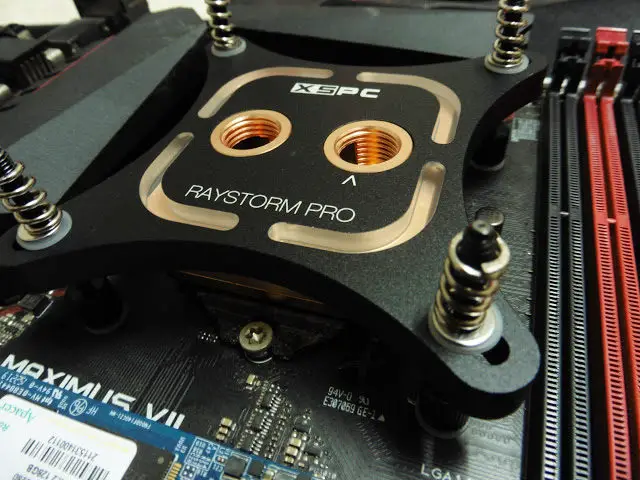 Apply a generous amount of thermal paste and place the CPU block onto of your CPU, followed by placing the spaces and springs through the mounting screws as shown above.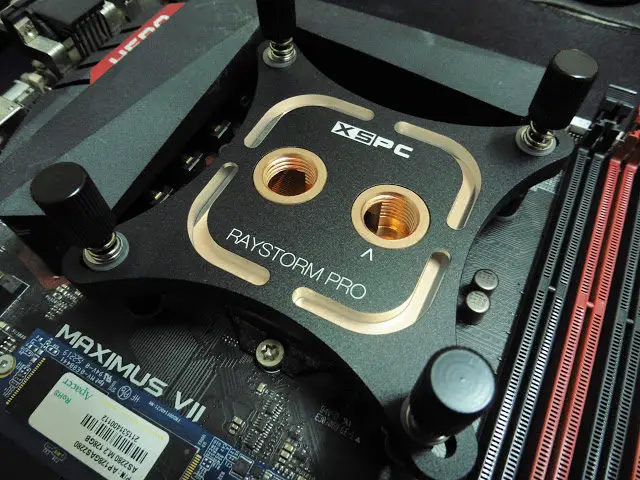 Secure the CPU block with the screw caps to tighten the contact between the CPU block and the IHS of the CPU. Do remember not to over tighten it as it will cause your system unable to POST and worse, damaging the CPU.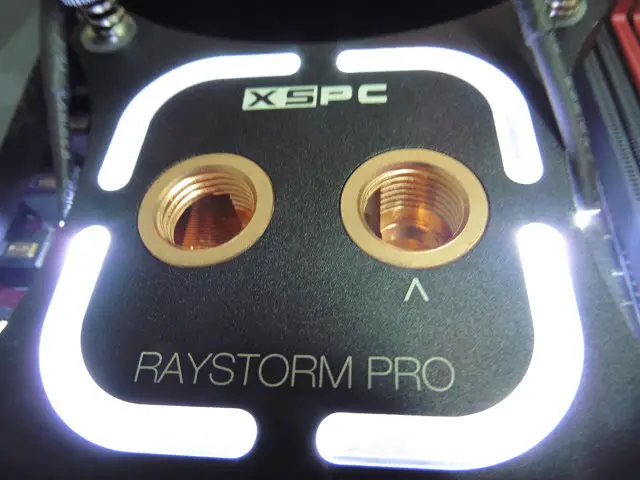 The LEDs is optional, but you may install it to the CPU block if you're into the fancy lighting stuff for your system.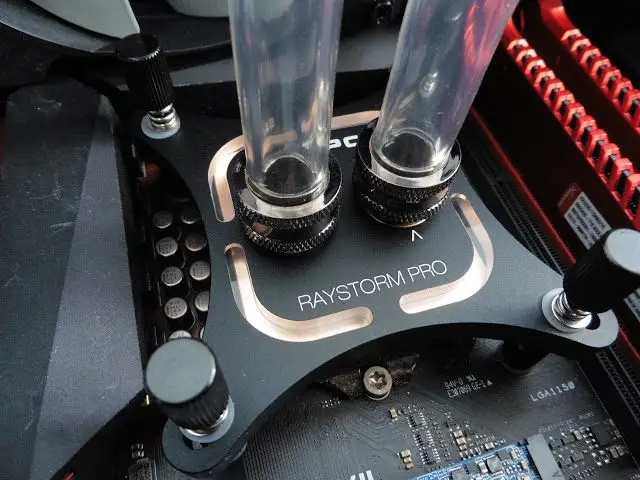 Once you got the CPU block installed, it's time to prepare for the fittings and some tube cutting work.
As the installation will vary by the type of chassis used, you will have to plan well for your loop, such as where to install the radiator and reservoir/pump, how will the flow will be and is there anything that gets in the way of your planned loop.Once you're done with that, you can start cutting the tubes and fit them tightly onto the fittings. Before giving your system a full blast of water cooling goodness, it is recommended to perform a leak test overnight using the included PSU jumper to check for any potential leakage that could kill your components. Should everything be fine and dandy, feel free to hook up the system and boot it up!
Performance Test
Test Bench Configuration
CPU Cooler
XSPC RayStorm Pro Ion AX240 Water Cooling Kit
CPU
Intel Core i7 4790k
Graphics Card
NVIDIA GeForce GTX 1060
Memory
HyperX Savage DDR4 16GB
Primary Hard Drive
Intel 520 Series 240GB
Power Supply
be quiet! Straight Power 10 600W
Chassis
SilverStone Primera Series PM01
We fired up a CPU stress test with Prime95 with the option 'In-place large FFTs' for maximum heat output, under the room temperature of about 31ºC. We've also included results of some CPU liquid coolers that we've tested with the same configuration as a comparison with the RayStorm Pro Ion AX240 kit.
Some of you might think it's unfair to compare a custom water cooling kit to a closed-loop AIO liquid cooler, but the harsh reality cannot be left unknown. There are custom water cooling kits that couldn't even perform as good as an AIO, but that isn't quite the result you will get if you invest in a proper kit like the XSPC RayStorm Pro Ion AX240 we have here that blew away the competition with ease.
Final Thoughts
XSPC offers quite a range of its water cooling kits for different category of users and its EX series are some of the excellent entry level starter kits priced as low as RM599 for its RayStorm 420 EX240 WaterCooling Kit. If the barb fittings included in the EX series kit isn't that favorable to you, you can consider for the RayStorm Pro Ion AX240 water cooling kit which we've just reviewed here, an excellent choice that offers a better overall performance with a better reservoir pump, radiator, compression fittings and CPU waterblock at a price of RM899. Having a custom water cooling kit installed to your PC can be a perk, but you'll have to get yourself prepared for the upcoming maintenance that should be done every few months, a hassle you will have to deal with as the trade off for that monstrous cooling performance it offers. Algae growth and corrosion is also a common issue with water cooling systems if not well taken care of, but that can be avoided easily with a proper use of silver coils (kill coil) and some anti-corrosion agent even though it's something optional for the pros – the XSPC RayStorm Pro Ion AX240 water cooling kit doesn't come with any of those and it'll be great if XSPC can included those in their water cooling kit.
Pros

Easy to install
Excellent cooling performance
Compression fittings used
Fan grill included
Power supply jumper included for leak test

Cons

no kill-coil or anti-corrosion agent included