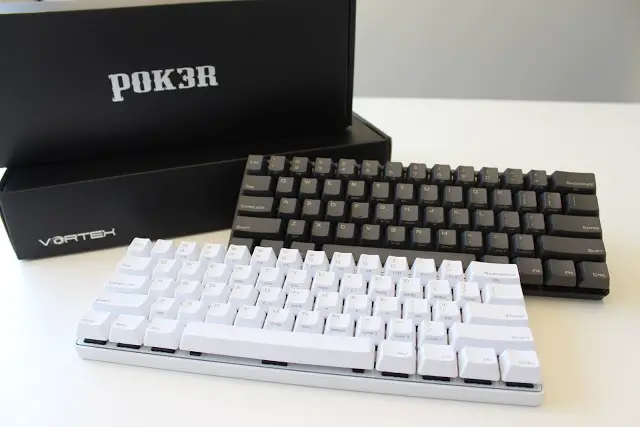 Image source: www.mechkb.com
Mechanical keyboards aren't really new in the Malaysian market as it's flooded with full layout keyboards (and even tenkeyless) from various brands, such as Razer, Corsair, Cooler Master (CM Storm) and Steelseries. There's a new player in the Malaysian market (not that new, actually) called Vortex. Previously there wasn't much news about this brand in Malaysia due to the keyboard form factor that they offer (the only one) which is 60%.
So, what is a 60% keyboard?
Imagine a full layout keyboard, without the function row, navigation cluster (insert, home, pageup and etc), arrow keys and also the numpad. That's a 60% keyboard.
Vortex, a brand from Taiwan, released a new product to their 60% keyboard line, which is the Pok3r (Poker 3), a sweet upgrade to the existing Poker 2. Without further ado, let's take a closer look on the Vortex Pok3r!
Unboxing
I'm a fan of minimal designs and the packaging of this keyboard attracts me. What you'll see is the model of the keyboard, the brand that manufactured it and the type (switch type, color) of the keyboard that's inside, that's it. Very neat and clean packaging. (They also got some typo right there but it's alright)
These are the things that you'll be getting inside. A USB to Mini B cable, and the keyboard itself. No keypullers, manual, extra keycaps for your alt, control and shift keys. The things I've mentioned earlier that was absent is available on the Poker 2.
The USB cable is pretty standard. Non braided, non gold-plated cable. Personally, I wouldn't be using the cable as I got the freedom of using a third party cable that I currently use for my other Mini B keyboards.
The keyboard
The Pok3r that I've received is a non LED backlit model with Cherry MX Red switches. There's also LED variants of Pok3r and on Vortex's website in Facebook, there has been mentions of RGB version of Pok3r. This means that there might be hope for the ones that likes to see some "shine" on their keyboard.
Like the previous Pokers, the Pok3r has a standard ANSI layout, which is a good thing because this means that I can use my other keycap sets that I got from GMK, SP and others. hooray! Even without the function keys or arrow keys (and others) doesn't mean that one can't use them anymore. Take note of the front printed legends (e.g. Home, End, the F1-12 on the number row) where you can use your FN key to activate them. For example, should I want to refresh my page with F5, I would have to press the FN key (which is on the bottom right) and the number 5 key and this can be a hassle for some. The PN key is used to remap your keys (I'll get to that in later part of this review). No more "Enjoy your Feeling" spacebar which was present on the Poker 2
Pok3r keycaps on the left, thin ABS keycaps (SP) on the right.
You should be doing just fine with the printed thick PBT keycaps. Even if the legends fade away, your keycaps will HARDLY shine at all. Thick PBT keycaps also (at least for me) a better choice because it feels better to type on compared to thin keycaps (mostly ABS) and doesn't produce as much noise when I bottom out.
There are various kinds of Cherry MX keyswitches that Vortex offer in their line of Pok3r keyboards which are Cherry MX Greens, Blues, Blacks, Clears, Brown and finally, Red switches, which is the one that I'm writing this article with. I wouldn't say much about the keyswitch feel because it's very subjective to what you like. I personally enjoy gaming (mostly FPS) on Red or Black switches and typing on Clear switches.
The stabilizers that they use really caught my attention. It's Cherry styled (plate mount) with orange stems. Not sure if they're from Cherry with custom stem colors but they do their job well.
Previous Pokers didn't expose their switches on the side because the casing for the keyboard has high edges. Unfortunately, this isn't the case for Pok3r. It exposes the switch on the side and it's something that I"m not really fond of. The one thing that I'm fond of is that the casing this time is metal instead of plastic. This adds some weight to the keyboard and with weight comes stability as well.
The only visible branding is at the bottom of the keyboard, together with the serial number and the model number of the keyboard. 4 big rubber pads can be found at the bottom. No keyboard feet is found, this means that you are stuck to that one angle that you can type. 4 DIP switches are also available so you can customize the keyboard even more.
The USB port location can be found on the top right corner of the keyboard. Even though the indented section near the port looks small, all of the third party Mini B cables that I currently own is compatible with this keyboard. So using one of your own shouldn't be an issue.
Teardown
The PCB (Printed Circuit Board) of 1.6T thickness, and the soldering job is very, very clean. No excessive flux is to be found on the keyboard and there are no cold solder joints. You might notice that they've soldered up the LED holes as well. I assume that you can add your own LED and make a non-LED model to bling up.
The metal case is die casted and (I assume) powder coated white.
Features
This is one of the keyboards out there where you can remap your keys and save up to 4 layers (Default, and layers 2-4) without a software. The keys that you've remapped are saved into respective layers, and will still be there even if you plug it into other computers.
Layers? Like onions? (Shrek reference, hehe)
Let's say if you've remapped the A key to F5, and you've saved it to layer 2, you'll only get to spam F5 by pressing the A key when you're in layer 2 since it wouldn't exist in layer 3, 4 and the default layer.
tl;dr: profiles


For more information about the programming and what are the functions that's available (which is also the product manual), you can refer to the manual that's in the official website in the link below:
They also upload their firmware updates in their website too. The latest firmware (V 1.14) can be found in the following link: http://www.vortexgear.tw/vortex3.asp
Full NKRO over USB in Windows too. Comes in handy if you spam lotsa keys at the same time.
Typing test
Verdict 
With the price point of RM599 in Malaysia, I doubt that a lot of Malaysians will consider this a viable keyboard purchase or upgrade that they'll use in a long run.
Why? It could be mainly due to the form factor.
I believe, most of us out there will be thinking, why would I pay more for something smaller where I can get more with the same if not cheaper?
Most gamers or users out there also would need a numpad, or a function row, or arrow keys to perform their daily task or gaming but one thing that the Pok3r has to offer is ergonomics (in terms of your keyboard to mouse space) and also the space that you'll get.
If you can live with a small keyboard with such small form factor (like me) and you don't mind using the FN key most of the time, then this might be the keyboard for you. Not only does this keyboard helps you save space, it also looks very sleek, and to a certain extent, cute.
Pros
60% / small form factor (subjective)
space saving (subjective)
uses thick PBT keycaps
programmable without a software, means retaining settings if plugged to another computer
sturdy due to the use of a metal case
Cons
low profile / edge casing (subjective)
all the extra goodies that you can't find (as compared to other previous models)
price point (mainly due to exchange rate)
no keyboard feet, means you're stuck to this angle to type on (subjective)