NVIDIA's latest Maxwell GM204 based 900 series has shown amazing power consumption improvements took the enthusiast market by storm as soon as it's launched.  In collaboration with one of our nation's best gaming rig builder at Ideal Tech, we manage to get our hands on another GTX 980 for today's review – the Leadtek GTX 980 Hurricane.
Retailed at approximately RM1999, the Leadtek GTX 980 Hurricane is currently the 2nd most affordable GTX 980 yet in the Malaysian market. Will the Leadtek GTX 980 Hurricane do just as good as its market leading fair price when it comes to gaming performance? Let's find this out together shall we?
Specifications
Model Name

WinFast GTX 980 HURRICANE

Graphics Engine

NVIDIA GeForce GTX 980

Bus
Standard           

PCI Express 3.0

Video Memory

4GB GDDR5

Engine Clock

GPU Boost Clock: 1253 MHz

GPU Base Clock: 1152 MHz

CUDA Core

2048

Memory
Clock          

7010 MHz

Memory Interface

256-bit

Interface

DVI Output : Yes x 1 (DVI-I)

HDMI Output : Yes x 1 (HDMI 2.0)

Display Port : Yes x 3 (Regular DP)

HDCP Support : Yes

Accessories

 2 x 4-pin Molex to PCIe 6-pin adapter
DVI to VGA adapter
User's guide
Driver CD

Software                   

–

Dimensions

 296mm x 111mm
x 42mm
Overview
It seems that Leadtek kept the retail packaging of its GTX 980 Hurricane as inexpensive as possible, as it greatly resembles the retail packaging of its GTX 700 series GPU – they've even used stickers to label the graphics card model! 
Behind theThere's nothing much we can find at the back of the packaging except for the brief introduction on the new features offered on a Maxwell GM204 GPU, different model of GTX 980 offered by Leadtek.
Accessories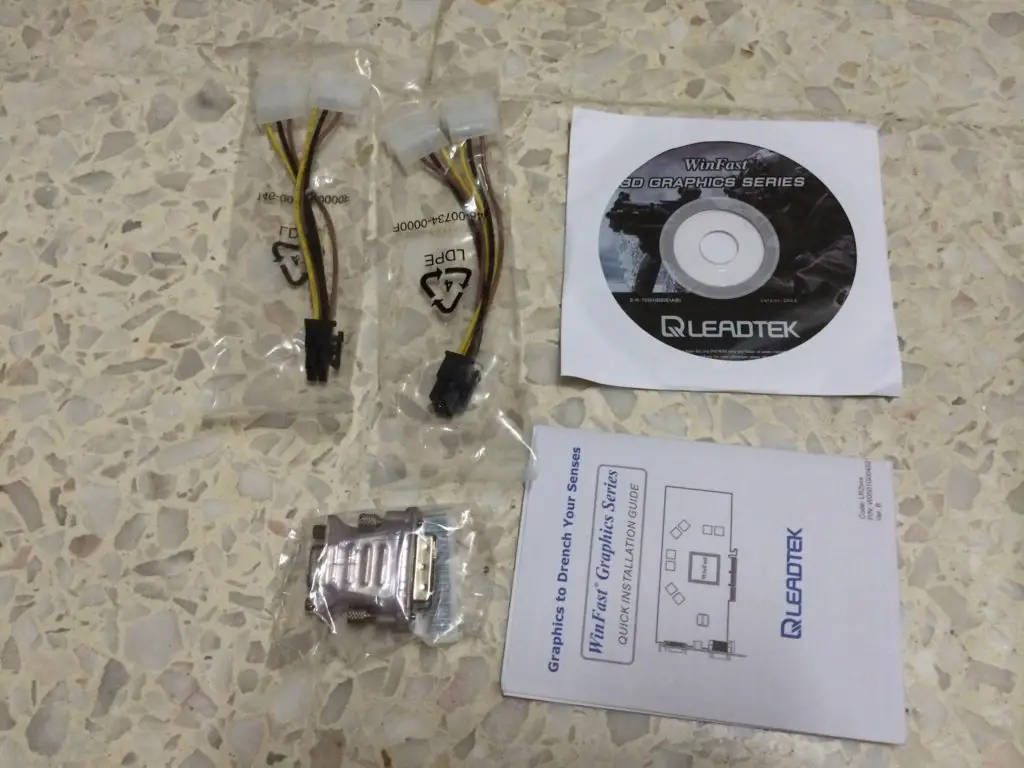 The included accessories:
driver CD 
user's manual 
DVI-VGA adapter 
2 x 4-pin molex to 6-pin PCIe cable
The Leadtek GTX 980 Hurricane features a triple cooling fan design and a full metal shroud with yellow linings.
The amount of aluminum fins on the heatsink does seems to be able to provide a promising cooling performance – we'll see if it really does when it runs!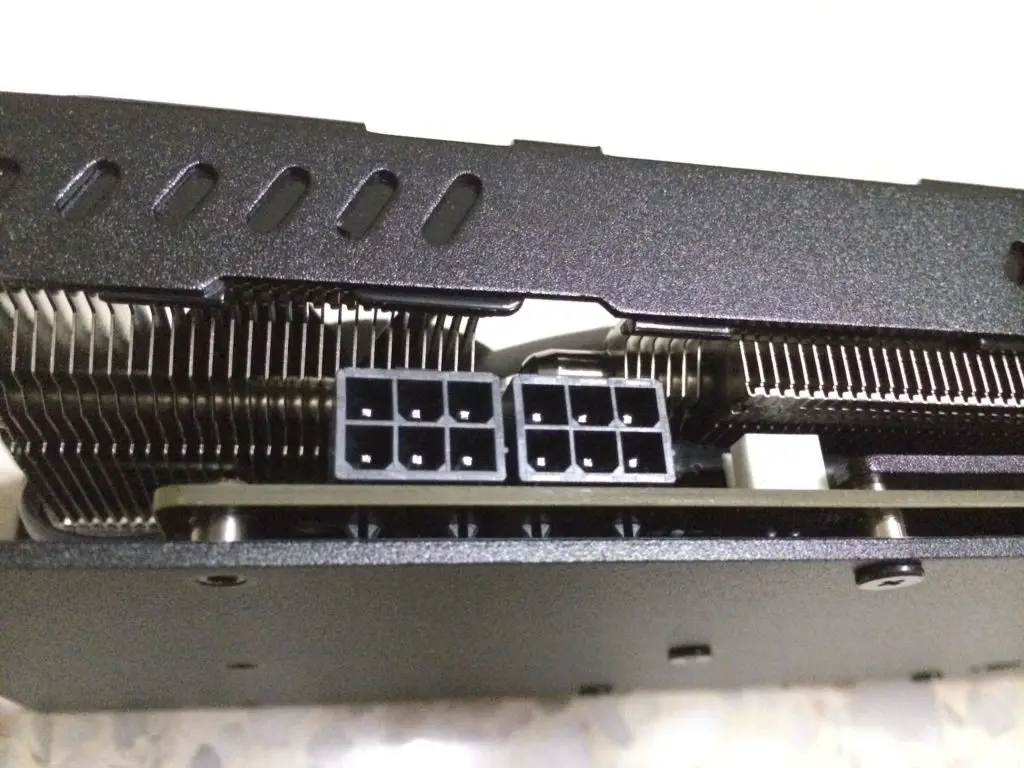 To our surprise, the first GTX 980 we've seen that uses 2 x 6-pin PCIe power connector while other brand of GTX 980 that we've reviewed requires at least a 6-pin PCIe and 8-pin PCIe power connector.
The backplate looks rather plain, no fancy cuttings nor wording printed on; but it'll still provide the very same protection to the card by improving its rigidity to prevent sagging or PCB bending issue.
SLI fingers for multiple NVIDIA GPU configuration – up to 4 GPU.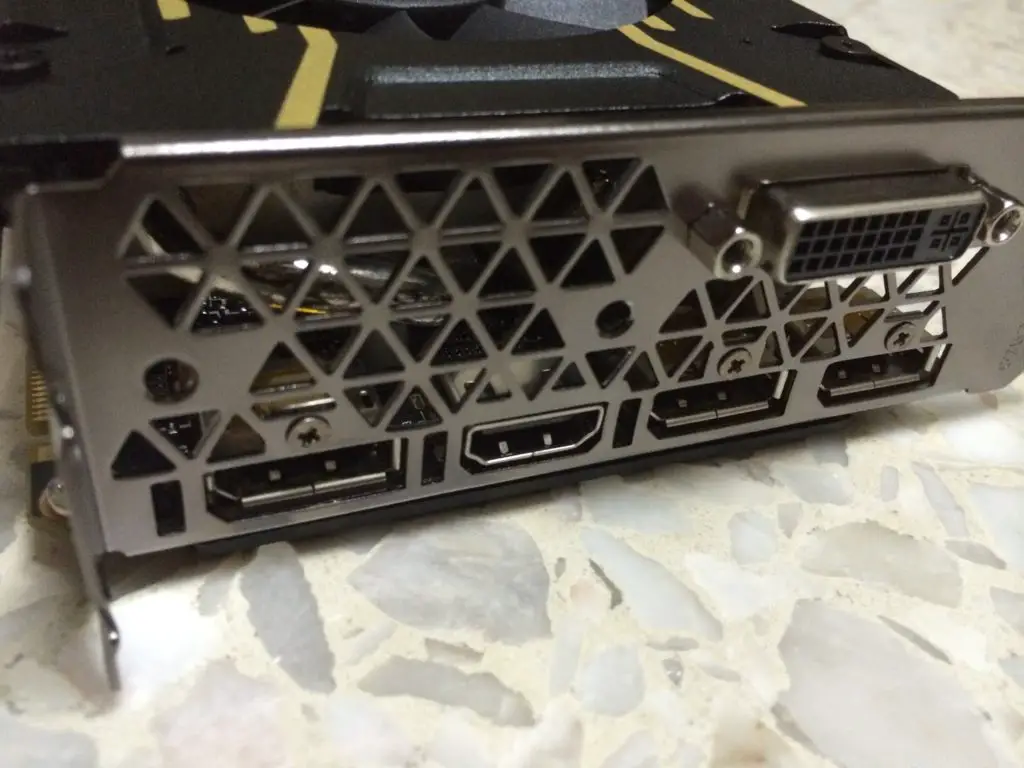 The GTX 980 Hurricane comes with a total of 5 output display connector to satisfy your needs for multiple display monitor – 3 x Display Port, 1 x HDMI and 1 x DVI-I.
Performance Test
Test Rig Configuration

CPU Cooler

Prolimatech Samuel 17

CPU

Intel Core i7 4790K

Motherboard

ASUS Maximus Gene VI 

Memory

Primary Hard Drive

Kimtigo KTA-350 120GB

Power Supply

BitFenix Fury 550G

Chassis

Vector Benchcase
We've conducted our test by installing the Leadtek GTX 980 Hurricane to our test bench as above and each and every benchmark is conducted in a room with 30C° ambient temperature.
Performance, Overclocking and Temperature
We ran a few graphically demanding games and synthetic benchmark in our possession at the resolution of 1920 x 1080, 4x Anti-aliasing. Due limited voltage adjustment, we've only managed to push the Leadtek GTX 980 Hurricane to its highest stable clock that is able to complete each game benchmark with the following values:
Maximum boost clock of 1401 MHz
8025 MHz on the memory clock
1.2V on the voltage for GPU
Although the overclocking result isn't as good as we hope it would be, but it does makes some difference in each synthetic and games benchmark:
Unigine Valley:  2.3%
Unigine Heaven: 2.5% 
Tomb Raider:  5.5%
Battlefield 3:  7.4%
Battlefield 4:  13.3%
Crysis 3:  19.2%
Far Cry 3:  13.7%
While the FPS gain doesn't appears to be better than the previous GTX 980 that we've reviewed, the cooling performance is pretty impressive as the idle temperature hovers around 36°C and peaked only at 75°C when we're on FurMark stress test utility.  
Verdict
Overclocking the Leadtek GTX 980 Hurricane is a tough one, compared to the other GTX 980 that we've previously reviewed. The highest achievable core clock that runs stable throughout our tests is 1401MHz, not too shabby but it isn't great either. And one more thing is that the audible coil noise that manifests on full load has been a known issue for most GTX980 and GTX970 but it doesn't really affect much of the gaming performance.
Temperature seems well for a GTX 980 as we can't find much to complaint about the cooling design. With temperature idling at 36°C and peaked at 75°C on full load, the Leadtek GTX 980 Hurricane is a recommended choice for the silent freaks out there who wants a well performed, cooling and silent GTX 980 (if the coil noise issue can be fixed in the nearest future).
The Leadtek GTX 980 Hurricane might not do as well as other GTX 980 that we've reviewed in the past in terms of overclocking, but if you're the type of user that only wanted to enjoy your games instead of wanting to squeeze every last drop of performance out of it, this is one worthy graphics card to consider for – RM 1999 for a GTX 980 with a pretty decent performance and cools even better than some other GTX 980 that cost few hundred bucks more, why not?
Pros
Reasonable price
Factory overclocked
Requires only 2 x 6-pin PCIe power connector 
Comes with a metal backplate for that extra protection against PCB sagging
Decent cooling performance
Cons
Limited overclocking capability due to NVIDIA's Green Light Program
No dedicated software for GPU overclocking
Coil noise issue