Following up on our previous report on Roller Champions, the game has finally gone live on May 25 and there's a ton of fun to be had in this colorful sporty game.
To recap, Roller Champions is a multiplayer team PvP sports title with each side making up of 3 team members. The objective? Be the first to reach 5 points by plowing through arena laps while throwing the ball through the hoop. It's not as easy as you think since everyone has to dodge, tackle, and work together to maintain ball possession, control, and the pace of the round. With lots of cosmetics items ranging from outfits, goal effects, air poses, and more following your journey to the Elite Champion's league, dominate over your opponent in both skills and style.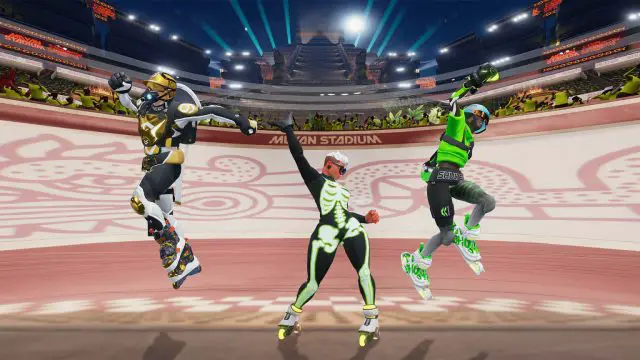 Thanks to cross-play support across all of the consoles and PCs, Roller Champions can be enjoyed either with the homies, or solo if you're that one guy that just wants tryhard in everything. Benefiting from the cross-progression sync, you can keep all your profiles and progressions on the go,  no matter what device you launch the game with, you're always on track. Additionally, get some extra freebies for your friends and yourself via the Friend Referral program.
As for the 1st season which is the Kickoff Season from May 25 – June 21, 3 arenas and 2 special game modes that are time-limited are introduced. It also has a "battle pass"-Esque reward system giving free players 11 items while Roller Pass buyers can amp that number up to a whopping 41. And none of those rewards are time-capped – you get them, you own them forever.
Roller Champions is available for download now for PS4, PS5,  Xbox One, Xbox Series X|S, and Windows PC via Ubisoft Store. On the other hand, Nintendo Switch will get it at a later date.