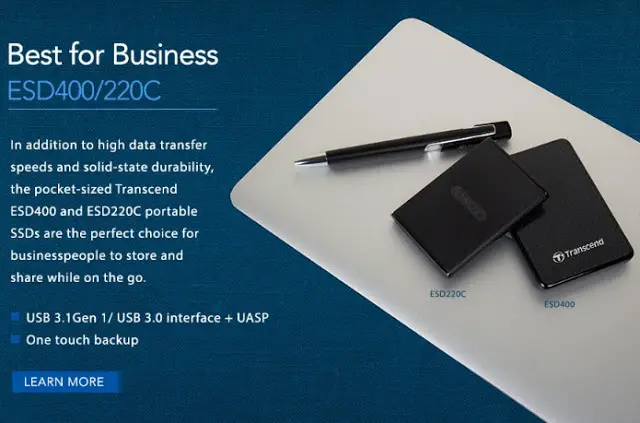 Transcend Information, Inc. (Transcend ), a leading manufacturer of storage and multimedia products, is pleased to introduce its next generation portable storage device for the business professionals – the pocket-sized portable SSD, ESD220C and ESD400.Aimed at business professionals, the ultra-compact design makes Transcend ESD220C and ESD400 incredibly easy to take your data anywhere and provides high-speed performance on the go.

Transcend ESD220C, the Blazing-Fast Portable Storage Device That Fits In Your Wallet 
If you're a business professional with needs for an extremely compact yet blazing fast portable storage device, the Transcend ESD220C portable SSD is the perfect companion you've been looking for.
It features capacity of up to 480GB, form factor that's no larger than a credit card (77mm x 55.7mm x 9.6mm) and weighed at only 52g that guarantees a perfect fit in your wallet or purse and a layer of anti-scratch coating so that it looks sharp even after the long run. 
To meet the needs of business professionals, the Transcend ESD220C is specifically designed with a USB Type-C port, offering the flexibility of being used on different platforms to accommodate devices with different USB ports. While a USB Type-C to Type-A cable is included, users can use their own adapter or compatible cable to attach the ESD220C to on-the-go (OTG) mobile or USB Type-C devices. This feature offers the convenience and flexibility for business professionals to access the data for work without having to pull out the laptop all the time.It also features support for UASP and USB 3.1 Gen 1 as well to deliver exceptional transfer speed of up to 410MB/s and 400MB/s read and write speed respectively when used with your workstation or laptop computer with USAP-enabled.
The Transcend ESD220C comes with Transcend's free to download software, Transcend Elite data management software that comes with data encryption feature to prevent unauthorized users from accessing sensitive data stored on the drive, and the extremely convenient one-touch auto backup feature that allows business professionals to cut down the time used for file transfer and backup to the minimum.

Transcend ESD400, the Pocket-Sized Portable SSD with High Storage Capacity of Up To 1TB
For business professionals who is looking into replacing their traditional portable HDD with a more compact portable storage device that offers blazing-fast transfer speed and high storage capacity, look no further than the ESD400 portable SSD.
The Transcend ESD400 features not only support for SuperSpeed USB 3.0 and UASP for that blazing-fast transfer speed of 410MB/s read and 380MB/s write, but also a whopping high storage capacity of up to 1TB that allows you to save almost everything you need for your work with ease.
Measuring at just 92mm x 62mm x 10.5mm and weighing a mere 56g, the poker card sized ESD400 portable SSD can easily fits into any of your pocket or travel pouch for the ease of travel.
With Transcend's proprietary Transcend Elite data management software, business professionals can configure for the easy one-touch backup feature to perform quick and easy instant backup with a single touch on the button on the device enclosure, and keep important files up to date, organized and protected with ease.
Warranty
Both the Transcend EDS220C and EDS400 portable SSD are backed by Transcend's Three-year Limited Warranty.