Introducing, the new ASUS Zenbook 16X OLED UX7602. This laptop is a spinoff of the company's new hinge design for their laptops. The AAS Ultra hinge creates a gap behind the laptop and on paper, enabling higher cooling capabilities and supposedly better ergonomics in some ways too.
What I want to focus on today on this laptop are the keyboard ergonomics and the thermals. You see, this ASUS Zenbook Pro 16X OLED UX7602 uses the same AAS Ultra hinge as found on the ASUS Zenbook Pro Duo 14X OLED UX8402. This new AAS Ultra hinge is completely different as the main display is lifted up by another hinge on the base.
For the Duo series of laptops, we have dual screens – hence the name Duo. The main screen is lifted up by another hinge that sits on the top side of the laptop's secondary strip of the screen, also known as the ScreenPad Plus. For the Zenbook Pro 16X OLED, since it's not a "Duo" laptop but still uses the same AAS Ultra hinge, means the keyboard will be lifted instead. This creates a very weird laptop angle that is forcefully lifted by 7°.
Some may like this, some may not. I personally think that it would've been okay if there is a wrist rest included. Why? Let's compare with how I use a mechanical keyboard. I use my mechanical keyboards at an angle of about 7° as well, but I have a wrist rest to go alongside it. My wrist rest is slightly higher than the bottom row (as in the space bar row) and each row of keys is raised like the seats in an auditorium – not a slope like a hillside.
This creates a distinction in terms of ergonomics. When I use the Zenbook Pro 16X OLED, I had to bend my wrist upwards to type – which creates discomfort. In general rule for typing ergonomics is to have your wrist as flat as possible.
With the keyboard lifted and with such a big gap under the keyboard, how is the cooling performance? It's actually quite decent, I'd say. The specs of our particular unit of this laptop are listed as below:
Windows 11
16-inch screen

3840×2400 pixels
OLED
60Hz refresh rate

Intel Core i7-12700H
NVIDIA GeForce RTX 3060 Laptop GPU
16GB LPDDR5 RAM at 5200MHz
96Wh battery
As you can see, the specs of this laptop are suitable for content creators. While content creators do need high-performance components, the demand for performance is mostly in short bursts rather than continuous and the reliance on the CPU is more than on the GPU – though that might change as more and more graphical effects in apps are getting GPU acceleration.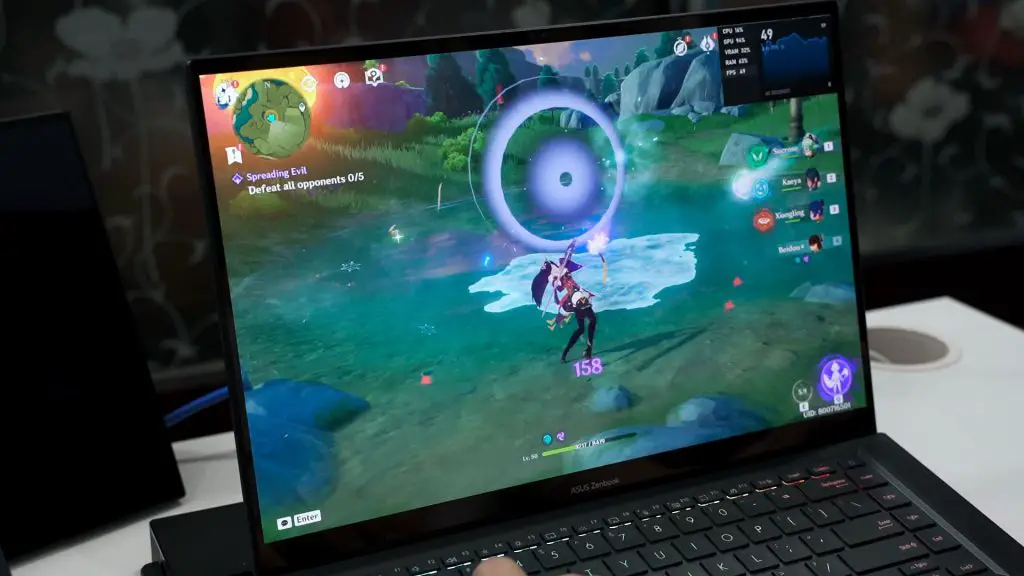 While we did record supremely high CPU temperature even on a Core i7-12700H, I think that is alright as the fan speed wasn't as whiny as the Zenbook Pro 14X Duo OLED. Probably thanks to the pathways of sound and hot air to escape instead of being reflected by the backside since there is no ScreenPad Plus.
There are some other things to talk about when it comes the in-depth review of this laptop – so watch our review over at NL Tech.
In short, for the price of RM11,999, I think that this laptop has a few glaring highlights that you need to be aware of before making your purchase. The keyboard being forcefully lifted upwards is a dealbreaker for me personally – but your preference may vary. You might like this design, but you might not. That's all up to you.
Where to buy? (Affiliate links)