FSP is proud to introduce the world's most compact Titanium-rated HYDRO Ti PRO series power supply, featuring a 12VHPWR connector and compliance with ATX 3.0 and PCIe 5.0 standards. This fully modular, low-noise power supply has a length of only 150mm, delivering up to 1000W with a high efficiency of 80 Plus Titanium for your PC build. The power supply also received an A++ Cybenetics certification and has been selected by Hardware Busters as one of the quietest 1000W ATX3.0 PSUs.
Disclaimer: In conjunction with FSP's 30th anniversary, they have sent us the limited edition of the HYDRO Ti PRO power supply for evaluation. This article represents our views and FSP has no control over our opinion of the product.
FSP HYDRO Ti PRO 1000W Specifications
| | |
| --- | --- |
| Model | HTI-1000M, Gen5 |
| Rated Output Power | 1000W |
| Form Factor | ATX |
| 80 PLUS Certification | Titanium |
| Input Voltage | 100-240V ; 200-240V |
| Input Current | 13-6A ; 6A |
| Input Frequency | 50-60Hz |
| PFC | Active PFC |
| Efficiency | 94% |
| Fan Type | FDB fan, 135mm |
| Dimensions(L x W x H) | 150×150×86 mm |
| Protection | OCP, OVP, OPP, SCP, OTP |
Unboxing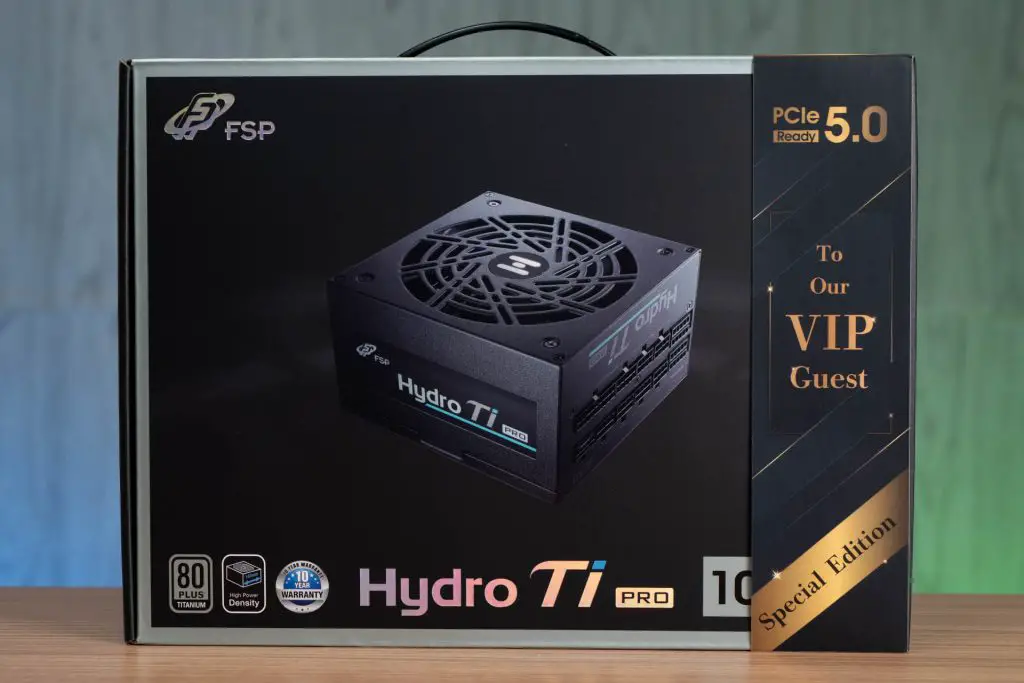 The HYDRO Ti PRO is FSP's top-of-the-line ATX 3.0 power supply and you get all sorts of bleeding-edge technology.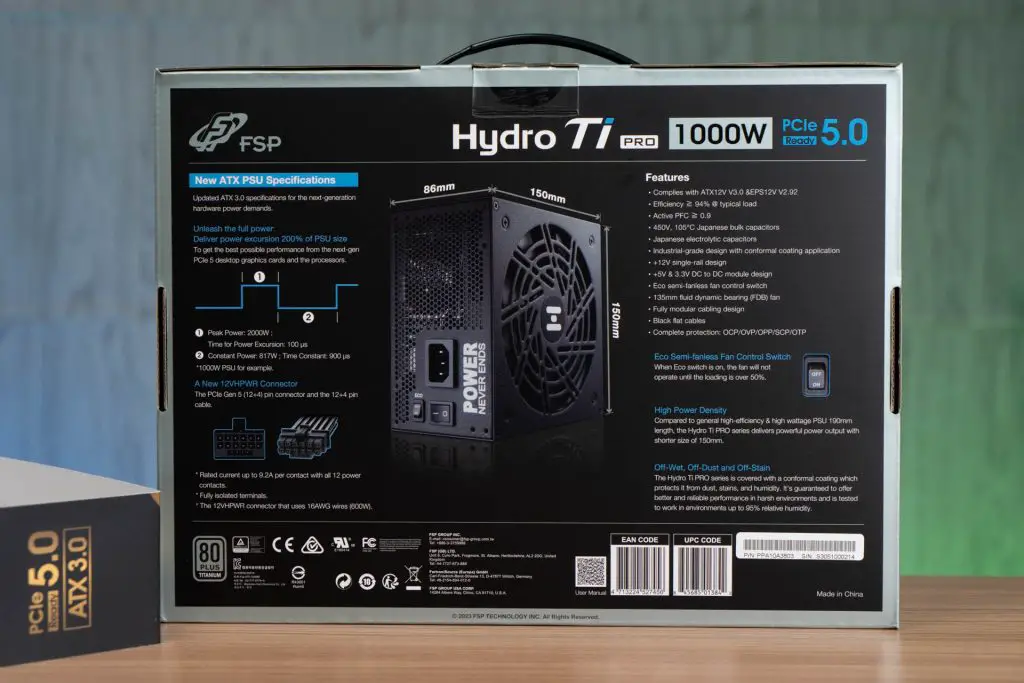 For a 2022/2023 model, ATX 3.0 with PCIe 5.0 support is a must.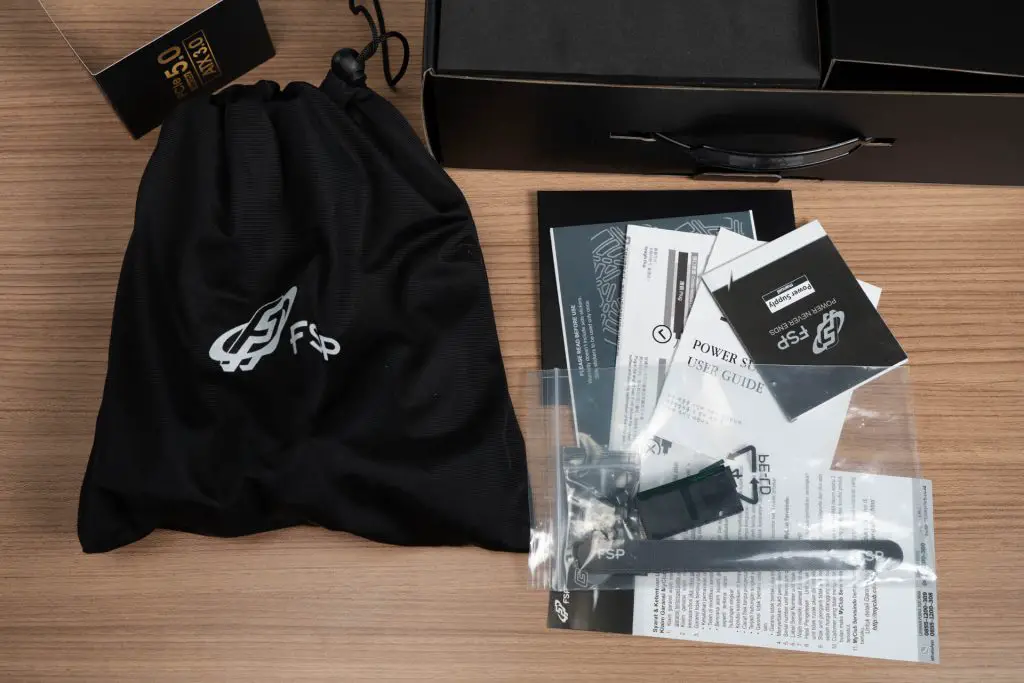 What you get in the box:
FSP HYDRO Ti PRO 1000W power supply
Cables & pouch
Cable velcro and other accessories
Paper documentation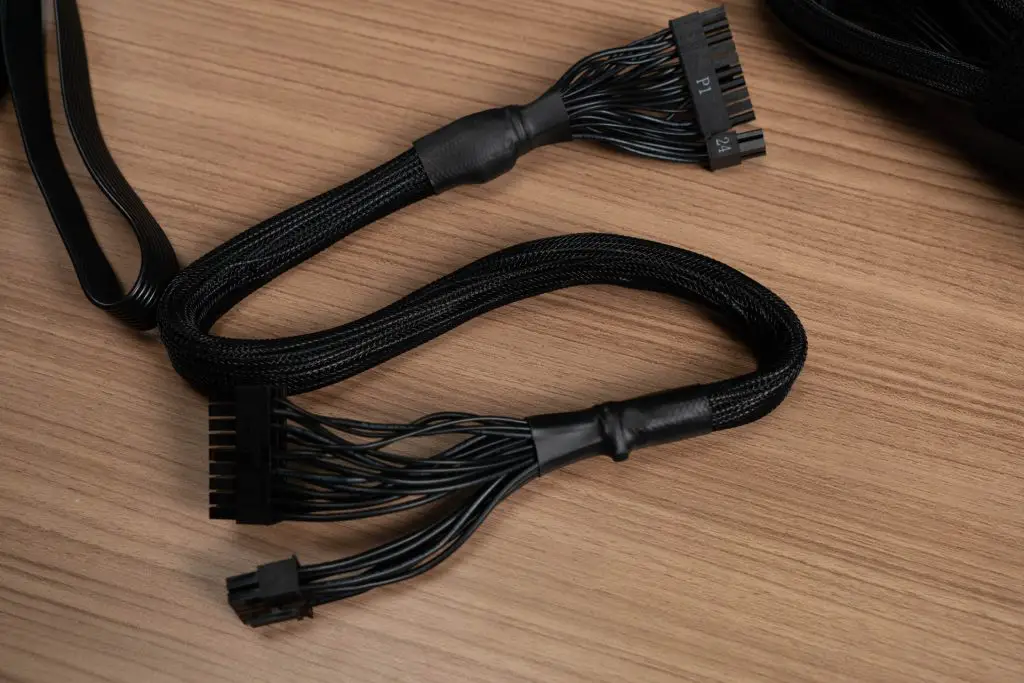 600mm 24-pin cable (Motherboard)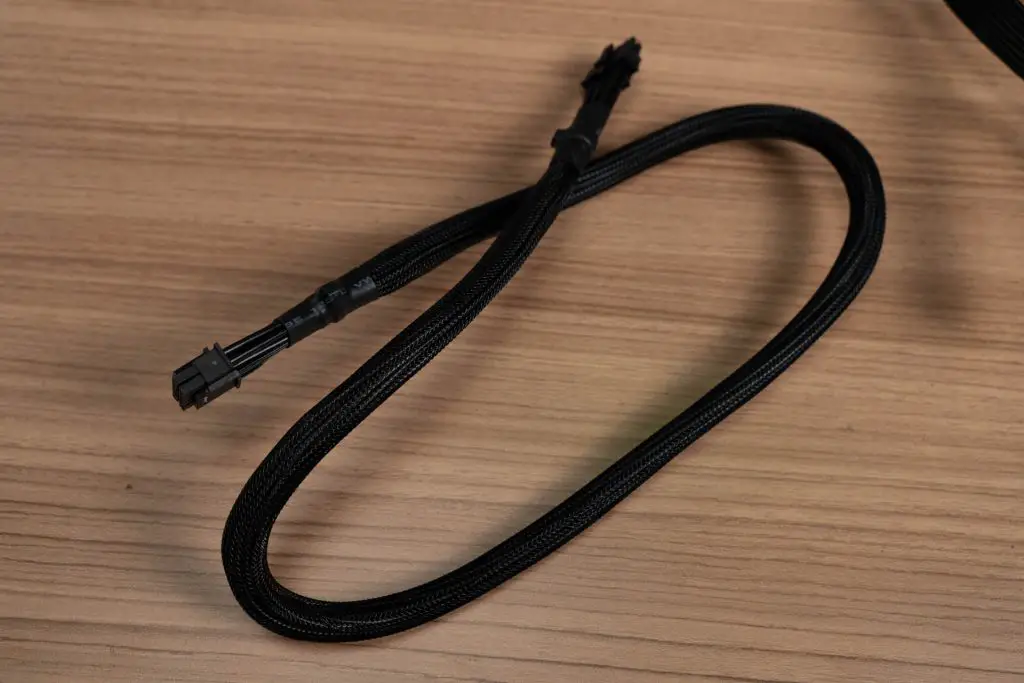 700mm 12VHPWR cable (GPU)
Other cables:
2x 700mm EPS12V cable (CPU)
3x 650mm PCIe 6+2 pin cable (GPU)
1x 650mm dual PCIe 6+2 pin cable (GPU)
2x 500mm quad SATA cable
2x 500mm dual SATA dual MOLEX cable
More info at FSP.
FSP HYDRO Ti PRO 1000W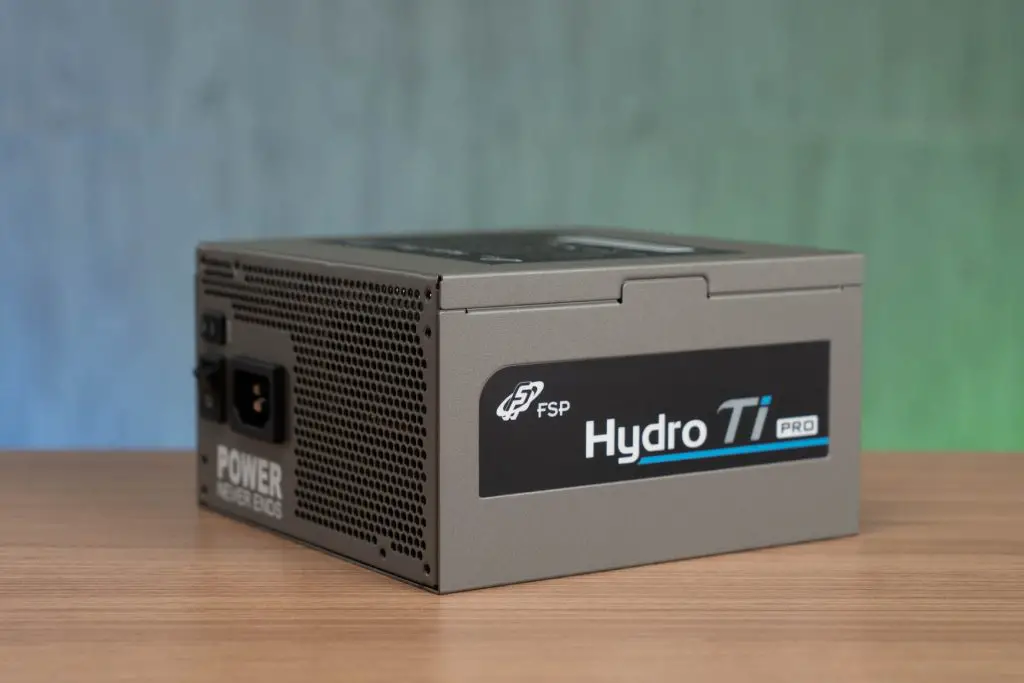 As mentioned earlier, this HYDRO Ti PRO is a limited edition whereby the frame is coated in Titanium colour. The standard model will have full matte black colour instead.
For a power supply, you can't change much about its appearance due to the ATX power supply design guide. Of course, we have seen manufacturers adding displays to the side but that would unnecessarily increase the cost of the power supply.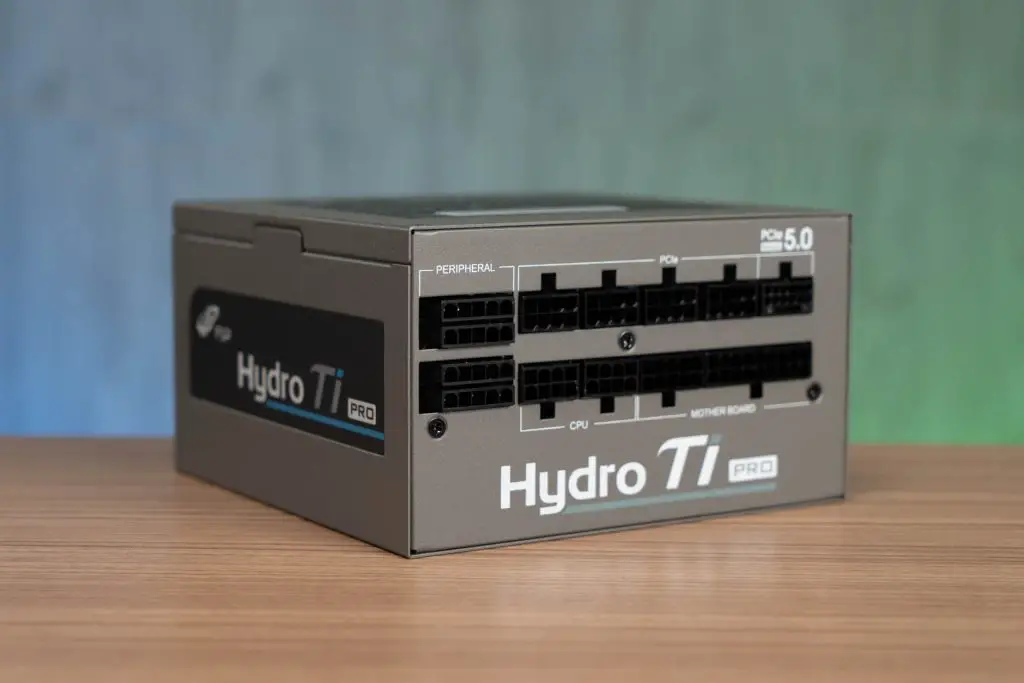 The main selling point of the HYDRO Ti PRO is the high power density. This is one of the rare 80 Plus Titanium-rated 1000W power supplies in a 150mm case. It is excellent for mid-tower builds or even some small form factor towers.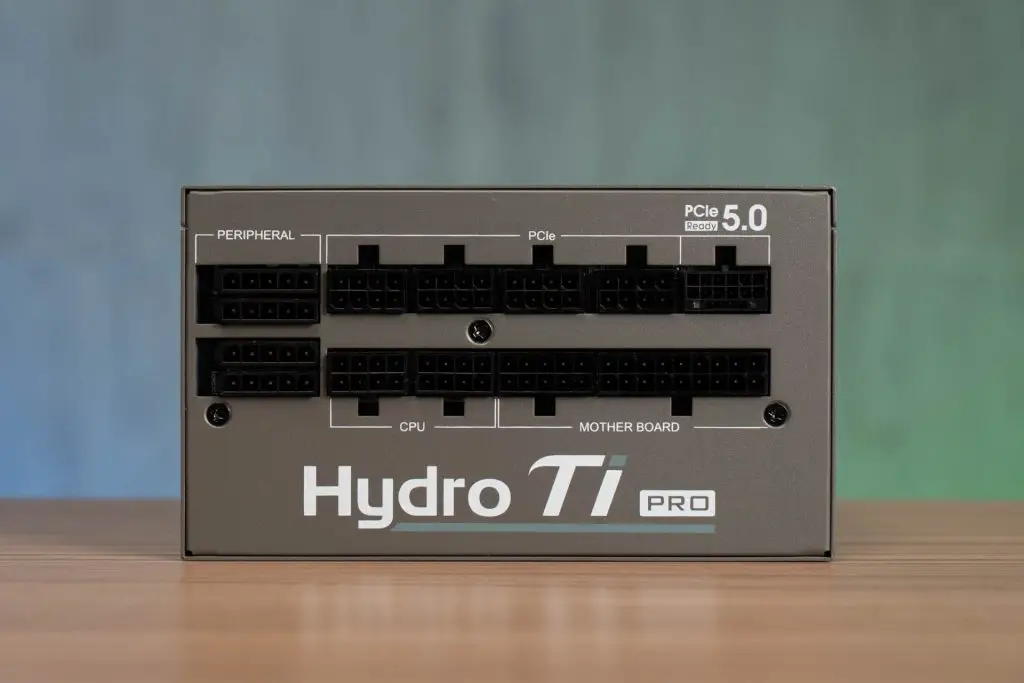 The modular connectors are at the back.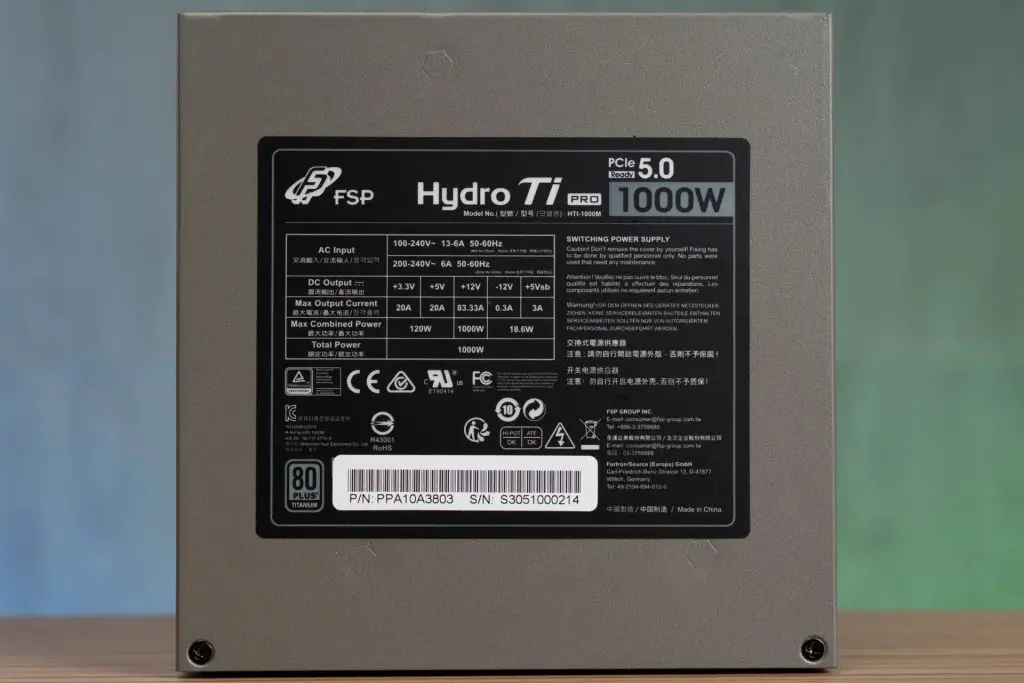 The specs details label stickers show the full capabilities of the HYDRO Ti PRO. The single +12V design ensures a stable power delivery to your power-hungry GPU. This PSU also complies with the ATX 3.0 power excursion standards, which means must be able to withstand a 200% power spike in 100 microseconds.
It is one of the crucial features especially if you plan to use next-gen graphics otherwise the power spikes would trigger a system shutdown/restart.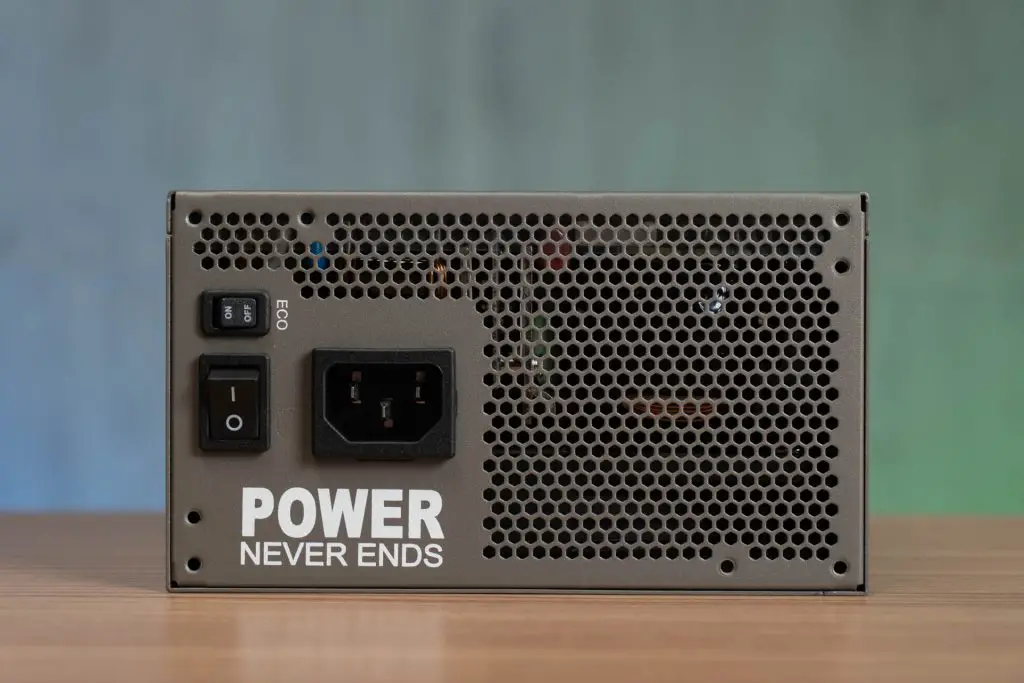 The Eco switch allows the user to turn on the semi-fanless capability. The fan speed circuit control allows the fan to stop spinning, effectively creating a 0dBA operation when the PSU is under 50% load.
Diving deeper into this feature reveals a more complicated fan control algorithm. FSP also factor the temperature into the fan control which affects the fan speed. Therefore, having Eco mode turned on would optimise the operation noise of the PSU.
Apart from that, conformal coating on the internal components protects the parts from dust, stains, and humidity. It is a remarkable effort to maintain reliability even in harsh environments.
Closing Thoughts
The FSP HYDRO Ti PRO came as a surprise. I honestly did not expect FSP to pull off such a stunt of offering a compact high-end power supply. Mind you that most of the 80 Plus Titanium power supplies in the market are humongous and require a proper mid/full tower case to work with the cables comfortably. Having a shorter power supply makes cable management easier.
Of course, the price is in the premium range:
At the time of writing this article, the series only consists of 2 variants. Until FSP releases a higher power rating which will probably be longer than 150mm, those who require more than 1000W might want to consider getting the HYDRO PTM X PRO or HYDRO PTM PRO series.
Other than that, the FSP HYDRO Ti PRO 1000W checks all the points for those who plan to build an extremely high-end PC with either Intel Core i9 or Ryzen 9 with NVIDIA RTX 4090.